Kat Von D Beauty's Project Chimps Is Selling Fast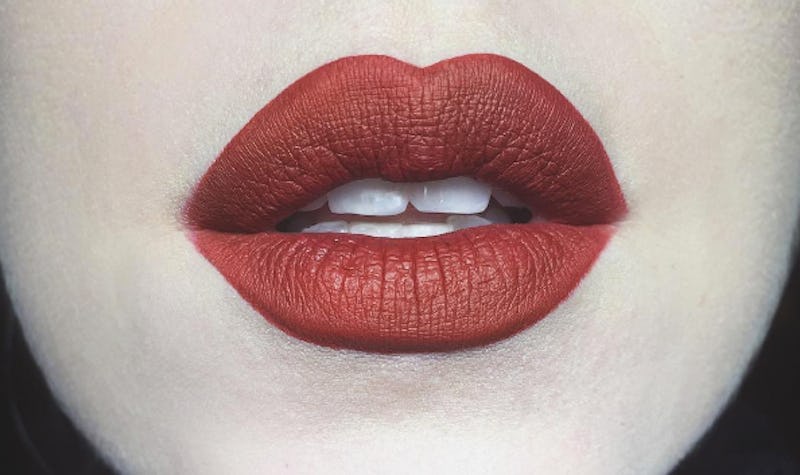 Are you a makeup and animal lover? If yes, then you'll definitely want to get in on this beauty buy. Kat Von D Beauty created a liquid lipstick shade for a good cause. The company teamed up with Project Chimps to craft a gorgeous red lip hue where proceeds go to help save the chimps. Is Kat Von D Beauty's Project Chimps lip color sold out? Let's just say it won't be around for long.
If you're not already familiar with the charity lip shade, then allow me fill you in. Kat Von D Beauty paired up with Project Chimps, an organization that saves chimps from beauty testing, to create a brand new lip color. The warm brick red shade with the same name as the group is absolutely gorgeous and so versatile. That's not even the best part though. Twenty percent of all proceeds go to "rescue, rehabilitate, and house 300 chimps who've spent the last three decades being tested on", according to Kat Von D's Instagram. Basically, it's an all-around great purchase.
The problem is that it won't be around forever. According to Kat Von D's personal Instagram account, there aren't many more limited edition liquid lipsticks in stock. You'll want to head over to the Kat Von D Beauty site, Sephora.com, or the in-store shop to get your hands on the shade while you still can.
This is hardly the first time that Kat Von D Beauty has proved that its all about the animals. The site prides itself on the vegan products that they sell. Kat Von D even completely reformulated the Shade + Light Contour Kit to make sure that all the shades were free of animal products. Now that's dedication.
Everlasting Liquid Lipstick in Project Chimps, $20, Kat Von D
The color is $20, just like the rest of the company's Everlasting Liquid Lipsticks. That means $4 from every purchase goes to the company. Having a great new beauty product and giving to charity? You can count me in. Not to mention how great it looks on all different skin tones.
You really can't resist purchasing them after seeing those gorgeous swatches. I'd head over there and shop this gorgeous shade while you still can!
Images: KatVonD/Instagram (1), Kat Von D Beauty (1)