These #NoCostumeRequiredMakeup Tutorials Are 100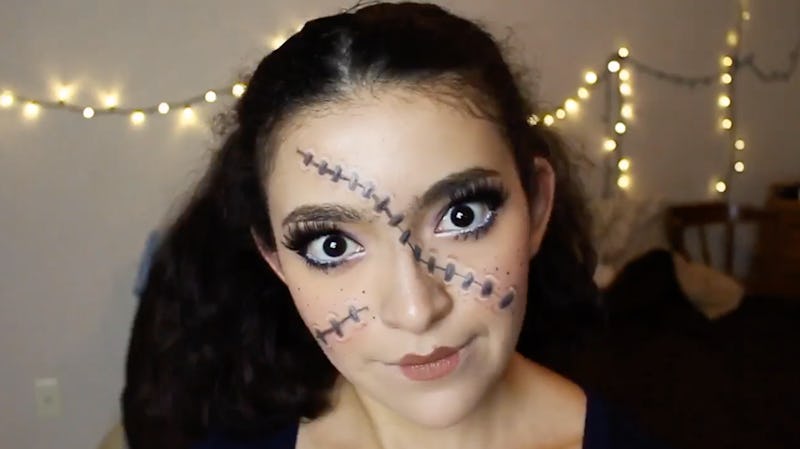 As much fun as dressing up for Halloween can be, it's also sometimes a pain trying to find the perfect costume. Which is why I'm always a fan of costumes you only need makeup to achieve. It means you can dress up with products you probably already have, plus you can totally snooze till the last minute and still come up with something great. But in case you're stuck on ideas, Flipagram, the largest, mobile, video network for creators, has you covered.
With over 200 million creators, Flipagram allows users to easily share photos and videos set to their favorite music. And this year, they're hosting a #NoCostumeRequiredMakeup challenge. The challenge encourages creators to come up with their best Halloween makeup looks that are so immersive that an actual costume is not needed come October 31. And I have to say, these looks are all so cool that it might even be difficult to choose which one you'll want to recreate. Regardless of your choice though, one thing you won't have to decide on is what to wear. These makeup looks speak for themselves. So you can achieve a BA Halloween look with products you likely already own, here are 10 ideas from the #NoCostumeRequiredMakeup challenge that you'll definitely want to try for yourself:
1. 2D Cartoon
Cartoon makeup is fun because you can really make it your own. Switch up what color your dots are, or even use rhinestones instead. The result is always cool.
2. Stitched Doll
If cute and creepy is your thing, you can't go wrong with a stitched or broken-doll look for Halloween.
3. Jack Skellington
The Nightmare Before Christmas characters are always winners for Halloween costumes, so why not go as the Pumpkin King himself?
4. Bride Of Frankenstein
Gory meets glamorous is always a fun direction for Halloween makeup.
5. Galaxy Mask
This takes the masquerade mask to a whole new level.
6. Avatar
Besides this being a perfect option for Halloween makeup, I'm also currently dying over that orange eyeliner.
7. Pop-Art Zombie
This look will definitely take some time, but if you enjoy body-painting, this pop-art zombie is a show-stopper.
8. Leopard
Because you can never go wrong as a cat for Halloween.
9. Harley Quinn
If you prefer old-school Harley, this is the tutorial for you.
10. Woodland Fairy
So pretty. I think I need to start doing my makeup like this everyday, thank you.
After all, what better time to try a bunch of different makeup looks than Halloween?
Image: Ann Twirls/Flipagram