This Is The Dirtiest Movie On Netflix This Month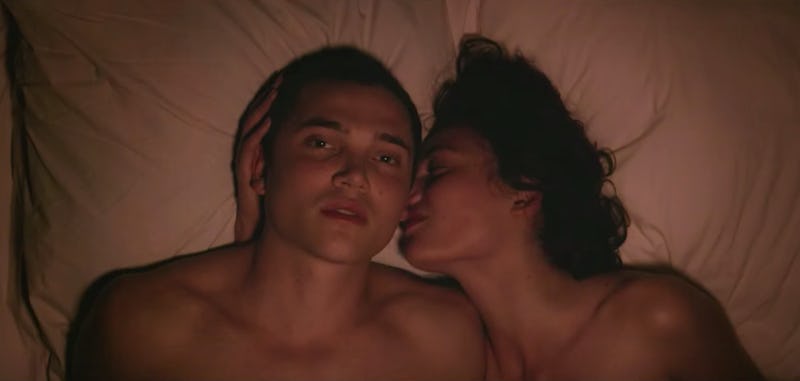 If you're already done marathoning Luke Cage and pouring over the details of the new Amanda Knox documentary, then you're probably looking for something new to watch on Netflix this October. Whatever you're in the mood for, from heart-warming dramas to outrageous comedies, it's pretty easy to find what you're looking for. But, when it comes to movies on the more sensual side, unfortunately, the streaming platform doesn't make it that easy to find what you're looking for. Netflix doesn't have a "dirty movies" section, and dirty movies doesn't even have a set genre definition anyways. Are dirty movies R-rated comedies? Are they overly sexual? Are they both? If you're looking for a sexy, raunchy movie, then you're in the right place, because I did the work for you: Love is the dirtiest movie on Netflix in October.
Directed by Gaspar Noé, Love made waves when it premiered at the Cannes Film Festival in 2015. The film was a first at Cannes: an explicitly sexual drama featuring 3D nudity — that's three dimensional nudity — that premiered with a midnight screening. Naturally, it sparked a lot of controversy, which is odd considering the film premiered in France, where onscreen nudity is about as normal as onscreen violence is in the US.
But the film isn't just a movie full of sex scenes. The film tells the story of Murphy, an American who moves to Paris and falls in love with a Parisian, Electra. The film follows their volatile relationship, both in and out of the bedroom. That said, the movie also earned a lot of attention for featuring unsimulated sex, and many wondered if the film was a cinematic movie or pornography, in fact the BBC review notes just how long the film spends on sex scenes and where the line is drawn between porn and film.
So, just how dirty are the sex scenes in Love? The film uses explicit sex to challenge popular conceptions on what kind of onscreen sexuality is acceptable and what kind is discouraged. For example, Love challenged the double standard of onscreen nudity in most films, in which female nudity is often encouraged while male nudity is not. Love, however, features a close up of Murphy's genitals as he reaches completion right into the camera. So, there's that.
Love was intended to push the boundaries of how sexuality is portrayed onscreen. Whether or not you believe that this kind of explicit onscreen sex makes Love more pornography than film, you have to admit, it's got to be one of the most sexual, dirty, crazy films currently on Netflix. Watch at your own risk.
Images: Wild Bunch