'Gilmore Girls' Merch You Need Before The Revival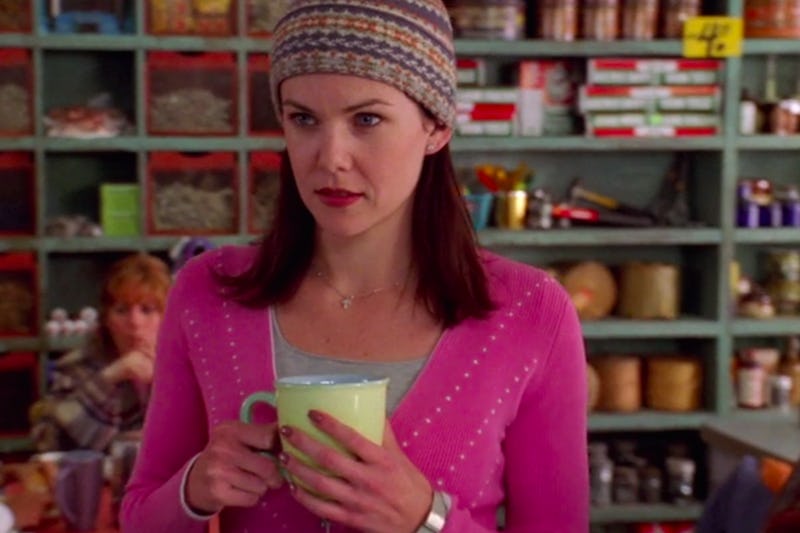 Face it, you can barely contain your excitement for Gilmore Girls: A Year In The Life , and, even though you've been mooching off your dad's Netflix account for years, this obsession is probably starting to eat into your finances. Truth is, when Gilmore Girls debuted 16 years ago, there were only a few ways to identify members of the fandom, but now unofficial Gilmore Girls merch is as rampant as unsubstantiated Gilmore Girls revival theories. And I would know, because I write about both of those things extensively.
So what corners of the internet do you have to delve into to get those Team Jess earrings you've always wanted? (Or OK, the earrings that support those other two losers, too?) You just do a deep dive to Etsy, my dear. There's all sorts of strange shirts, wall decorations, and coffee containers that should solidify your status as an honorary member of Stars Hollow. And, in interest of time-saving, I rounded up some choice picks that you could get your hands on right now (or in 2 – 5 days depending on where the item is being shipped, whatever).
Scroll down for some sweet Gilmore Girls swag that should get you even more amped for the reboot.
1. This Stars Hollow Sweatshirt
Ideal apparel when you're on the couch with a gallon of Ben & Jerry's having a post-break-up Gilmore Girls marathon.
Stars Hollow Comfort Colors Sweatshirt — Gilmore Girls, $34.00, Etsy
2. This Throw Pillow Displaying Your Favorite Expression Of Frustration
Like, not that there's a hierarchy with Gilmore Girls quotes or anything, but "Oy with the poodles already" is definitely top tier when it comes to merch.
Gilmore Girls OY! With The Poodles Already Decorative Throw Pillow! 18x18" Square Pillow, $35.00, Etsy
3. This (Unofficial) Gilmore Girls Coloring Book
Finally, you can break out your jumbo pack of Crayolas and color in every kind of take-out food.
Gilmore Girls Coloring Book, $6.50, Etsy
4. This Necklace That Inducts You In The Life And Death Brigade
Without that whole "leaping to almost certain destruction" element.
In Omnia Paratus Necklace. Ready For Anything: Gilmore Girls. Rory. Logan. Life and Death Brigade, $16.00, Etsy
5. These Candles Of Saint Lorelai And Saint Rory
It's a lifestyle, it's a religion.
Gilmore Girl Saint Candle Set — Rory Gilmore & Lorelei Gilmore $15.00, Etsy
6. These Stylish AF Paper Clips
Extraneous? Maybe. But think about how cool you'll look when you're in the midst of a study sesh. Don't forget the pop tarts and apple.
Gilmore Girl Planner Clips! Perfect for Flipbooks, Pocket Letters and Planners!, $3.00, Etsy
7. These Luke's Diner To-Go Cups
In case you need a hot shot of fandom on-the-run, and, hey, you can even stick a caffeine-worshiping quote on it.
Gilmore Girls Luke's Diner Portable Coffee Cups, $12.99, Etsy
8. Or This Luke's Diner Mug
In case you're a nutcase like Lorelai and bring your wares from home to your local Starbucks.
Luke's Diner Rustic Sign Gilmore Girls Stars Hollow Connecticut Mug, $13.13, Etsy
9. This Map Of Stars Hollow
Finally, a formal layout of where all the small town drama unfolds.
Stars Hollow Map Poster — Fictional Blueprint Map for Stars Hollow Connecticut, $36.00+, Etsy
10. This Hep Alien Band Tee
I'm still partial to the Dave Rygalski line-up, but the 2002 tour was a solid line-up.
Gilmore Girls Inspired Tank Tops, Hep Alien, Stars Hollow Band Tee, $25.00, Etsy
11. The Rory Gilmore Reading List
So you too sail a raft with Huck and Jim and ride a sad train with Anna Karenina... and, you know, then plow through the 300 or so other books that she's read throughout the course of the series.
The Rory Reading List — A Comprehensive Guide to All 339 Books Stars Hollow's Favourite Daughter Has Read, $19.49, Etsy
12. These Charming Magnetic Bookmarks
Since you're going to be carrying a book around with you 'till the end of time.
Gilmore Girls Magnetic Bookmarks Individuals And Set, $2.36+, Etsy
13. These Directional Signs Of All The Happening Spots In Stars Hollow
Just in case you really want to bring that tiny Connecticut town feeling to your tiny studio apartment.
Gilmore Girls Direction sign, $69.00, Etsy
14. This Shirt Of What Kirk Saw Today
Although personally I would want my own "Babette ate oatmeal" shirt. Keep it real.
Rory's Going To Yale ! Funny Gilmore Girls Inspired T-Shirt For The True Gilmore Fan, $21.00, Etsy
Maybe you're a true fan on a budget or maybe you're a true fan who prefers to appreciate with your eyes rather than your wallet, but, if you're like me, your true fan status is defined by how much Gilmore Girls merch you can call your own. All of these things are a great start.
Images: Warner Bros. Television; Etsy (14)