I Tried 7 "Perfect" Winged Eyeliner Hacks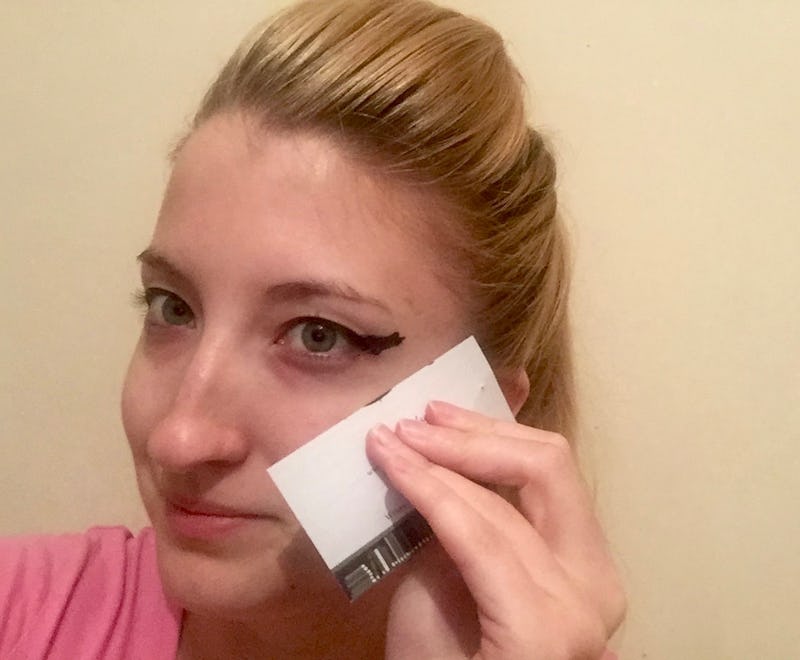 I am not ashamed to admit that I'm not great at winged eyeliner. I've improved over the years, but I still seriously mess my eyeliner up every now and again. Since I need all the help I can get, I tried all the perfect winged eyeliner hacks to discover if they really work and if so, which one is the most effective.
For a while, I was using a brown eyeliner with a felt tip. The only reason I've been using this particular eyeliner is that it's super easy to apply, which is great for a novice like me. However, it just doesn't give the same sharp flick of a liquid eyeliner. Also, the brown is nice — but there's something special about a rich, jet black pigmentation along the lash line. IMO, the ideal winged eyeliner is black, a continuous smooth line, and ends in a foxy flick that's neither too small nor too extravagant. Think Kylie Jenner's eyeliner — which is eternally on point — and you've got an idea of what I wanted to shoot for.
With all of this in mind, I scoured the Internet for hacks claiming to help folks achieve perfect winged eyeliner, and tried them in an attempt to perfect the process. Read below to see which hacks I tried, and what happened when I did.
1. The Makeup Brush Hack
This method involves using an eyeshadow brush to pull the eyelid skin taut and aid the application. FYI, I used the same Lime Crime Liquid Liner in "Quill" throughout each hack, so that my tests would be fair. In case you were wondering, I chose this eyeliner because I'm vegan and all of Lime Crime's products are vegan and cruelty-free.
I had a positive vibe about this look as I placed my makeup brush on my eyelid and pulled my eyelid skin tight.
The finished look was not bad at all and turned out better than I expected.
At the time, it felt like I was drawing on huge flicks, but when I let my skin relax, I was left with modest wings.
The final result wasn't perfect.
As you can see, I had a little accident with excess eyeliner on the top of my eyelid, but I don't think this was the fault of the method, I believe it occurred because I happened to look up and it smudged while it was wet. All in all, I can't really fault this hack.
2. The Spoon Hack
This hack appears to be one of the most popular and it involves using a teaspoon to create an awesome winged eyeliner look.
It's safe to say, I felt like a bit of a loon holding a teaspoon up to my eye. Plus, my eyes were already a little sore from removing the previous lot of tenacious eyeliner. I had a feeling this was going to be a long challenge!
The finished product had me feeling like a Clueless "Monet" — I looked okay from a distance but when you got up close, it was a whole other story.
As you can see, the spoon hack didn't quite work for me.
I think it may have even ended up better if I'd have just drawn it freehand TBH!
3. The Connecting The Dots Hack
For this method, the instruction is to create dots along the lash line and basically play a game of connect the dots.
I started by following the beauty YouTuber's lead and marking dots along my lash line.
After this I joined them up and finished with a flick that I'd roughly marked out first.
Again, the liquid eyeliner decided to attach itself to my eyelid when I blinked.
But aside from that mishap, it turned out pretty well!
4. The Business Card Hack
Beauty babe and YouTube legend Michelle Phan shows viewers how to use a business card for myriad makeup hacks, eyeliner included. I was rather excited to try this one out.
Michelle made it look so easy, but I really struggled with this one.
Perhaps I wasn't holding the business card tight enough against my face.
I think the eyeliner brush managed to get under the card somehow and left me with undesirable results.
5. The Tape Hack
Out of all of the hacks I had my heart set on this one as being the easiest. The tape hack involves sticking a piece of tape to your face (preferably medical tape so as not to irritate your skin) and using the line created by the tape as your guide.
I began by applying regular tape to my skin, which felt a little odd. I then drew along my lash line as normal and used the tape to help me create a wing.
This turned out pretty well, however I still had to draw the lash line part freehand, so it didn't turn out too neat.
My wing however, was immaculate and IMO, the best one yet. As per usual, I got some eyeliner in the crease of my lid.
6. The DIY Stencil Hack
In this video containing ten eyeliner tricks, under trick number seven, the vlogger shows how you can literally "use anything for your stencil," as long as you ensure the object has a "nice, gentle curve."
Online, I'd seen folks using eyelash curlers to create winged eyeliner, but alas, I don't own one, so I used my tub of Lush Color Supplement. However, IMO, eyelash curlers look like the best stencil because they're already shaped to fit your eye. So if you have an eyelash curler, try it as your stencil and see what happens. If you're a basic bitch like me and you don't have an array of beauty tools at your disposal, just grab anything with a slight curve — as long as it's not something dangerous like the knife eyeliner hack, that nearly gave me a heart attack!
This turned out to be a poor hack! It could have been the "stencil" I chose to draw around or maybe it was just a bad hack. Whatever the reason, I won't be trying it again!
7. The Chopstick Hack
The comedic and clever gals over at PopSugar show the world how to create winged eyeliner out of household items. My personal favorite is the chopstick method, that's the second method in. Because every 20-something millennial is bound to have a chopstick lying around.
At first I thought this was going to be another eyeliner "stencil" disaster, but the length and sturdiness of the chopstick really helped to create an awesome wing.
The only trouble was, I had to draw the upper part of the wing and the eyeliner along my lash line freehand.
Verdict
All in all the Makeup Brush Hack was the best all-around, but I believe a combination of the Connecting The Dots Hack and the Tape Hack would work a treat for total precision. In fact, I think a combo of all three would make for the perfect winged eyeliner — with these tips in mind, I know my flick can be close to perfect.
Images: Phoebe Waller