'Hannibal' Season 4 Might Very Well Be On Its Way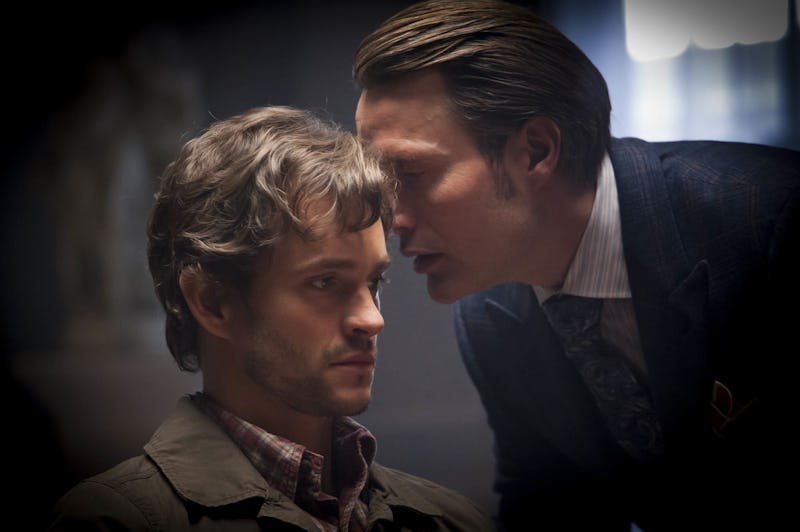 Fannibals around the world were devastated when NBC canceled Hannibal , its macabre phantasmagoria of murder and bromance brought to vivid life by creator Bryan Fuller (Pushing Daisies, Dead Like Me). Although it ended up running for three full seasons — which is more seasons than either of Fuller's aforementioned shows received — and ended with a semi-satisfying finale, it's clear that Fuller had so much story left to tell if he had only been given the chance. Well, it looks like that chance might be closer than anyone thought. Could Hannibal Season 4 still happen?
It's a strong possibility, if writer Nick Antosca is to be believed. Antosca served as a co-writer on the show throughout Season 3, and is about to unveil his new series, the Syfy creepypasta anthology Channel Zero . While doing press for that upcoming horror show, Antosca was asked about the fate of Hannibal , and he had some encouraging words to say. "I can't speak in detail, but I have heard conversations about what a fourth season would be," he told HitFix. "And I know that Bryan has a very clear and kind of brilliant idea of what he would do on another season."
Fuller hasn't exactly been twiddling his thumbs since NBC dropped the axe on Hannibal, either. In the year since that show's finale aired, he has created not just one but two highly-anticipated upcoming series: CBS All Access' Star Trek: Discovery , premiering in May 2017, and Starz's American Gods , also due out sometime next year. The fact that Fuller has been actively planning a fourth course of Hannibal even while his plate was already so full with these other shows is a good sign that the man is committed to seeing the adventures of Will Graham and Hannibal Lecter continue past their (literal) cliffhanger.
Obviously, there are still a lot of questions about what the future of Hannibal might look like. First of all, who would air it? NBC already cancelled it once and Netflix declined to swoop in and save it then, so Amazon Prime — which already holds the streaming rights to the three existing seasons — seems like the best bet, although it's far from a sure thing. And secondly, when would it air? We probably shouldn't count on it happening anytime soon, given how busy Fuller is — not to mention the cast. (Hugh Dancy is now starring on the Hulu series The Path and Mikkelsen is building an enviable film career with the likes of Doctor Strange and Rogue One: A Star Wars Story.)
"I think that it depends on where [Fuller] is with American Gods and Star Trek," Antosca told HitFix. "But there is conversation about it." Well, luckily enough, Fuller might have an answer to the question of when, since it seems like he's set a pretty clear timetable for himself, "Two years after the last airing of the show, we can investigate our options," the creator told Collider this past June:
"August 2017 is when we can actually start talking about it. That's when we would have to see what the rights are for the character and for the story, and see who's interested and how we get it done. I have the story, and the cast is excited for the story, so we're ready to go if somebody wants to go."
Fannibals aren't the only ones excited about the prospect of more Hannibal, either. Dancy seems pumped about what Fuller has in store for Season 4, telling Collider that the creator's plan "was really fantastic. … It took us back to the first season in a very unexpected way, and made total sense of that cliffhanger ending; it seemed justified. It was born out of a part of one of the books so it was still coming out of that universe, but it wasn't the Clarice/Silence Of The Lambs storyline." How mysterious…
What is Fuller cooking up for us? Unfortunately, it sounds like we'll have to wait a while to find out. Fortunately, it also sounds like it's basically a sure thing that we will find out eventually — if Hannibal Season 4 premieres.
Images: NBC; Giphy (2)