Nobel Prize In Literature Winners, By Country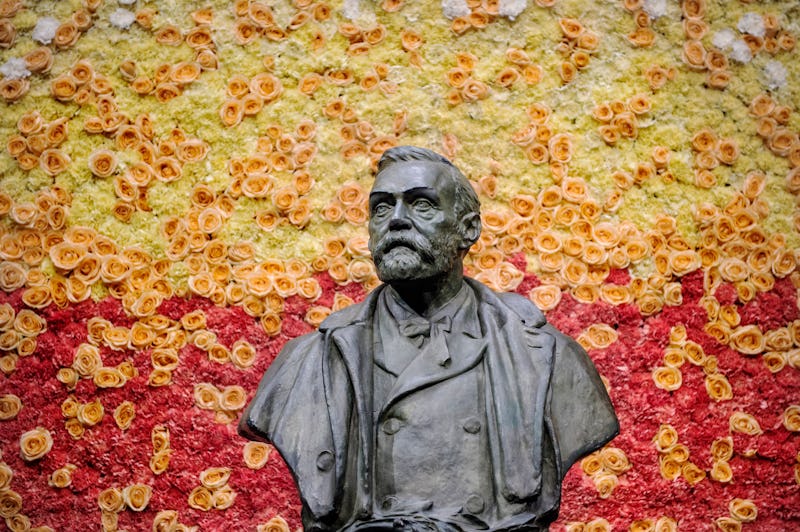 Breaking down the list of Nobel Prize in Literature winners by country forces you to confront the fact that you know nothing about literary prizes. Just think about it. The countries we tend to think are the most literary — such as Iceland and Japan — don't really have that many native Nobel Prize in Literature winners. Unexpectedly, the nations that gave us Halldór Laxness and Haruki Murakami are beaten out by Italy and Poland, among others.
2016 shook up everyone's Nobel Prize in Literature expectations. Haruki Murakami was a longtime favorite to win the coveted honor, but dark horse Bob Dylan scooped up the prize instead, prompting an understandably relieved reaction from netizens who thought the year had claimed another beloved musician when they saw his name appear in trending news.
Sorting the list of Nobel Prize in Literature winners by country also offers an eye-opening look at how the world prioritizes particular types of literature and values writers of certain origins over others. India, Iran, Madagascar, and Algeria are represented by Rudyard Kipling, Doris Lessing, Claude Simon, and Albert Camus — colonizers — instead of indigenous individuals. Although no one can choose where, when, or how they are born, that these white authors have been chosen by the Swedish Academy to represent Asian and African countries reflects a wider problem of whitewashing.
Here are the Nobel Prize in Literature winners, broken down by country.
1. France, 11
2. U.S., 9
3. Germany, 8
4. Sweden 7 (tie)
4. U.K., 7 (tie)
6. Italy, 6
7. Poland, 5 (tie)
7. Russian Federation, 5 (tie)
7. Spain, 5 (tie)
tk
10. Denmark, 4
tk
11. Ireland, 3
William Butler Yeats in 1923, "for his always inspired poetry, which in a highly artistic form gives expression to the spirit of a whole nation."
George Bernard Shaw in 1925, "for his work which is marked by both idealism and humanity, its stimulating satire often being infused with a singular poetic beauty."
Samuel Beckett in 1969, "for his writing, which - in new forms for the novel and drama - in the destitution of modern man acquires its elevation."
tk
12. Canada, 2 (tie)
Saul Bellow in 1976, "for the human understanding and subtle analysis of contemporary culture that are combined in his work."
Alice Munro in 2013, "master of the contemporary short story."
tk
12. Chile, 2 (tie)
Gabriela Mistral in 1945, "for her lyric poetry which, inspired by powerful emotions, has made her name a symbol of the idealistic aspirations of the entire Latin American world."
Pablo Neruda in 1971, "for a poetry that with the action of an elemental force brings alive a continent's destiny and dreams."
tk
12. China, 2 (tie)
Gao Xingjian in 2000, "for an æuvre of universal validity, bitter insights and linguistic ingenuity, which has opened new paths for the Chinese novel and drama."
Mo Yan in 2012, "who with hallucinatory realism merges folk tales, history and the contemporary."
tk
12. India, 2 (tie)
Rudyard Kipling in 1907, "in consideration of the power of observation, originality of imagination, virility of ideas and remarkable talent for narration which characterize the creations of this world-famous author."
Rabindranath Tagore in 1913, "because of his profoundly sensitive, fresh and beautiful verse, by which, with consummate skill, he has made his poetic thought, expressed in his own English words, a part of the literature of the West."
tk
12. Japan, 2 (tie)
Yasunari Kawabata in 1968, "for his narrative mastery, which with great sensibility expresses the essence of the Japanese mind."
Kenzaburo Oe in 1994, "who with poetic force creates an imagined world, where life and myth condense to form a disconcerting picture of the human predicament today."
tk
12. Norway, 2 (tie)
Bjørnstjerne Martinus Bjørnson in 1903, "as a tribute to his noble, magnificent and versatile poetry, which has always been distinguished by both the freshness of its inspiration and the rare purity of its spirit."
Knut Pedersen Hamsun in 1920, "for his monumental work, Growth of the Soil."
tk
12. South Africa, 2 (tie)
Nadine Gordimer in 1991, "who through her magnificent epic writing has — in the words of Alfred Nobel — been of very great benefit to humanity."
John M. Coetzee in 2003, "who in innumerable guises portrays the surprising involvement of the outsider."
tk
12. Turkey, 2 (tie)
Giorgos Seferis in 1963, "for his eminent lyrical writing, inspired by a deep feeling for the Hellenic world of culture."
Orhan Pamuk in 2006, "who in the quest for the melancholic soul of his native city has discovered new symbols for the clash and interlacing of cultures."
tk
12. Ukraine, 2 (tie)
Shmuel Yosef Agnon in 1966, "for his profoundly characteristic narrative art with motifs from the life of the Jewish people."
Svetlana Alexievich in 2015, "for her polyphonic writings, a monument to suffering and courage in our time."
21. Algeria, 1 (tie)
Albert Camus in 1957, "for his important literary production, which with clear-sighted earnestness illuminates the problems of the human conscience in our times."
21. Bulgaria, 1 (tie)
Elias Canetti in 1981, "for writings marked by a broad outlook, a wealth of ideas and artistic power."
21. Bosnia and Herzegovina, 1 (tie)
Ivo Andric in 1961, "for the epic force with which he has traced themes and depicted human destinies drawn from the history of his country."
21. Czech Republic, 1 (tie)
Jaroslav Seifert in 1984, "for his poetry which endowed with freshness, sensuality and rich inventiveness provides a liberating image of the indomitable spirit and versatility of man."
21. Colombia, 1 (tie)
Gabriel García Márquez in 1982, "for his novels and short stories, in which the fantastic and the realistic are combined in a richly composed world of imagination, reflecting a continent's life and conflicts."
21. Egypt, 1 (tie)
Naguib Mahfouz in 1988, "who, through works rich in nuance — now clear-sightedly realistic, now evocatively ambiguous — has formed an Arabian narrative art that applies to all mankind."
21. Finland, 1 (tie)
Frans Eemil Sillanpää in 1939, "for his deep understanding of his country's peasantry and the exquisite art with which he has portrayed their way of life and their relationship with Nature."
21. Greece, 1 (tie)
Odysseus Elytis in 1979, "for his poetry, which, against the background of Greek tradition, depicts with sensuous strength and intellectual clear-sightedness modern man's struggle for freedom and creativeness."
21. Guatemala, 1 (tie)
Miguel Angel Asturias in 1967, "for his vivid literary achievement, deep-rooted in the national traits and traditions of Indian peoples of Latin America."
21. Hungary, 1 (tie)
Imre Kertész in 2002, "for writing that upholds the fragile experience of the individual against the barbaric arbitrariness of history."
21. Iceland, 1 (tie)
Halldór Kiljan Laxness in 1955, "for his vivid epic power which has renewed the great narrative art of Iceland."
21. Iran, 1 (tie)
Doris Lessing in 2007, "that epicist of the female experience, who with scepticism, fire and visionary power has subjected a divided civilisation to scrutiny."
21. Lithuania, 1 (tie)
Czeslaw Milosz in 1980, "who with uncompromising clear-sightedness voices man's exposed condition in a world of severe conflicts."
21. Madagascar, 1 (tie)
Claude Simon in 1985, "who in his novel combines the poet's and the painter's creativeness with a deepened awareness of time in the depiction of the human condition."
21. Mexico, 1 (tie)
Octavio Paz in 1990, "for impassioned writing with wide horizons, characterized by sensuous intelligence and humanistic integrity."
21. Nigeria, 1 (tie)
Wole Soyinka in 1986, "who in a wide cultural perspective and with poetic overtones fashions the drama of existence."
21. Peru, 1 (tie)
Mario Vargas Llosa in 2010, "for his cartography of structures of power and his trenchant images of the individual's resistance, revolt, and defeat."
21. Portugal, 1 (tie)
José Saramago in 1998, "who with parables sustained by imagination, compassion and irony continually enables us once again to apprehend an elusory reality."
21. Romania, 1 (tie)
Herta Müller in 2009, "who, with the concentration of poetry and the frankness of prose, depicts the landscape of the dispossessed."
21. Switzerland, 1 (tie)
21. Trinidad and Tobago, 1 (tie)
Sir Vidiadhar Surajprasad Naipaul in 2001, "for having united perceptive narrative and incorruptible scrutiny in works that compel us to see the presence of suppressed histories."