You've Got To See Kylie's Fall Lip Kit Shades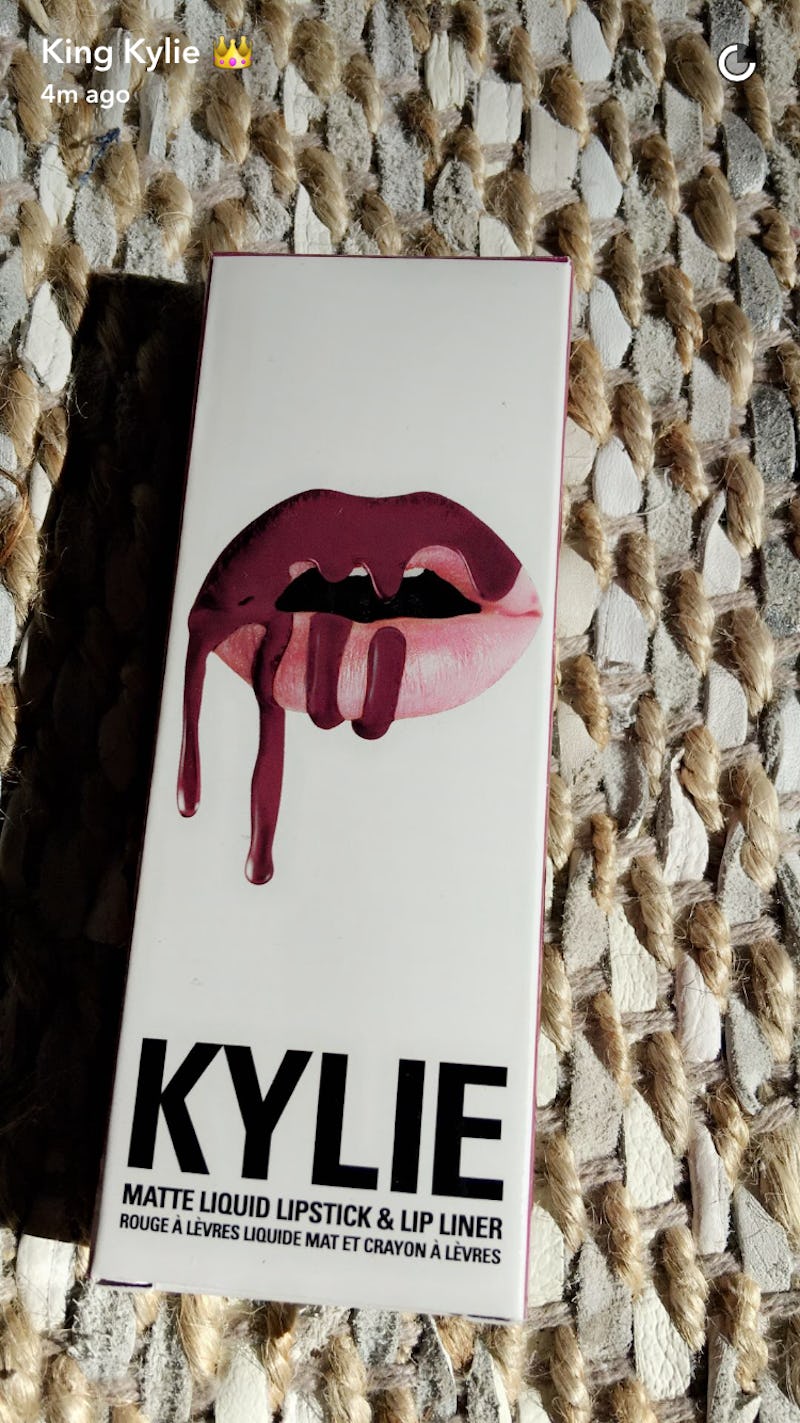 If there's one thing Kylie Jenner is good at, it's creating hype. She started teasing her fall shades on social media, but would never give away too much information. Then, when it was time to reveal all four lippies, she took to her subscription-based app to show them off. Well, now it's finally time to see swatches of all four fall Kylie Lip Kits, and I'm so glad that the wait is finally over.
She may be great at creating anticipation, but she's also incredibly talented when it comes to creating trendy lip colors, and these photos only prove it. She's got a burnt orange shade called Pumpkin, a berry lippie named Spice as well as a cool gray-lavender Moon shade and a super deep teal lipstick called Trick. Needless to say, she's covered all of her bases as far as fall trends are concerned.
Jenner took to Snapchat to show all of the non-app subscribers exactly what these incredible lip products look like. Finally! Each one becomes available to shop on Oct. 12, and by the looks of it, you're going to want to get your hands on all of them. But, you'll have to act quickly because something tells me these shades are going to sell out faster than normal. I assure you, they're that good.
It's time for the Snapchat reveal!
Pumpkin Kylie Cosmetics Lip Kit, $55, Amazon
This Pumpkin shade is the most perfect color for the season.
You can never have too much pumpkin this time of year, you know?
You're going to want to wear this as often as possible.
Yep, I'm in love.
Trick Kylie Cosmetics Lip Kit, $55, Amazon
Emerald is on-trend, so this deep green-blue lippie is just what you need in your life.
Leave it to Jenner to come up with such a unique shade.
This is just gorgeous.
Your pout's going to be on-point.
If you're looking for a bold shade to rock this fall, this is the lippie for you!
Moon Kylie Cosmetics Lip Kit, $45, Amazon
This gray shade's got a hint of mauve.
It just wouldn't be fall without a great purple-y shade, now would it?
Moon's got major dusty rose vibes.
Spice Kylie Cosmetics Lip Kit, $45, Amazon
According to Jenner, she saved the best for last.
And there's no denying this berry lippie is beautiful.
I plan to bathe my lips in this all fall long.
I can never have too much spice, especially if it's in the form of a liquid lippie!
I'll be sporting a burgundy pout soon enough! But seriously, Oct. 12 can't get here fast enough!
Images: kylizzlemynizzyl/Snapchat (18)