Kylie's Trick Lip Kit Is Unusual For This Reason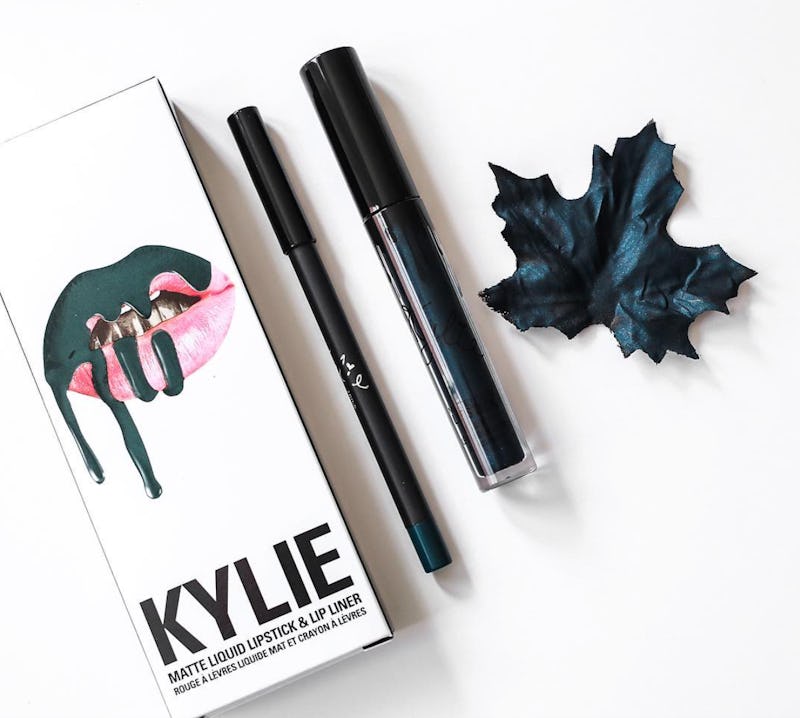 Are my eyes playing a "Trick" on me? Kylie Jenner's new Trick Lip Kit, which is one of her four new Fall 2016 mattes, presented itself as a bit of an optical illusion to me. When initially laying my eyes on this particular Lip Kit color, it looked black or at least black-tinted to me. That made sense, since this hue is landing right around Halloween, when super dark, gothy lips are a legit thing to an even wider variety of people. To my eyes, the Trick Lip Kit looked quite similar it to Jenner's KyMajesty Metal Matte, which was a shimmery, blue black shade that had a silver-y cast in certain lighting. I also compared the new Moon Lip Kit to the existing Maliboo Lip Kit, since both are in the nude families, BTW. Now that Jenner has shared further images of Trick, which launches on Wednesday, Oct. 12 at 6 pm. ET/3 p.m. E.T., I realized that Trick is not black or blackish or blackened at all. What color is the Trick Lip Kit?
It's actually green. It's a velvety, emerald green. Like the sky blue Skylie and the denim Freedom Kylie Lip Kits, which landed for the Fourth of July holiday, the Trick Lip Kit is an adventurous shade that isn't easily suited for daily wear during any and all occasions. It takes a confident wearer to rock Trick. But you got this.
With this lighting and/or filter, Trick looks like a blackened green.
This is Trick on the lips of two lovelies with different skin tones. It's totally and undoubtedly green.
When concentrated in the tube, Trick still looks like a blackish green to me. It certainly takes on a different tone when photographed. All of the Fall 2016 Lip Kits are unique in their own way, for realz.
Trick has a blue x green x black cast to it in this image. That's why Trick is so unusual. Yes, it's a bold and fearless shade. But it sorta... shapeshifts. Perhaps it will look different on you than it would on me, since my lips are super pinkly pigmented. Maybe!
Whatever the case, Trick is unusual and it's out there.
You can never labor under the illusion that Kylie Lip Kits are boring or basic, thanks to Trick, which is a lip treat. Sorry, #HadTo.
Images: Kylie Cosmetics/Instagram (4)