See Kylie's Fall Lip Kits On Different Skin Tones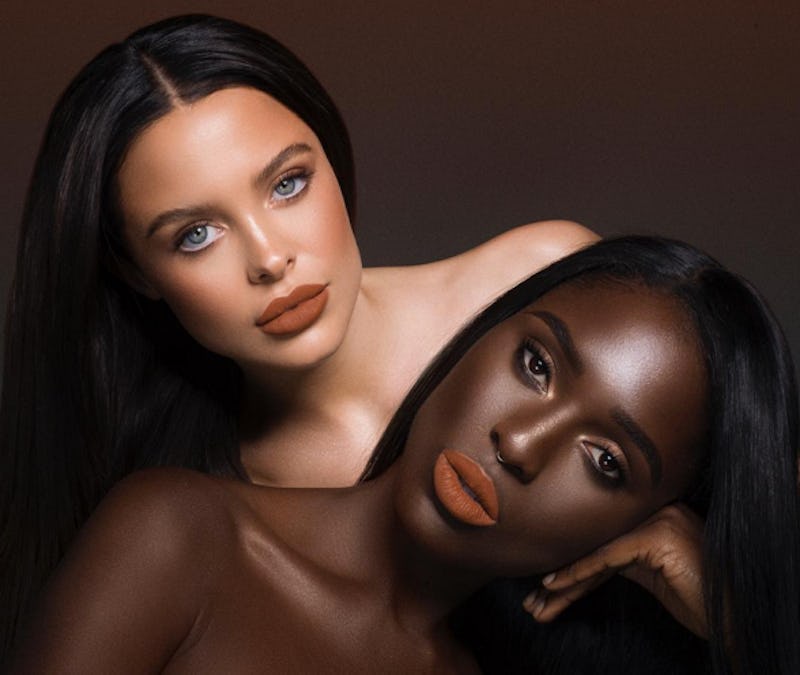 After much anticipation, Kylie Jenner's fall Lip Kit colors have been released! There are (finally!) plenty of photos and swatches to get you excited for their Oct. 12 launch date. Now, you need to find out exactly what the Fall Lip Kits look like on different skin tones. You know, just in case you weren't already sold on these lippies!
Once you see the lipsticks on the different models, you'll be convinced to make a purchase. Because seriously, these colors are just too in this season to ever pass them up! All four Lip Kits, Pumpkin, Spice, Moon and Trick, look absolutely amazing on a variety of skin tones. So, really, I can't think of a single reason why you wouldn't want to own each of them.
Some of the shades are more traditional for the fall season, but that doesn't make them any less impressive. The berry-colored Spice and the burnt orange Pumpkin, for instance, are fall beauty staples. But, the cool mauve Moon and deep green Trick are definitely more surprising and super trendy options. After you've laid eyes on these swatches, you won't be able to get them out of your head. Because whether you're more into the typical fall colors or the out of the box ones, there's no way you could go wrong!
From deep green to burnt orange, this line-up's got a bit of everything. Get excited to slick these shades across your pout, no matter your skin tone.
It's no wonder a berry lip is so popular this time of year.
It's flattering on everyone, so how could you not wear it all day, everyday?
The Pumpkin Lip Kit is a fall must-have.
It's the perfect burnt-orange, after all.
It's a standout when compared to Ginger and 22. Which only proves that even if you own orange lipsticks already, there's nothing quite like this shade.
Moon will give you a cool toned pout that can be dressed up or down.
This can easily be your go-to this fall season, but with a hint of mauve, this cool-toned lippie is far from basic.
If you're looking to go extremely bold with your fall look, Trick is the shade you're after. It's sure to make your makeup look pop against any complexion.
There's no denying this deep pigment. This shade is sure to get you noticed this season.
Image: kyliecosmetics/Instagram (1)