Spooky Songs For A Hair-Raising Halloween Party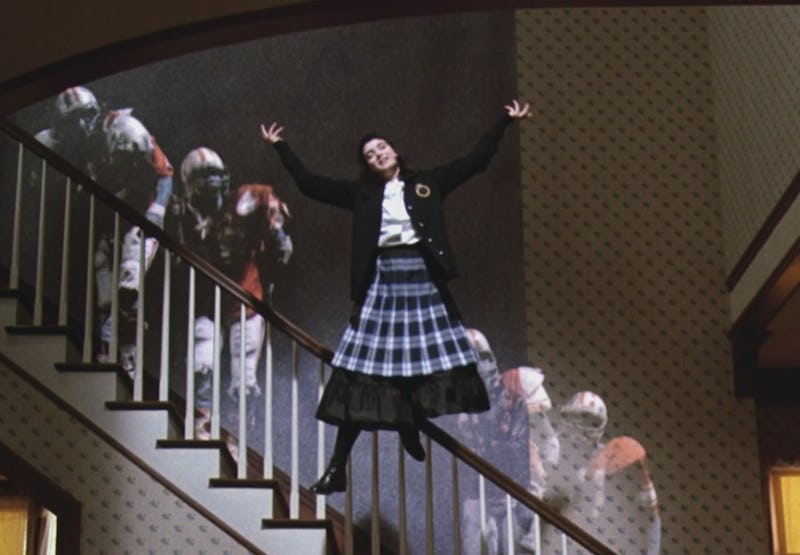 When it comes to setting the absolute, perfect ambience for a ghoulish good time, it's crucial to carefully put together a spooky Halloween party playlist with which to achieve that. Of course, there are core, creepy songs that nobody should leave off their playlist, such as "Everybody (Backstreets Back)", "Thriller", and "Monster Mash" (I mean, that's just common sense), but, beyond that, where should a truly creepy Halloween party playlist go? Well, in my opinion, it's actually pretty simple.
In keeping with the arcane mixture of camp, macabre, silly, and scary that makes Halloween so damn fun, every festive party playlist needs a dash of old and new, with all the spookiest, dance-inspiring tunes you can find. And, like an actual Monster Mash, it's always great to genre mash a Halloween playlist too. These are songs for unleashing your inner monster, for feeling sexy or hair-raising, and for transforming any party into a little dance floor of horrors. So, light some candles, invoke the spirits (vodka, I mean), and bust some moves like you be busting ghosts. Here's the Halloween playlist you need for your 2016 party:
1. Shakira — "She Wolf"
I don't want to have to say that "She Wolf" is the best pop song about lycanthropy ever, but I mean just listen to it. It totally is.
2. The Cramps — "Human Fly"
A punk classic that broods and struts to its own macabre swagger, "Human Fly" will give your party some ghoulish, sexy cool.
3. Outkast feat. Kelis — "Dracula's Wedding"
The absolute most loved-up and funkiest ode to Dracula of all time. It's also completely irresistible on the dancing front, too, so thrust out some Nosferatu claws and bounce like a bloodsucker.
4. Dead Man's Bones — "In The Room Where You Sleep"
Though this is an undeniably great song (and a tremendously spooky one at that), including some Dead Man's Bones on your playlist is also the closest you'll likely get to having band member Ryan Gosling (swoon) at your party.
5. The Ramones — "Pet Semetary"
Wistfully corny, "Pet Semetary" was The Ramones' musical theme song for the 1989 horror movie by the same name, and it's an unabashed, cheesy punk rock delight.
6. Rihanna — "Disturbia"
I absolutely adore it whenever RiRi gets spooky and "Disturbia" may have just been the finest creepy song of her career.
7. Busta Rhymes — "Gimme Some More"
Any song that can effectively sample the theme tune from Psycho as its core melody is a big hit in my books. And it's exactly that which makes "Gimme Some More" such a Halloween party staple. In my house, at least.
8. Talking Heads — "Psycho Killer"
If there's a catchier song ever written about being a Patrick Bateman-type of a person, then I'm frankly yet to hear it.
9. Beyonce — "Haunted"
Giving spookiness the sort of flawless, slick makeover that only Queen Bey is capable of, "Haunted" is perky, pop perfection with a macabre, dark heart.
10. The Misfits — "Die Die My Darling"
A horror-punk classic perfect for setting a delirious, creepy ambience with a playful yet menacing edge.
11. Harry Belafonte — "Jump In The Line"
OK, so it might have only ever have become spooky by association (thank you Mr. Beetlejuice, sir), but kicking it in a conga line to this song is a Halloween must.
12. Justin Timberlake — "True Blood"
Total, unadulterated howling pop fun, Timberlake's vampiric ode (possibly inspired a TV show of the same name) is a twitchy, eerie joy.
13. Metric — "Monster Hospital"
Whether or not Metric are talking about fighting a Walking Dead style war against the undead or just monsters in general in "Monster Hospital" is beyond my reckoning. But what I do know is that the song is superb indie-disco fun with a spooky side to it.
14. Lady Gaga — "Bloody Mary"
It wouldn't be Halloween without hearing at least one Gaga song that gives you the opportunity to thrust your hands in the air and throw some monster claws around, would it?
15. She Wants Revenge — "Tear You Apart"
Speaking of Gaga, you might remember the sublimely unsettling throngs of "Tear You Apart" from a particular gory (and saucy) scene of American Horror Story: Hotel starring Mother Monster herself.
16. Nick Cave And The Bad Seeds — "Red Right Hand"
As well as being the theme for the first three Scream films, "Red Right Hand" is also just creepy good times tied up in a lurid musical bow.
17. Little Mix — "Black Magic"
For all the witches out there, own that dance floor to this preppy ode to the occult.
18. Tomochika, Oniyakko Tsubaki, Naomi Watanabe, and Shizuyo Tamaski — "Ghostbusters"
This J-Pop remix of the Ray Parker Jr. classic theme (featuring four Japanese female comedians) is the Ghostbusters theme song that we truly deserved in 2016. It's absolutely magical.
Guaranteed for a frightful good time, my friends. So turn up the volume, hit that dance floor free of fear, and embrace all of the Halloween good times that this spooky time of year can offer.
Images: Warner Bros. Pictures