7 Bold Alternatives For The Trick Lip Kit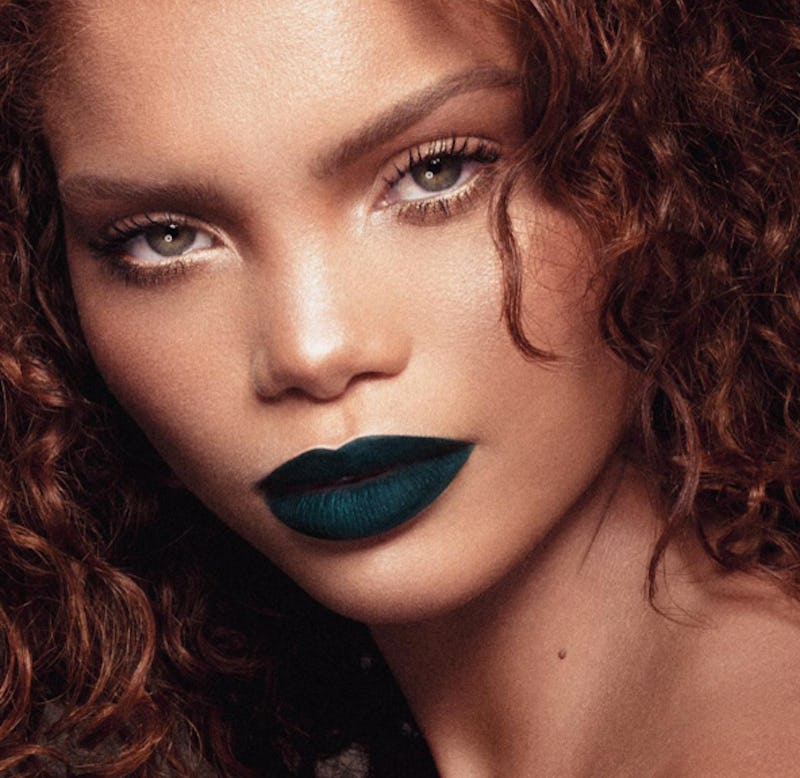 When it comes to fall beauty, Kylie Jenner is killing the game. Once she finally released all four of her Lip Kit shades for the season, it became quite clear that everyone was going to want to get their hands on them. But, even if you aren't quick enough to cop one of the shades from Kylie Cosmetics, you can still rock similar colors all fall long. These dupes for the Trick Kylie Lip Kit will give you that perfectly bold pout you've been hoping for.
Emerald green is definitely trendy this fall season, but that doesn't mean you can expect everyone to be wearing it as a lipstick. Because only the most daring of individuals can pull off a shade this noticeable. A deep green lippie is definitely not for the faint of heart. But, that's not to say that there aren't plenty of folks hoping to snag this shade the moment it drops online. Something tells me that Jenner's fall products are going to sell out in record time.
So, you've got to have a plan for when that happens. Whether you're not online the moment they become available (on Oct. 12 at 6 p.m. ET/3 p.m. PT, by the way) or you just don't want to pay around $29 for lipstick, here are options you can shop instead.
This dark green lippie is absolutely gorgeous.
It's perfect for Halloween. Trick or treat? I choose Trick!
If you're into the idea of a bold pout, too, then these similarly colored lipsticks will definitely give it to you!
OCC Lip Tar in Blackboard, $16, Amazon
This lip color is described as a "dusty, blackened green," and that's just the kind of thing you're looking for!
The Éstee Edit Mattified Lipstick in The Storm, $22, Amazon
This teal version has a mix of green and blue that will give a freshness to the way you wear green lipstick this fall.
Urban Decay Junkie Vice Lipstick Palette, $40, Amazon
Not only do you get multiple lip shades when you shop this palette, you also get the most perfect evergreen hue, Junkie. Adding this to my cart as we speak!
Ultra Glossy Lip in Crystal Ball, $5, Amazon
This won't give you a matte finish, but it will give you all of the color payoff you could ever want!
NYX Wicked Lippies in Risqué, $6, Beauty Plus Salon
This vibrant green will have you ready for the season in no time!
Bite Beauty Amuse Bouche Lipstick in Kale, $26, Sephora
A deep green like this couldn't be more accurately named.
Kat Von D Studded Kiss Lipstick in Plan 9, $37, Amazon
Between the studded packaging and the deep green color, there's no way you won't feel like a total bad a when you slick this across your pucker.
Images: kyliecosmetics/Instagram (1); Courtesy Brands (7)