These GIFs Are Every '90s Kid During Fall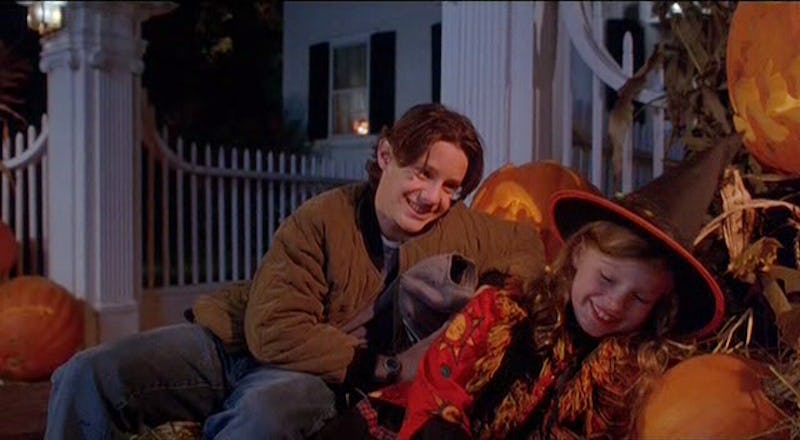 Ah, fall. Who isn't excited to celebrate what is the most universally loved season of all? We have bright sun, cold air, and plenty of gorgeous leaves and colors around us. When it comes to things we love, in fact, it feels like for '90s kids, loving the fall season is pretty darn consistent among us. It can be fun to think about, for example, what GIFs make us '90s kids think, "Me during fall," especially when we're already daydreaming about our favorite decade anyway.
Growing up in the '90s was awesome for a lot of reasons, and fall was definitely at the top of the list. We got to go back to school, see all of our friends and teachers, and of course take advantage of ridiculous fall fashion. Denim jacks, leggings, and boots have been a fall uniform since we were kids, and it doesn't appear to be changing anytime soon. And don't even get me started on all of the amazing holiday movies that pop up around fall, from Halloween to Thanksgiving.
Let's celebrate fall and skip down memory lane a bit together, because I have a feeling these GIFs will make any and all '90s kids think, "Yes! That! That is absolutely me right now!"
1. Me When I Taste My First PSL Of The Season
Oh, the sweet combination of pumpkin, nutmeg, cinnamon, and clove. You must be heaven-sent to better the world, beloved PSL.
2. Me When I Break Out My Cozy Sweater Collection
Whether you're bringing out sweaters from last year or doing some shopping, there is nothing like the day you realize it's finally cold enough to snuggle down in something cable-knit.
3. Me When I'm About To Jump In A Pile Of Leaves
Need to feel like a kid again? Time to roll around in some colorful leaves, everybody.
4. Me When I Put My Denim Jacket On For The First Time Since Last Fall
The classic denim jacket resumes its starring role in the cooler-but-not-too-cold weather.
5. Me When It's Time To Upgrade My Phone
Doesn't it seem like technology upgrades are always happening around the fall? Our phones update, our computers update... Good thing we love the internet!
6. Me When Warm, Stick-To-Your-Ribs Recipes Come Back Into My Life
Fresh fruit and light, summer-y dishes are fun in their own right, but let's be real: Who hasn't been looking forward to some cozy cold weather meals? Pro-tip: Get a slow cooker. Seriously. Just do it.
7. Me When It's Time For Football Season
Whether you watch football, play football, or just know someone who is obsessed with football, the sport is basically synonymous with fall.
8. Me When My Friends Critique My Fall Wardrobe
What-ever.
9. Me When Thanksgiving Dinner Gets Way Too Awkward
Of course you love your family. Of course you love formal sit-down dinners during the holidays. Of course... they're always really, really awkward.
10. Me When My Crush Asks Me To Go Apple Picking
How picturesque!
11. Me When The Squad Wants To Go On Crisp Morning Jogs
Yep.
12. Me When Someone Compliments My Decorative Gourds
Oh, this careful arrangement of mini pumpkins on my desk? Super casual, thanks for noticing!
13. Me When The Meteorologists Predict An Early Winter Chill
Sometimes, nightmares come true.
14. Me When I Meet Someone Cool In One Of My Classes
Hi, new best friend!
15. Me When It's Time To Put On My Winter Jacket
You knew it would happen eventually, but doesn't it always feel too soon?
Happy fall, y'all!
Images: Walt Disney Pictures; Giphy (15)