16 GIFS That Were You On Halloween In The '90s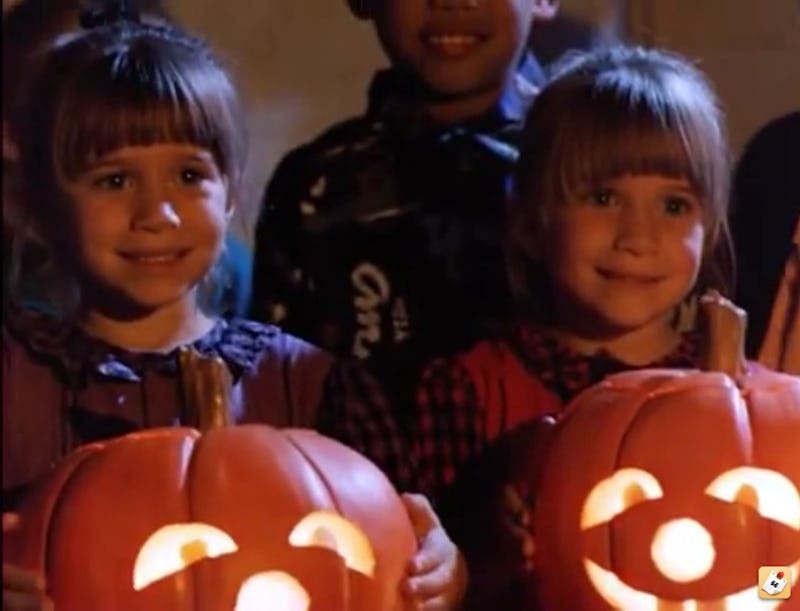 Halloween as an adult means grown-up drinks, passing out candy, and a movie marathon of my favorite spooky flicks — and I have a blast every year. But the Halloween celebrations of my childhood haven't been forgotten, and these GIFS will make every '90s kid say "Me on Halloween." We might all be different, but there's one thing many of us have in common: Our obsession with All Hallow's Eve. Amiright?
We may have passed the torch on to our younger counterparts, but I'd bet there's still a '90s child somewhere in most of us, watching Casper Meets Wendy and devouring boxes of Nerds, begging the parentals for a later bedtime. Don't let adulting rain on your parade, because life isn't all about paying bills and meeting deadlines. No matter what your age is, it's still fully acceptable to enjoy the magic and spirit of Halloween.
From candy to costumes, from parties to haunted houses, the end of October was always the best time of the year as a wee one (and let's be honest — it still is as an adult, too). These GIFs will take you back to your childhood and remind you why Halloween in the '90s was always your favorite day.
1. Me When A Neighbor Handed Me Milk Duds
What kind of child hater are you? Hand over the Snickers.
2. Me When Halloween Fell On A School Night
This should be against the law.
3. Me When A Neighbor Gave Out Full Size Candy Bars
It was like Christmas on Halloween. It was Chralloween.
4. Me When It Was Raining On Halloween Night
Everything bad always happens to me.
5. Me When We Had A Pizza Party At School
AND we get to watch an episode of Are You Afraid of the Dark? THIS IS AMAZING.
6. Me When A Neighbor Pretended Not To Be Home
My mom warned me about people like you.
7. Me When I Refused To Share My Candy With Anyone
Except the Milk Duds. You can have those.
8. Me When No Other Kid Had My Halloween Costume
Can't touch this.
9. Me When My Mom Let Me Stay Up Late For Scary Movies
Someone boot up the VCR. Where's my Hocus Pocus VHS? Popcorn. Candy. Stat.
10. Me When My Mom Wanted Me To Reuse Last Year's Costume
Do I look like an amateur?
11. Me When Halloweentown Came On TV
Silence, everybody.
12. Me When I Got Apple Cider And Doughnuts
Life: Complete.
13. Me When We Went To A Haunted House
I'll just wait in the car. Thanks.
14. Me Every Time My Mom Tried To Make Me Eat Real Food Instead Of Candy
Broccoli is for losers.
15. Me At The End Of Halloween Night
Seriously. What now?
16. Me The Day After Halloween
OK, I feel better now.
Images: Warner Bros. Television/ABC; Giphy (16)