'Insecure's Molly Treats Herself In A Certain Way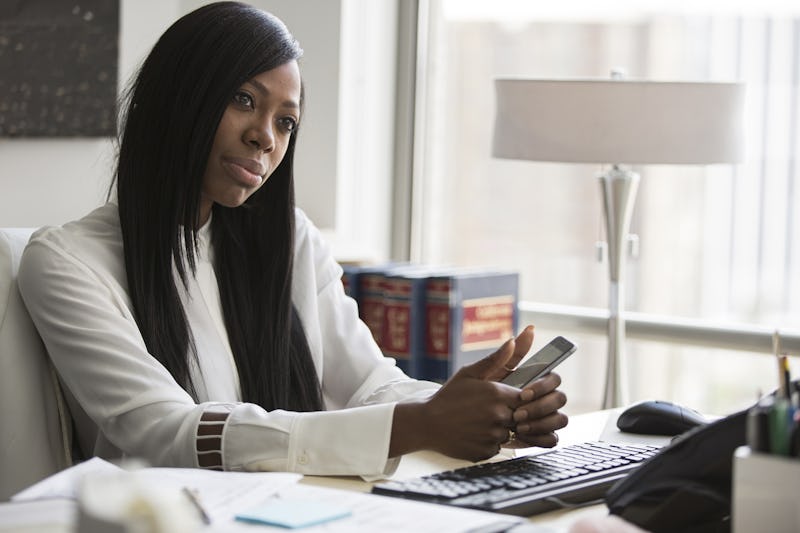 After her best friend Issa told her that her nether regions were broken, Molly on Insecure decided she needed to remedy this p*ssy problem in the most literal way. In Insecure's second episode, "Messy as F*ck," Molly pretty much had a "Treat Yo Self" day of pampering, which she called "Molly Maintenance Day," and it included getting the mysterious "vajacial." Apparently, the high-powered lawyer took Issa's words that she had a "broken p*ssy" to heart and after getting her hair and nails done, she went all in on fixing her vagina. So can you actually get a vajacial like Molly did on Insecure? And what does this treatment entail?
According to ABC News in 2013, the term "vajacial" was trademarked by Stript Wax Bar, which specializes in hair removal and has multiple locations in California. As Insecure takes place in Los Angeles, Molly was in the premiere spot to get this facial for her vagina. The procedure typically includes cleansing the vagina, applying a mask, extracting ingrown hairs, and then applying another mask — or as Molly interpreted it, you just get bubbles blown at your vagina. It's for women who are bare down there since one of the main goals of the vajacial is to help the vulva stay smooth and soft after waxing. Molly had heard about the vajacial from Draya Michele's Instagram and another famous person, Jenny Slate, documented getting her own vajacial for Lenny Letter in 2015. Like Molly, Slate seemed underwhelmed by the whole experience, writing, "Maybe this would be exciting if you've, I don't know, never let someone else see your vagina?"
Even though Molly's vajacial didn't help her like she had expected it to, after all those treatments, she ended up hitting it off with the guy she had met at the bar in the Insecure series premiere, Jered. She was in her comfy clothes with no makeup, proving she didn't really need all of those maintenance appointments to build up her dating confidence. Yet, I can't argue with the logic that if she's feeling fancy, so will her vagina and more women should take time out for themselves like Molly did — whether they get a vajacial or not.
Image: John P. Fleenor/HBO