Colleen Ballinger Combats Haters With Emojis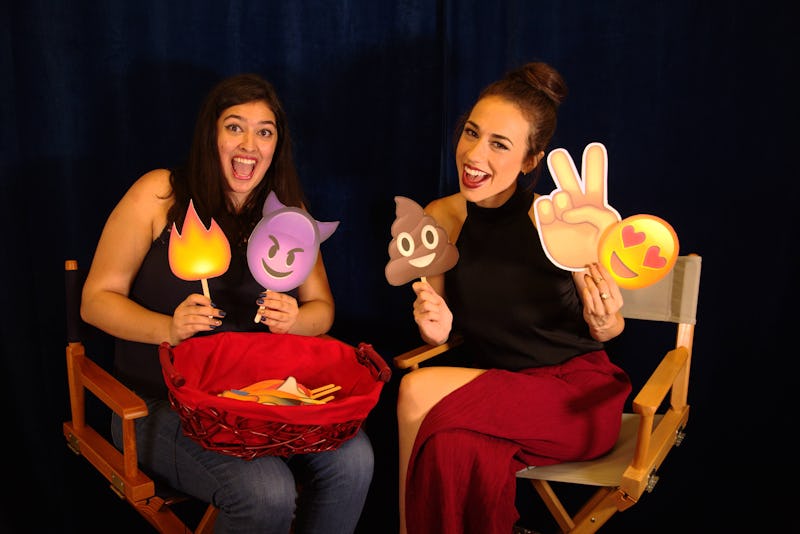 Colleen Ballinger plays an overconfident and obnoxious character on Youtube — Miranda Sings, who made her Netflix debut in Haters Back Off . In real life she's no stranger to haters, whether they're catcalling you on the street, talking to you on a plane when you have headphones on, or leaving rude tweets and Youtube comments online. Haters Back Off allows the fictional Miranda and her creator to show more emotions, so it's fitting that in a Facebook Live video with Bustle, Colleen Ballinger played emoji associations about everything from pizza-flavored lollipops to April Fool's pranks and the Gilmore Girls revival.
Before the game, Ballinger talked about the difference between responding to instant fan feedback as a Youtuber to developing the narrative series that explains the origin of Miranda Sings, Haters Back Off. "On Youtube, you get to see 3-5 minutes of just Miranda being silly," she says, "and this is a much more in-depth story."
If you're more familiar with Miranda Sings than Ballinger herself (though she is a vlogger as well), than this emoji association game is the perfect way to get to know the Haters Back Off creator. There's a disturbing story about what happens when you order a Pumpkin Spice Latte in Germany, favorite Snapchat filters, and a whole lot of shady eye throwing. Check out the full gamut of emotional responses here:
Ballinger also has a lot of praise for Netflix, both as someone who has worked with them and as any other human on the planet who's obsessed with Stranger Things and looking forward to revisiting Stars Hollow in November. Before you ask, Ballinger can't pick a favorite of Rory's boyfriends, but she's not not Team Dean.
She also gushed about working with Angela Kinsey, who fans will remember from The Office and who plays Miranda's mom in Haters Back Off. "She's better than you can imagine," says Ballinger, and their chemistry shows in the Netflix series.
Now that fans are watching and responding to the show, will it continue? Ballinger would love a Haters Back Off Season 2, but for now — just enjoy the new episodes! The show takes Miranda Sings to a whole new level, and has a real Napoleon Dynamite-eque vibe, which coincidentally is one of Ballinger's favorite movies! Hopefully Season 1 of Haters Back Off leads to much more, for Miranda and Ballinger alike.
Image: Bustle