11 Indie Stores That Sell Amazing Denim Patches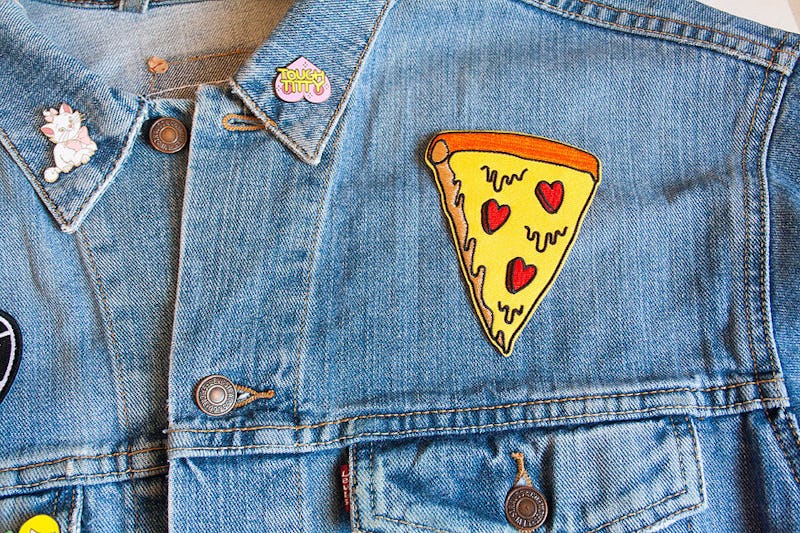 From the resurgence of brown lipstick to a rediscovered love for mom jeans, our most recent trends have been tipping their caps towards the '90s left and right. So is it any wonder we've recently made our way back to patches? There are so many indie stores that sell amazing patches, and with this new excuse to relive our childhood '90s wardrobes, you might as well dive in with both hands.
If you've tossed out your grade school appliques along with your Lego sets and stirrup pants, fret not. While your Lisa Frank iron-ons were probably all kinds of amazing, there are now so many swoon-worthy options you can use to patch up (#terriblepun) that hole in your heart. And this time around, you can get edgy with it.
While there are plenty of quirky cat and donut appliques out there, there are also just as many darkly funny options that'll add a good dose of sass to your denim jackets and jean pockets. From feminist sayings to suggestive finger placements, there's something for everyone.
Below are 11 indie stores that sell patches — each owner has an intriguing story, and their quirky, brilliant mind has created something you can use to jazz up your threads. Read on and get obsessed.
1. Ban.do
Love Patch, $12, bando.com
Ban.do is a lifestyle brand that specializes in accessories designed by females in sunny L.A. They're all about the quirk and fun, making girl power exciting again. Just check out their "About Us" page, which begins with "Let's be BFFs. We can stay up late watching 80's rom coms and eating pizza with everything on it (except anchovies, grosssss!)
Adorbs.
They have a variety of cheeky patches, stocking everything from flowery cacti to "Fries Before Guys" catchphrases.
2. Danny Brito
Pizza My Heart Patch, $6.75, Danny Brito / etsy.com
Danny Brito is an indie shop run by, you guessed it, Danny Brito. He's got a knack for creating tongue-in-cheek images that make you want to iron on about a thousand patches onto one denim jacket. According to his bio he has a "small brain and a big heart, and it tends to reflect in the cutesy things I draw." And cutsey is right.
From a literal can of whoop ass being cracked open to a heart sassily proclaiming "Debbie Downer," there are so many designs to choose from.
3. Punky Pins
The Book Was Better Iron On Patch, $5.66, Punky Pins/ etsy.com
Punky Pins cropped out of Middlesbrough, UK just last year, and it carries a variety of irreverent patches, pins, and stickers. From macaron appliques to "cuterus uterus" iron-ons, there's something for everyone.
4. Creepy Gal
Fight Like a Grrrl — Feminist 3" Embroidered Sew On Patch, $8, Creepy Gals/ etsy.com
Feminist Elle Chen is the star behind Creepy Gals, and according to her bio, she makes handmade patches and embroidery art that are heavily influenced by feminism and all things creepy cute! If you're into appliques of stocking-wrapped legs with daggers and quotes like "pit hair, don't care," then you've come to the right place.
5. I Like Cats Shop
Donut Cat Woven Patch, $7.50, I Like Cats Shop/ etsy.com
Cat lady, you've found your promised land. Run by Brighton based designer Toby Oliver Dean, he was inspired by his childhood pets to create this fantasy of a store. If you can't get enough of furry felines, then this is the place to unravel your obsession.
6. Mamooby
Eye Applique, $7, Mamooby/ etsy.com
For Ira Kovalchuk of Mamooby, patches came into her life out of thrifty necessity. When her baby grew into a toddler, she had to get creative on how to mend his forever-messy clothes. "A spot on a sweater impossible to wash off, a hole appeared in visible places. This is how patches and appliques came into my life," Kovalchuk shares in her bio.
That grew into a thriving business, one where a person can pick up a Halloween ghost applique in the same spot as a fish skeleton.
7. Coucou Suzette
Mouth Patch, $11, Coucou Suzette/ etsy.com
Parisian designer Juliette fell in love with kitsch when she was working abroad in Tokyo, and decided to let the obsession lead her to a side hustle. Her store is everything sugary-sweet about girlishness, and it's a place where you can find tan lined butt patches next to chopstick appliques.
8. Wildflower And Company
'90s Dope Patch, $4, Wildflower and Company/ etsy.com
Wildflower and Company is based in Brooklyn, and it brings forth a throwback '90s vibe that many crave. Expect to find heart candy patches with the words "As If" embroidered across them, as well as sassy pink roller-skates that could definitely be a nod to your childhood.
9. New Woodsman
Drink Away The Day Patch, $8, New Woodsman/ etsy.com
Daniel Linwood Crawford is the genius behind New Woodsman, and he lives up to his store's name when it comes to a new kind of masculinity. "As the son of a quilter/seamstress and a hunter/mechanic, I find value in both feminine and masculine handmade traditions; repairing engines by day and embroidering by night," Crawford shares in his bio. He's the millennial version of a Renaissance Man, and his quirky patches reflect that.
10. Sweet And Lonely
Jurassic Park Clever Girl Patch, $11, Sweet and Lovely/ etsy.com
Kate Gabrielle is an eccentric soul, one that spends her time reading about the Black Death from the Middle Ages and rewatching X-Files reruns. Her offbeat-ness spills over beautifully into her store, where she produces Leslie Knope patches, Jurassic Park themed appliques, and "Time Travel Agent" iron-ons.
11. Yes Stitch Yes
Kendrick Lamar Mixed Tape, $20, Yes Stitch Yes, etsy.com
Lauren started selling beaded necklaces on the playground when she was in elementary school, and she's been hustling ever since. According to her bio, she's interested in "pretty things that say ugly things," which is probably the most amazing way to describe her art. From vibrator needlepoint work to Tinder-commenting patches, this shop carries all sorts of cheeky wares.
Whether you iron on just one or go for a full kitschy jacket, patches are going to be a hard trend to resist this season.
Images: Courtesy Brands