The True Story Behind 'King Cobra' Is Totally Wild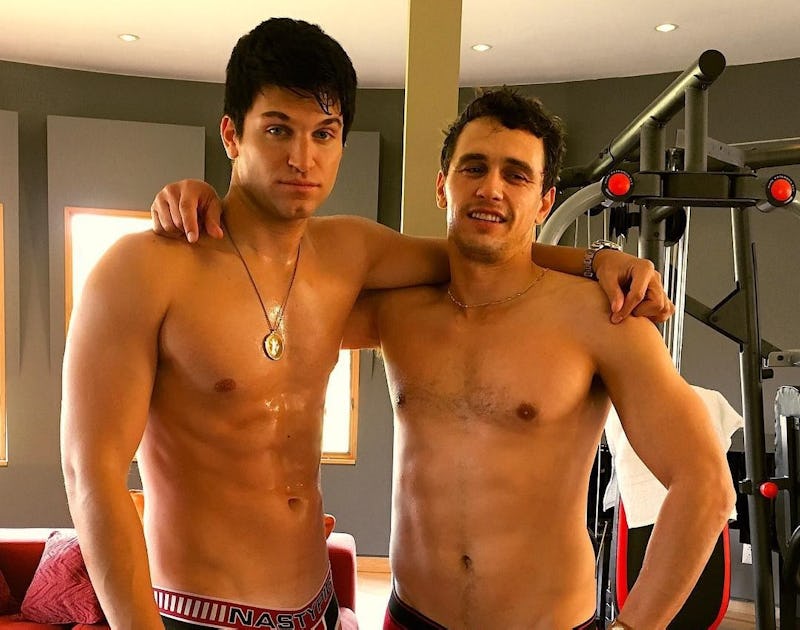 James Franco has made a reputation for himself as an artist who loves to take risks. Seemingly not content with just being a blockbuster movie star, the 38-year-old has expanded his craft in a number of unexpected ways, like taking film classes at NYU and landing a role on soap opera General Hospital. His newest film, King Cobra, continues that trend. Franco both stars in and produces the movie, which is a wild tale about the murder of a gay porn producer by two aspiring producers in the industry. This all sounds crazy, yes, but as it turns out, King Cobra is actually a true story.
The film is based upon the book Cobra Killer by Andrew E. Stoner and Peter A. Conway, a nonfiction account of the murder of gay porn producer Bryan Kocis (called Stephen in the film). Kocis was the founder of Cobra Video, an adult film studio specializing in gay pornography. The star attraction at Cobra was Brent Corrigan, real name Sean Lockhart, who became a subject of controversy in 2005 when it was learned that he was under the legal age for porn actors at the time when he filmed several of his movies. It was the draw of working with Corrigan, who was under contract with Cobra, that allegedly led to Kocis' murder by two aspiring gay porn producers: Harlow Cuadra and Joseph Kerekes.
The two men were lovers, and they founded an escort service called Norfolk Male Companions, which eventually became an amateur gay porn company. They were allegedly desperate to to work with Corrigan, star of the most-downloaded gay porn video of 2004, according to Rolling Stone's Peter Wilkinson. Corrigan also wanted to be free of his contract with Cobra, which resulted in a $1 million lawsuit filed against him by Kocis, and he discussed working with Cuadra and Kerekes if they could find a way to get him out of his contract. Unbeknownst to the two escorts, Corrigan and Kocis would soon settle their contract dispute, making Corrigan a free agent. But it was too late. Cuadra and Kerekes had already allegedly come to the conclusion that the only way they could get Corrigan away from Cobra was to murder Kocis.
Cuadra is claimed to have assumed the identity of Danny Moilin, a young-looking aspiring gay porn actor who could potentially take the place of Corrigan at Cobra. After several emails, Moilin (in reality Cuadra) allegedly secured an invitation to Kocis' home in suburban Pennsylvania one night. There, he and Kerekes allegedly stabbed Kocis 28 times, nearly decapitating Kocis before reportedly setting the house on fire when they left. A trail of evidence led investigators to Cuadra and Kerekes, while Corrigan and his boyfriend, Grant Roy, were also persons of interest. Working with police, Corrigan and Roy agreed to meet with Cuadra and Kerekes in San Diego while wearing a wire in an attempt to clear their names. It worked. The two escorts were recorded confessing to the murder. They were both convicted of Kocis' murder and are currently serving life sentences with no possibility of parole.
King Cobra is a wild murder mystery filled with sex and scandal, another interesting highlight in James Franco's varied career. But even Franco's crazy career looks tame compared to the real life story behind the film.
Images: IFC Midnight