'90s Group Halloween Costume Ideas For Your Squad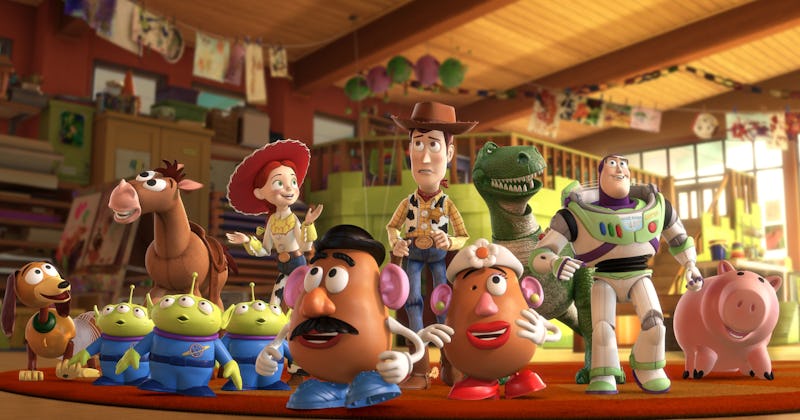 Halloween costumes can be anything you want them to be: scary, silly, sexy, you name it. They can even be nostalgic if you go with the right ensemble — and if that's the sort of look you want to go for, look no further than these fun and memorable '90s Halloween group costume ideas that will make you feel like a kid again.
Going to a Halloween party is like taking a trip back in time. You're bound to find flappers from the '20s, Pink Ladies from the '50s, hippies from the '60s, disco queens from the '70s, and rock stars from the '80s. But, the coolest costumes are always the ones from the '90s, every millennial's favorite decade. From classic animated characters to iconic pop groups to real-life famous figures, '90s costumes are prime for the picking, especially if you're dressing up as a group. Whether you want to become your favorite boy band or relive the glory days of watching Saturday morning cartoons with a bowl of cereal that is basically sugar, there's a group costume out there for you and your friends.
Ready for a Halloween that's all that and a bag of chips? Then gather up all your home skillets and get ready to pull of one of these 14 epic '90s Halloween group costumes. No one will look as fly as your crew, and for those who don't recognize, you know what to tell them: Talk to the hand.
1. Rugrats
One of the best cartoons the '90s had to offer, Rugrats is a fun and memorable costume perfect for a group of friends who aren't afraid of DIY.
Blue T-shirt, $5, Amazon; White Shorts, $13, Amazon; Pink T-Shirt, $6, Amazon; Saturn T-Shirt, $15, Etsy; Green Shorts, $13, Amazon; Purple dress, $18, Amazon; Purple Bows, $10, Amazon
No matter which character you decide to be, your costume is as easy as putting together a few basic clothing items you can easily find at the store or in your own closet. For Tommy's costume, you will need a basic blue t-shirt and, in place of his iconic diaper, a pair of white shorts. Whether you're going as Phil or Lil, you'll want to find a pink t-shirt and a pair of overalls, either shorts or a skirt, with a yellow duck pin embellishment. If you're the Chucky of the group, you'll need a space themed Saturn t-shirt, bright green shorts, and a pair of purple glasses. All Angelica's outfit requires is a long sleeve orange shirt, a purple dress to go over it, and two matching purple bows
2. Beanie Babies
Another simple DIY costume, this is a great group idea no matter how many people you're dressing up with.
Animal Ears, $10, Amazon; Animal Mask, $5, Amazon; Tutus, $10, Amazon
The idea for this is easy: pick out a pair of animal ears or an animal mask, and wear matching clothes of your choosing. Fun options include tutus, fur vests, and animal print tights or leggings. Add a DIY poster board heart with the "ty" logo on it around your necks. Voila, your whole crew has transformed into the '90s most popular toy.
3. Characters From Toy Story
While the '90s saw plenty of great movies hit the screen, nearly none are as memorable as every millenials favorite Pixar movie, Toy Story.
Woody Costume, $19, Amazon; Jesse Costume, $30, Amazon; Buzz Lightyear Costume, $31, Amazon; Character T-Shirt, $10, Etsy
Dressing up as the characters of Toy Story is as simple as buying the costumes online: there's Woody's, Jesse's, Buzz Lightyear's and more available at the click of a button or a trip to the store. Alternatively, there are character t-shirts like this one of the aliens for those who want to dress up with minimal effort.
4. The Cast Of The Newsies
Before he was Batman, Christian Bale found fame as another unforgettable character: Jack "Cowboy" Kelly in The Newsies. If you remember him as his famous '90s role, maybe it's time to get the crew together and seize the day — and the chance to rock a newsboy cap for Halloween.
Suspenders, $9, Amazon; Vest, $23, Amazon; Newsboy Cap, $9, Amazon
For this costume, the whole group will need a few key items: tweed dress pants, button down shirts, suspenders, vests, and, of course, just the right newsboy cap. Grab a few newspapers, and be prepared to break out into choreographed song and dance at a moment's notice.
5. Pokémon
A costume for '90s kids and fans of the "Pokemon Go" game that's sweeping the nation, there are a million ways to dress up in a Pokemon theme.
Sweatshirt, $22, Amazon; Red Suspenders, $9, Amazon; Yellow Tank Top, $6, Amazon
For the simplest Pokémon theme costume, have your group get swag from the trainer team of your choice. If you want to get more creative, you can dress as Pokémon like Pikachu, which requires yellow clothing and a themed hat, a Pokéball itself with the help of a simple sweatshirt, or trainers like Misty, whose outfit can be made from shorts, red suspenders, and a yellow tank top.
6. Characters From Hey Arnold!
Another classic '90s cartoon, Hey Arnold! is a simple group costume every millennial will be able to recognize.
Oversized Blue Sweater, $8, Amazon, Tiny Blue Cap, $6, Amazon; Red Crewneck Sweater, $10, Amazon; Fabric Paint, $3, Amazon; White Turtle Neck, $9, Amazon; Pink Dress, $13, Amazon
There are plenty of ways to dress up like Hey Arnold! characters, and they all require a little DIY skills. Once you get the hair down pat, you're going to need a flannel, an oversized blue sweater, and a tiny blue cap for Arnold's outfit, a red crewneck sweater with a "33" written on the front in fabric paint for Gerald's outfit, and a white turtleneck, pink dress, and oversized pink bow for Helga's outfit.
7. A Legends Of The Hidden Temple Team
Have you always dreamed of being on a game show? Now is your chance with this throwback '90s group costume that will give everyone those nostalgic feels.
Team T-Shirts, $15, Amazon, Gold Helmets, $15, Amazon; Knee and Elbow Pads, $12, Amazon
The best part of this costume is it's simplicity: all your group needs are matching team t-shirts! If you really want to commit, gold helmets and knee and elbow pads will do the trick and really pull the outfit together.
8. Power Rangers
Though there have been many reinventions, real '90s kids know nothing beats the original Power Rangers, especially when it comes to Halloween costumes.
Power Ranger Costume, $47, Amazon; Sweatshirt, $40, Amazon, Rangers T-shirt, $9, Amazon, Power Ranger Pajama, $46, Amazon
When it comes to putting together your group Power Rangers get up, you have more than one option. Go all out with a full-blown Power Ranger costume, or make your own with a sweatshirt and matching sweatpants or leggings. You could also just rock a simple Rangers t-shirt, or go in pajamas. There are plenty of ways to be the superheroes of your '90s dreams.
9. Spice Girls
Shake it to the left, cause you (and your whole Halloween crew) will be having a good time dressed as the best pop group the '90s has to offer.
Blue Dress, $13, Amazon; White Boots, $30, Amazon, British Flag Dress, $13, Amazon, Sports Bra, $26, Amazon, Athletic Pants, $12, Amazon; Party Dress, $16, Amazon; Inflatable Microphones, $8, Amazon
To pull off the Spice Girl's look, you're going to have to nail each of the five fantastic women. Baby Spice requires a blue dress, white boots, and pigtails; Ginger Spice should have her iconic British flag dress; Sporty Spice can be comfortable in a sports bra and athletic pants; Scary Spice should incorporate animal print of any kind into her outfit, like with a party dress; and Posh Spice needs just the right little black dress. Finish the look off by carrying inflatable microphones, and be prepared to sing "Spice World" all night long.
10. Lisa Frank
Love bright colors, glitter, and animal print? Then you'll love this Lisa Frank inspired group costume that let's everyone bring out their inner '90s animal.
Lisa Frank Sweatshirt, $65, Rage On; Forrest Simple Dress, $70, Rage On; Rainbow Tutu, $13, Amazon; Patterned Leggings, $15, Amazon
For this costume, you're going to want to think rainbows, glitter, and neon animal print. Great costume items include official Lisa Frank sweatshirts and dresses, rainbow tutus, brightly patterned leggings, and neon nail polish. Top it all off with some Lisa Frank inspired makeup, and you've become the coolest '90s squad of all time.
11. The Cast Of The Craft
Get witchy this Halloween, '90s style, with a complete The Craft makeover.
Pleated Black Skirt, $20, Amazon; White Button Up Shirt, $11, Amazon; Knee-High Socks, $9, Amazon; Vest, $20, Amazon; Black Lip Stick, $8, Amazon
For this group costume, you're going to need black and white clothing — a lot of it. Look for pleated black skirts, white button up shirts, knee-high socks, vests, and black dresses. Accessories with chokers (how '90s, right?) and black lipstick, and your coven look is complete.
12. The Cast of Seinfeld
From Full House to Friends, the '90s had it's fair share of great sitcoms, but none of them beat the comedic genius of Seinfeld — not to mention it's a great group costume for friends who don't want to wear anything fancy for Halloween.
Short Sleeve Shirt, $22, Amazon; Crew Socks, $6, Amazon; Oversized Blazer, $29, Amazon; Mary Janes, $13, Amazon; New York Yankees Cap, $27, Amazon; Denim Shirt, $17, Amazon
To dress as this foursome, you're going to need to dive headfirst into your '90s closet, or take a trip to the store to track a few key items down. To pull of Kramer's look, you're going to need a floral or patterned short sleeve shirt, with the top button unbuttoned of course, dress slacks, white crew socks, and black dress shoes. Tease your hair wildly, and don't be afraid to add props like a cigar. Elaine's look is simple with with a long floral skirt, preferably one with buttons on it, a white top, an oversized blazer, Mary Janes, and white socks. Again, you're going to want a lot of teased hair and a lot of hair spray. George's costume is the easiest, requiring nothing more than a flannel shirt and jeans — New York Yankees hat optional. For Jerry's costume, you want to find a denim shirt to wear with a pair of simple jeans — and get ready to tell jokes all night.
13. The Cast of The Fresh Prince of Bel-Air
You know every character, have seen every episode, and have memorized every word the to theme song. Isn't it about time you've mastered The Fresh Prince of Bel-Air costume, too?
Neon Print Shirt, $18, Amazon; Bright Printed Pants, $11, Amazon; Sweater Vest, $19, Amazon; Brimmed Hat, $10, Amazon;
With so many iconic fashion moments throughout the show, there are dozens of ways you can pull this group costume off. Basic staples include Will and Jazz's wild wardrobe, featuring a backwards Philadelphia hat, neon print shirts, and gym shorts or bright printed pants; Carlton's iconic sweater vest and collar shirt combo, and khaki pants combo; Hilary's classic brimmed hat and matching plaid outfit; and Uncle Phil's comfy cable knit sweater.
14. Classic '90s Kids
Want to really relive the '90s? It's time to pull those old flannels, chokers, and pleather jackets out of the closet.
Nirvana T-Shirt, $10, Amazon; Slap Bracelets, $9, Amazon; Bucket Hat, $9, Amazon;
With this decade themed group costume, you're options are limitless. Go '90s grunge with flannel, ripped jeans, and a Nirvana t-shirt, or channel Clueless with a matching plaid skirt and top. You could even go casual in a tracksuit and Jellies. Have fun with accessories like slap bracelets, bucket hats, and chokers, and get ready to relive the best decade on earth.
Images: Pixar Animation Studios/Walt Disney Studios; Polyvore (12); Amazon (2); Etsy; Giphy (13)