These Christmas Ornaments Are Feminist AF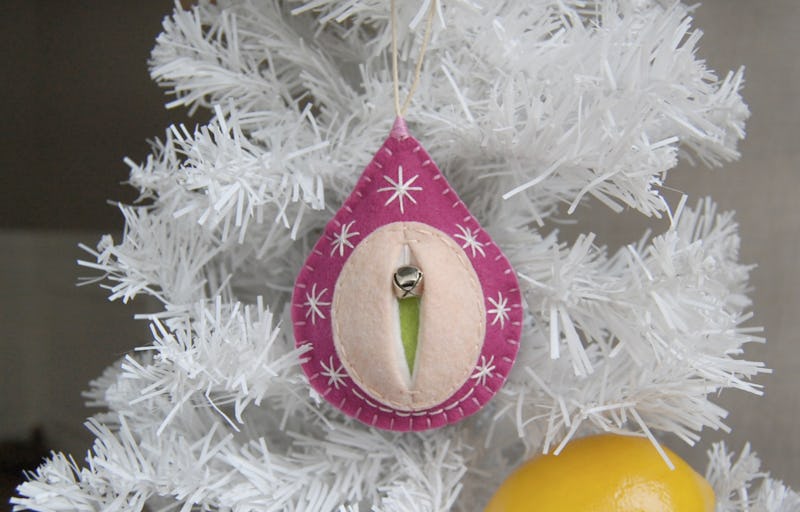 If you still have the words "grab them by the pussy" ringing in your ears all election season long, then go ahead and drown them out with the ringing of the jingle bells on these vagina-shaped Christmas ornaments on Etsy. Because as eternal as this garbage fire election may seem, the truth is, it will all be over in two weeks — just in time for everyone to remember that we have been so busy preparing for the apocalypse that we totally forgot about all that holiday shopping we usually do when we're not too busy crying into our breakfast cereal when we read the morning news. And what better way to treat your fellow feminists/nasty women after enduring the rampant sexism of this election cycle than gifting them with arguably the most feminist Christmas ornament of all time?
The vagina ornments, or Vaginaments, are the creations of Suzanne McAleenan, an Ontario-based Etsy creator who is fighting the vagina taboo, one adorable felt vag at a time. She sells the Vaginaments in her shop feltmelons, "Where the ladybits are felt. Get it? Felt. Ha." In addition to the variety of Vaginaments, McAleenan also creates mastectomy boob ornaments for loved ones in recovery, and even adorable penis ornaments.
The best part? All the vaginas have their own names. This one is, "Ariel, the snowy vulva ornament. Hold her up to your ear and hear waves crashing on distant, rocky shores!"
This one is called "Just The Nip," in support of the Free The Nipple movement.
She even displays her creations on her Instagram account, feltmelons — including many of these Vaginaments in support of pubic hair.
And although McAleelen is away from her shop at the moment (to attend the Toronto Sex Show, because duh), she will be back on Oct. 25, just in time to start filling out your frantic preorders to have a holly, jolly, vagina-filled Christmas. After all, hopefully we'll be celebrating our first Christmas with a female president. Why not decorate the whole damn tree with Vaginaments, y'all? It's certainly easier than decorating it with all these pussies you grabbed.
Still looking for some vag-related inspo? Here are a few other gifts for your fellow feminists this year:
Vagina Planet Pin
Casual reminder of who run this mother.
Etsy, $10.06
Vagina Coin Purse
Why put your money where your mouth is when you can put it where your VAGINA is instead?*
(*Plz don't actually put money in either of those places in real life, it has lots of germs, y'all.)
Etsy , $19.60
Tri-Metal Vagina Necklace
A little more subtle than the others, but no less feminist AF.
Etsy, $30
No go forth and grab these pussies, everyone, before they sell out!
Images: Etsy, Giphy