4 No-Fuss 'Fantastic Beasts' Halloween Costumes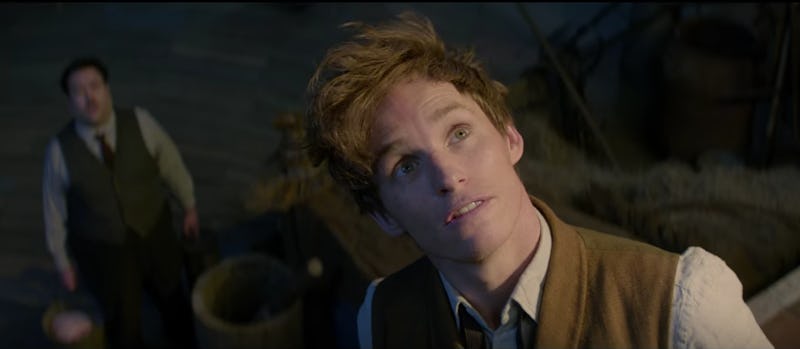 Halloween is fast approaching. It will be here in less time than it took for Harry Potter to finally open his Hogwarts letter in Harry Potter and the Sorcerer's Stone. So, if you're not the type who plans their Halloween costume months in advance, chances are you're scrambling to find anything remotely Halloween-esque right now. And, with the release of Fantastic Beasts and Where to Find Them just around the corner, you might be thinking about putting together a great last minute Fantastic Beasts costume. Well, with a little creativity, some imagination, and a fair amount of wiggle room, you can make a truly great Fantastic Beasts costume in time for Halloween.
Odds are, if you're looking at a last minute Fantastic Beasts costume, you have some Harry Potter swag lying around. So, step one in creating a wizard-worthy costume on the fly is to look through your stuff and gather anything and everything HP related. Got a wand? Great. Have a Hufflepuff scarf lying around? Even better. (Newt Scamander, the main character in Fantastic Beasts was a Hufflepuff at Hogwarts before he was expelled.) However, if you don't have any Harry Potter memorabilia and don't have time to run around town looking for some, you're going to need to get your crafting on. Here are a few suggestions for last minute Fantastic Beasts costumes you can do with no major shopping trips required.
1) Newt Scamander
Newt's look in Fantastic Beasts and Where to fInd Them is pretty simple. And, depending on how strict you are about the details, definitely doable in a pinch. All you really need is a white button down shirt, a black ribbon or tie, a coat — blue if you've got it — and a wand.
The most important thing when throwing together a last-minute costume is choosing what detail you want to focus on. For example, if you have a blue coat, but not a white button down, wear anything you've got that looks vaguely like Newt's shirt and keep the blue coat. Or, if you'd rather focus on the shirt and not the coat, you can do that too.
Now, because you might be a bit free with some of the details of the costume, you're going to need something that gives away who or what you are. In the case of Newt Scamander, or really any witch or wizard, that one thing is a wand. If you can't buy one, I suggest rolling up some newspaper and taping it like a wand or cutting it out of cardboard. (Hey, whatever works, right?) And, if you really want to impress, pick up an empty leather suitcase or cut one out of cardboard and label it "Fantastic Beasts."
2) Any Of The Other Characters
Fantastic Beasts and Where to Find Them takes place in 1920s New York City, which means period clothing. For the women, that basically means a slinky dress or whatever you have that could pass as a flapper dress. Put on your beaded gown, add a wand, and you're set. For the men, it's a bit less simple. But, a dress shirt with a vest and jacket should do the trick. Just remember, the devil is in the details: as long as you have a wand, you have a costume.
3) A Fantastic Beast
Have any animal ears lying around? Perhaps an old cat costume from a few years ago, or a dragon onesie? Well, put it on, smack some glitter on your face and you're a fantastic beast from the world of Harry Potter. This one's particularly great because you don't even really have to know what or who you are. Unless you're going to a strictly Harry Potter-themed Halloween party, you could probably make up an animal name or pick one at random from the Internet and nobody would know.
4) The Suitcase
Newt's main accessory is his suitcase full of Fantastic Beasts, which makes it your perfect Halloween costume. Now, to make one yourself, you might just have to cut a piece of cardboard, draw a handle on it and cary it around all night. You can also be Newt Scamander coming in to (or getting out of) the suitcase by, essentially, wearing a cardboard box. Have the top open on your back and cut out the bottom for your legs, wear brown pants to create the illusion that your legs are inside the suitcase, and, voila.
You might not win any costume awards with these last minute Fantastic Beasts and Where to Find Them Halloween costumes, but, hey, at least you'll be having some wizarding fun.
Images: Warner Bros. Pictures; dailyfantasticbeastsgifs/tumblr (5)