6 Book Clubs You Can Join On YouTube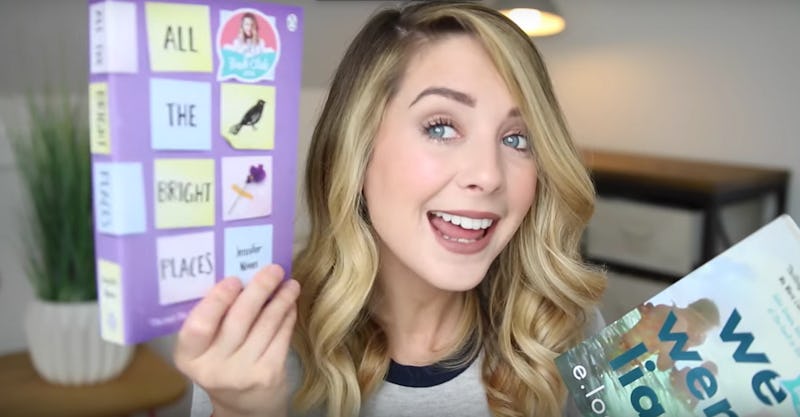 A group of friends meeting up for a book club is such a lovely idea, but these days, who has the time? If you're hosting, you have the pressure of providing snacks and wine. If you made everyone read the whole of Gone with the Wind last month, you're pretty much obliged to read whatever long-ass book your friend has chosen, whether or not you're actually enjoying it. There's no denying it: old-fashioned book clubs have a lot of drawbacks.
That's why online book clubs are so great: you can join in as and when you choose; you only have to buy popcorn for one person; and you can attend them in your pajamas from the comfort of your own home (you can still bring the wine, though). But sometimes, online book clubs can feel a little lonely — especially if you're just looking at words on the screen.
That's where YouTube book clubs come in: they have all the convenience of a digital book club, but with a little more face time (literally). You can choose the extent to which you join in: you might be happiest just watching all the community videos and feeling like you're part of a real life conversation, or you might work up the courage to post a video of your own. All you need is a smartphone and a basic editing software (there are a lot of free apps out there if you don't want to splash out on any of the big league ones) — and you can share your own voice on one of these YouTube book clubs.
1. The Zoella Book Club
YouTube star Zoella started up a book club venture this year with U.K. bookstore WHSmith — and, naturally, there's a huge online component as well. Each season, Zoella picks eight YA books that she thinks her fans will enjoy, and then hosts book reviews and author chats over on the WHSmith YouTube page. But it's also super interactive: just search for the Zoella Book Club on YouTube and you'll find scores of users uploading their own thoughts on the book club picks, and chatting to each other about their thoughts.
2. The Banging Book Club
The Banging Book Club is run by three smart and hilarious British YouTubers: sex and relationships educator Hannah Witton, publishing guru Leena Norms, and artsy filmmaker Lucy Moon. Watching their book club videos, in which they tackle books about sex, gender, and feminism, it really does feel like you're all hanging out in one room. They also have a Banging Book Club playlist for members to upload their own videos, and it's awesome to see everyone's different opinions on the books.
3. The Lonely Genres Book Club
If you've spent enough time on YouTube, you may have stumbled across the thriving community of BookTube — which has a host of celebrities of its own. Sarawithoutanh and Clockworkitten are two of those BookTube stars, and they set up this book club to celebrate genres that often get overlooked. Previous genres have included plays and steampunk, and this month they're focusing on horror. What's great about this book club is that you can choose what to read within each genre, although the hosts do have a set book for each month if you want to read along with them.
4. The Feminist Orchestra
The Feminist Orchestra, run by Scottish BookTuber Jean Bookishthoughts, is one of my favorite book clubs because it has such a great reading list. Through this club, I've been introduced to such amazing books as the graphic novel Take It As a Compliment and Maxine Hong Kingston's memoir Woman Warrior , and in a time when the Internet can feel hateful towards feminists, this book club feels like a victory.
5. DiverseAThon
This book club is so particularly heartwarming because it was born out of something so hateful. A few months ago, a video went viral in which an extremely ignorant individual complained about why she doesn't like diversity in books. (Yeah, she seriously said that.) In response, an amazing group of BookTubers set up the DiverseAThon, a week-long book club that will take place every couple of months, and in which the only rule is to read as many diverse books as you can.
6. The Biannual Bibliothon
And of course, I saved the best until last. The Biannual Bibliothon only takes place twice a year, but it is an epic book club experience. Over the course of a week, book club members are encouraged to fulfil a number of reading challenges (such as "Read a 2016 book" or "Read a retelling of a classic story") as well as take part in some video challenges, in order to win bookish prizes. You can have a lot of fun sticking just to the reading challenges, but if you're feeling creative, the video tasks are a great way to stretch your imagination.
Image: Zoella/YouTube