'Channel Zero' Isn't Done Scaring Your Pants Off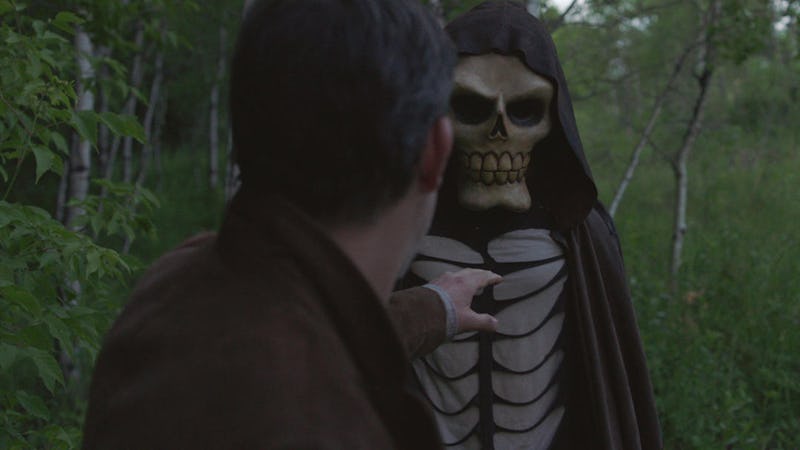 Halloween may already be two weeks behind us, but scary stories are still having something of a heyday on the small screen — perhaps because the real world can seem so scary so often these days, and watching fictional horror stories gives us a cathartic release from our everyday fears. Whatever the reason, between the ongoing terror of American Horror Story: Roanoke, the upcoming HBO documentary Beware The Slenderman, and the Syfy Channel original series Channel Zero , TV is definitely doing its best to scare our pants off these days. And with the latter program airing its Season 1 finale this Tuesday, horror fans may be wondering: When is Channel Zero Season 2?
The Syfy series, created by Nick Antosca (previously a writer on television's most exquisite horror show, NBC's Hannibal), is an anthology series based on "creepypasta," those terrifying short stories shared around the internet in modern-day urban legend fashion. The first season was based on the creepypasta known as "Candle Cove," and starred Paul Schneider (Parks And Recreation) and Fiona Shaw (Harry Potter) in a story about a man who returns to his hometown after the mysterious resurrection of a creepy children's TV program that still haunts him to this day.
That story comes to an end this week, and the plan for the anthology show is that the second season wouldn't continue the saga of "Candle Cove," but rather tackle a different creepypasta entirely. Thankfully, fans don't have to fret about whether or not that plan will come to fruition, since Syfy picked up Channel Zero for two seasons back when it first green-lit the show earlier this year. Channel Zero Season 2 is already in production, as Antosca revealed in an interview with Screen Rant last month:
Season 2 is kind of a totally different beast. You can see it in the dailies that are coming in now. It looks awesome; the actors are great, the director is great, and it feels completely different than "Candle Cove." Every season is gonna have a real signature voice.
According to Movie Pilot, the "completely different" story that the show will be adapting in its sophomore outing is the popular creepypasta known as "No-End House," the story of a haunted house that grows exponentially more disturbing the farther you explore, in which different rooms will materialize to play off the victim's deepest fears. Season 2 will star Amy Forsyth ( The Path ) as a young woman drawn to the house and John Carroll Lynch ( American Horror Story: Freak Show ) as her father.
As for when exactly Season 2 will air, Syfy hasn't yet scheduled a specific premiere date, but it's a safe bet that Channel Zero will once again premiere sometime in October, just in time to capitalize on the growing anticipation of Halloween. The fact that the six-episode season is already well underway means that it could conceivably debut earlier than anticipated if Syfy should so choose, but I'd be willing to bet that the network will save its creepiest show for the creepiest time of year.
Are you ready for the horrors of "No-End House"? First, we'll have to see if you survive the end of "Candle Cove," when Channel Zero airs its season finale this Tuesday at 9:00 p.m. ET.
Images: Syfy