3 Gift Box Ideas For Dudes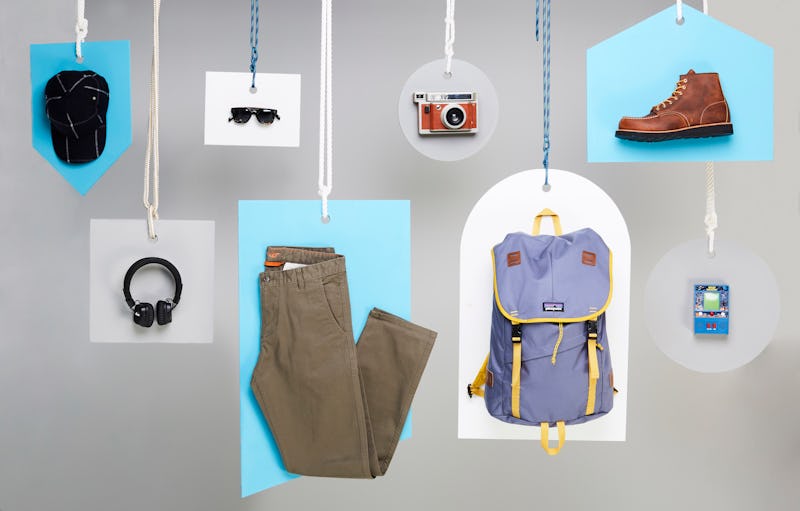 Say you're someone who likes to get your holiday shopping done early. You start with your mom, who's super-easy to shop for — you can either check her Pinterest to find out what she wants, or, you know, pick up the phone and ask her. Same goes for your best friend. But then there's that person you usually delay shopping for because you don't even know where to start. That person is probably a dude.
Shopping for guys is hard, and they typically don't make it any easier for you. When asked what they'd like as a gift, men often respond with these unhelpful answers: "Nothing," "Whatever," or "Surprise me." Take it from a guy: Guys care if you get them nothing or something lame — even if they tell you they don't. They're lying!
The key to shopping for men is to identify what "type" your guy falls into, and then think of gifts that match the type. We're sure that your guy — whether he's your significant other, brother, or dad — contains multitudes, but when it comes to gifting, there really are three modern types: There's The Adventurer, who loves to travel and feels at home outside; The Techie, who always knows about the newest gadgets and generally seems to belong in the future; and The Jack Of All Trades, who knows a little about everything, from how to make the perfect seasonal cocktail to how to take the perfect photo.
In partnership with Dockers®, we put together three different packs of undeniably cool gifts you can get the men in your life. As difficult as they may be to shop for, they deserve to be surprised with gifts they didn't even know they wanted. See below for inspiration.
The Adventurer
This guy is not exactly a couch potato. His idea of relaxation is to be out in the world, and when it comes to vacations, he'd much rather backpack through Machu Picchu than luxuriate at a spa retreat. If you know a guy like this, play into his rugged tastes with some durable, cool-looking gear, including the super-versatile Dockers Alpha Stretch Khaki, Slim Tapered Fit in Dark Pebble, which is comfortable enough for an impromptu hike and is perfect for everyday urban life, too.
Top row: A.P.C. baseball hat ($125), Flight 001 5-in-1 universal travel adapter ($35), Patagonia backpack ($99), Snow Peak stainless steel travel mug; bottom row: Uniqlo flannel shirt ($30), Docker's Alpha Stretch Khaki in Dark Pebble ($49.99), Anonymous Ism camo pile socks ($25), Red Wing Shoes work boots ($270).
The Jack Of All Trades
Somehow, this guy dresses well, pairs wines perfectly, and manages to be the MVP of every game night. He's the guy who knows a little bit about everything and is basically a recommendation machine when it comes to the good things in life. Luckily, he's one of the easiest guys to shop for because he appreciates almost anything that's well made and unique.
Top row: Topman sunglasses ($25), Scrabble Nostalgia Edition ($30); middle row: Lomography camera ($260), Vans sneakerboot ($75), Topman denim parka ($140); bottom row: Woolrich stripe blanket ($95), The Mixer's Manual ($11), London Undercover umbrella ($69).
The Techie
You can always rely on this guy to have the best rec for the not-on-the-market-yet phone or tablet, and he generally reminds you of the geeky gadget expert in the latest spy movie. If you can't afford to throw down hundreds of dollars on an actual electronic device, make him feel like an international hacker with spaceman socks and the professional yet comfy Dockers Signature Khaki With Stretch, Slim Tapered Fit in Black. A techie loves hidden features not just in their gadgets but in their clothes as well — these pants have No Wrinkles® technology, a permanent crease, and an Individual Fit Waistband.
Clockwise from left: Topman spaceman socks ($25), Isaora insulated shirt ($265), Marshall Major II Bluetooth headphones ($150), Herschel iPad sleeve ($30), Dr. Martens shoe ($105), Dockers Signature Khaki With Stretch, Slim Tapered Fit in Black ($39.99), Urban Outfitters fingerless gloves ($10).
Art Direction & Photography: Hannah Burton / Bustle; Prop Styling: Rachel Stickley; Additional Styling: Jenna Wexler
This post is sponsored by Dockers®.