Alicia Keys Wows With "Holy War" On 'The Voice'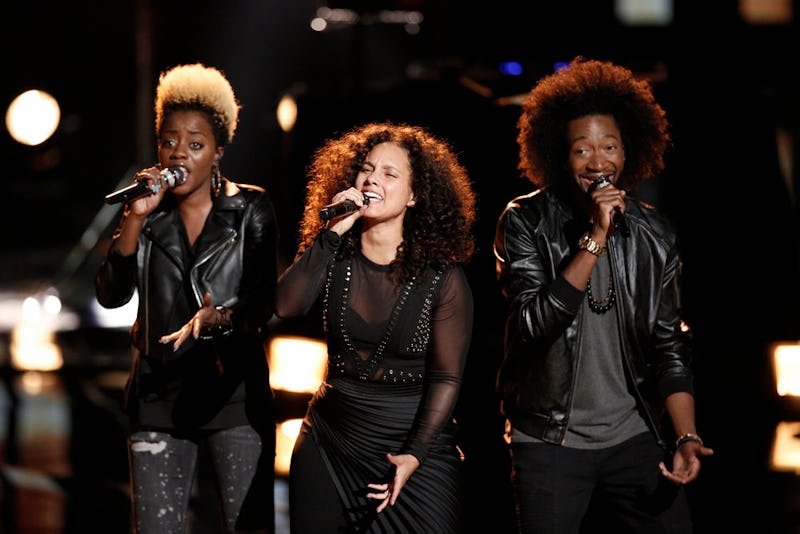 All hail Queen Alicia! Alicia Keys performed her new song "Holy War" on The Voice Tuesday night and was amazing as usual. But The Voice coach revealed that this was not the performance she was planning to give. Keys was set to perform her latest single "Blended Family" during the Top 12 Results show but, due to the "current political climate," she changed her mind at the last minute—and her choice couldn't have been better. After the events of last week, "Holy War" was the perfect song to sing and the proof is in the lyrics.
Keys moving The Voice performance opened with a few lines from the song "Blended Family" off her new album "Here" before she announced that her plans had changed. Though she wanted to give us a taste of "Blended Family," Keys decided there was a more relevant song to sing in lieu of recent events—and she couldn't have been more right. The message behind "Holy War" couldn't be more important for the world to hear. The song opens with the words: "Oh so we can hate each other and fear each other / We can build these walls between each other." This line is then answered with the chorus: "Oh maybe we should love somebody / Oh maybe we could care a little more / So maybe we should love somebody / Instead of polishing the bombs of holy war." I could tell you why this is relevant, but something tells me I don't need to.
Leave it to Alicia Keys to bring such an important message to the world in a time where many of us are fearful, confused, and hurting. She's built up a reputation of doing so in the past few months. When the country is in pain, Keys is right there to lift the American people up and give them hope. As a coach on The Voice, Keys is teaching future voices to use their platform to inspire—and that's just about the most uplifting thing to see.
Image: Tyler Golden/NBC