There Is At Least One Koko Kollection Restock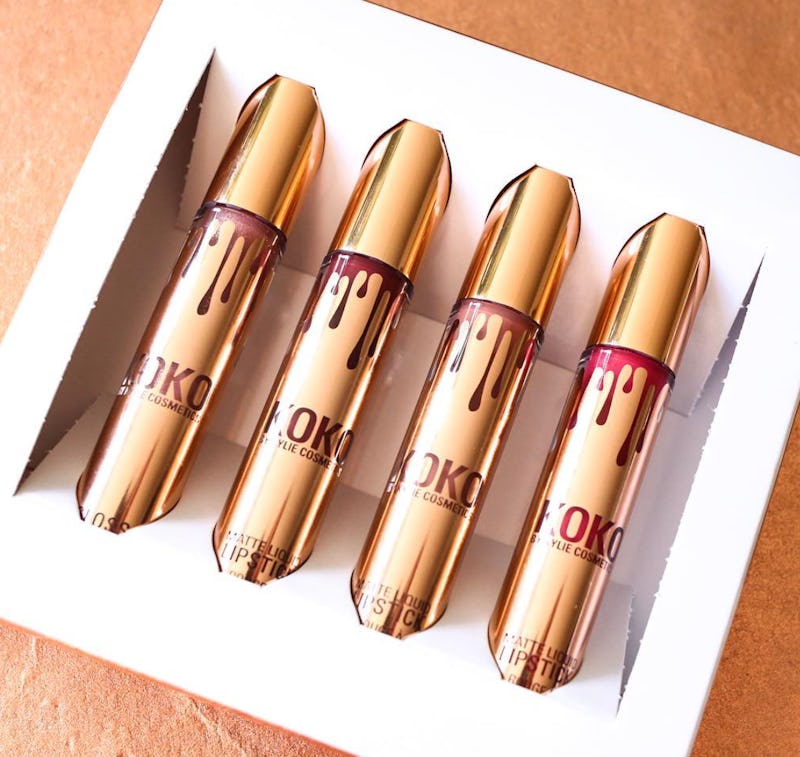 Kylie Cosmetics junkies are no doubt clamoring for Thursday, Nov. 17 at 5 p.m. ET/2 p.m. PT to arrive. That's when the Kylie Cosmetics Koko Kollection is restocking for the first time after selling out in six minutes during its debut. I know, we're all impatiently waiting for the big reveal of what's in the cute and cozy white Kylie Cosmetics holiday stocking that the brand has been teasing. But since the Koko Kollection is komprised of three matte liquid lipsticks and one super shiny gloss for just $40 and was co-created by Kylie Jenner and her big sis Khloe Kardashian, it's already a hit. I am left wondering one critical thing — will the Kylie Cosmetics Koko Kollection restock multiple times or is this... it? Customers were tweeting with the same concern.
Well, Jenner and the brand have not specifically or publicly stated whether or not supply will be replenished several times. The Koko Kollection is limited edition and it's one of the holiday surprises, like the free shipping promotion, which is applicable for domestic orders over $40 through the holiday season. Since Koko took less than 10 minutes to fly off the digital shelves, it would make sense to continue to restock the set for the rest of the holiday season.
There is absolutely no indication about whether or not Koko is making a single or several encores.
However, I think that the brand will restock Koko more than once. Why do I think this? Well, it's an educated guess and history tells me so. Kylie Cosmetics restocked the limited edition and gold-dipped Birthday Collection a few times. The set was only supposed to be restocked until Aug. 10, which was Jenner's birthday, before going away for good. But the Birthday Bundle returned several weeks later.
The brand specializes in keeping customers curious about the availability of products, thus heightening anticipation. Rather than having a PR team send out blasts, the Kylie Cosmetics relies on social media to spread the word. So we will have to wait about future restock deets.
Given the intense demand for the Koko Kollection and the love fans have for Khloe Kardashian, I personally think Koko will enjoy multiple reprises. I also believe there is a chance that the individual shades in the Koko Koll see their status changed from limited edition to permanent addition.
But expect to wait and see if the Koko Kollection is restocked a few times leading into the holidays. I believe that Jenner loves surprising and satisfying her customers, like she did with the free shipping deal.
Images: Kylie Cosmetics/Instagram (4)