7 'AHS' Spoilers To Get You Excited For S7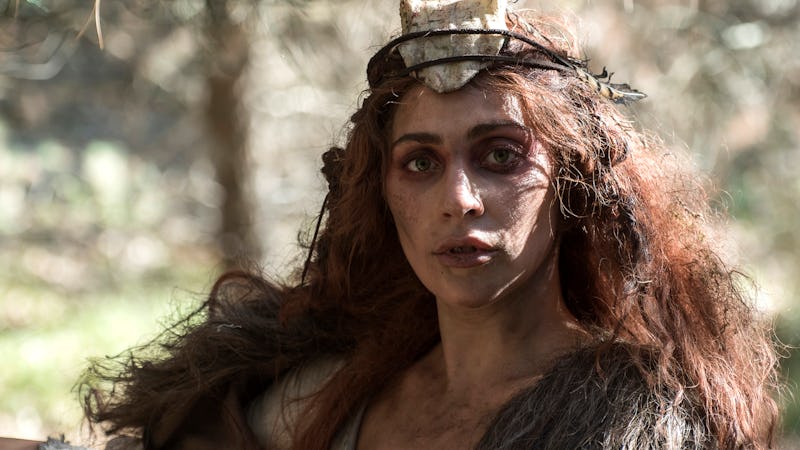 This Wednesday night, viewers will learn how the twisty, tortuous saga of My Roanoke Nightmare finally arrives at its conclusion on the American Horror Story: Roanoke finale. Hyped in promos as a face-off between sole survivor Lee Harris (who is perhaps still possessed by the ancient witch Scathach) and Sarah Paulson's fan-favorite Asylum character Lana Winters, the tenth and final episode of Season 6 is sure to end things with a bang. But for audiences, the future following this finale is a cloudy one. What can viewers expect when the anthology returns next year? Fortunately, we already have some juicy American Horror Story Season 7 spoilers to help make the wait a little bit easier.
Season 6 was famously shrouded in secrecy right up until its premiere in mid-September. The theme, subtitle, and cast of the new installment were kept under lock and key, while a series of vague and varied teaser only served to heighten confusion about what Ryan Murphy had in store for us. Even when the Roanoke finally premiered, the showrunner continued to pull the rug out from under us, turning the narrative on its head halfway through the season. So, can viewers expect similar secrecy and trickery next year? Or will Season 7 represent a return to form for the anthology series?
In honor of Season 7, here are seven juicy spoilers to get you excited about the next installment of American Horror Story:
1. You Won't Have To Wait Too Long
Recently, HBO announced that Westworld wouldn't be airing its sophomore season until sometime in 2018; earlier this year, fans were horrified when the Game Of Thrones Season 7 premiere date was also delayed by several months. Is this becoming a new trend on TV? Will we have to wait over a year for more AHS? Fortunately not. When FX renewed AHS for Season 7, it also announced that it would definitely be airing in 2017 — so it's reasonable to assume that we can expect it to premiere in the fall, sometime in advance of Halloween, like all seasons of AHS so far.
2. The Theme Won't Be Kept Secret
Probably to the delight of most fans of his show, Murphy recently revealed that he wouldn't be keeping Season 7's theme top secret the way he did with Season 7. During a conference call with reporters last month, the showrunner assured that, "We're going to announce [the premise] in the spring," according to TVLine. "We're not doing a secrecy thing, but [next season] does have a big hook behind it."
3. It Will Connect To Freak Show
That "hook" Murphy mentioned is apparently a direct link to Season 4 of the anthology series. "Next year, we will be going back to some Freak Show characters, deeper histories and mythologies. So we're sort of still exploring season 4 in season 7," Murphy said, as reported by Entertainment Weekly. Given that season's high fatality rate, it will be interesting to see which characters wind up making appearances in Season 7. Could we perhaps expect a Jessica Lange cameo in her role as deluded chanteuse Elsa Mars?
4. It Won't Be A Murder House / Coven Mash-Up
Murphy recently announced his intention do a season that functions as a crossover between the Murder House and Coven seasons of the show — and while that mash-up is apparently still in the works, it definitely won't be Season 7. "Murphy reiterated that it won't be the show's seventh season, simply out of scheduling," EW reported. "But really, the wait is a good thing if it means the return of Murder House alumni like Connie Britton, who has not returned to the series since, or Dylan McDermott, who disappeared after season 2, Asylum."
5. It Also Won't Be Murphy's Secret Season
In addition to that bewitching crossover, Murphy has also been consistently dropping hints about some sort of "secret" season of AHS that he's working on in which all the episodes will be written by a single writer. But whatever that might entail, it also won't be ready in time for Season 7. "I've been working with a writer on a season that only he and I know. It's like a two-year project that we'll continue to work on on the sly and not tell anybody," Murphy told EW before noting that the secret season "could possibly be season 8."
6. Expect "Stranger" Things To Happen
Whatever Season 7 is about, it will apparently be taking a cue from Roanoke in at least one way: the many twists and turns its storytelling took. "Murphy says, like the current AHS: Roanoke … Season 7 will shake things up for the fans," EW claims. "'"It's also a narratively strange idea,' [Murphy] admits." It's obviously hard to predict what the showrunner means by this until we know more about what he's planning, but one thing is for sure: when it comes to Season 7, we probably shouldn't trust anything we see, since there's likely to be a major twist ahead.
7. It Could Feature Another Roanoke Nightmare
Just because this week's finale is the final episode of Season 6, don't necessarily expect the story of Roanoke to come to a neat conclusion. According to Murphy, future seasons — including Season 7, possibly — might include some direct connections to Season 6. "The finale is the wrap-up to Roanoke, but the mythology and some of the characters will continue in subsequent seasons," the showrunner told EW. "So it's the ending but not the ending." (Like Freak Show, there was such a high body count in Roanoke that it will be interesting to see how he resurrects some of its characters for future appearances down the line.)
Don't miss the Roanoke finale tonight… and then keep your eyes peeled for news of Season 7's theme sometime in the spring. I'm sure Murphy has something delightfully demented cooked up for us.
Images: Prashant Gupta/FX; Giphy (7)