More New 'Gilmore Girls' Revival Photos Are Here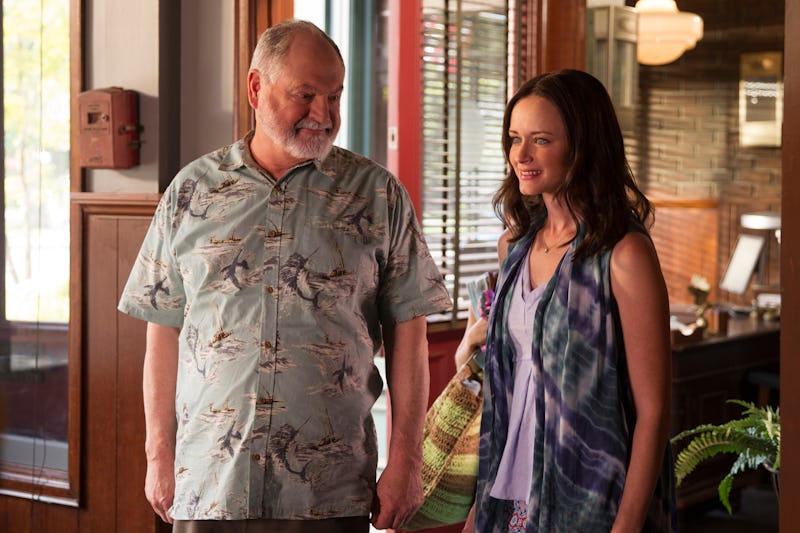 Gilmore Girls fans are just a week away from the Netflix revival, Gilmore Girls: A Year In The Life. The closer we get to seeing our favorite women back in action, the more details we learn about our upcoming visit to Stars Hollow. Entertainment Weekly exclusively released five new photos from the Gilmore Girls revival. These latest sneak peaks show an all-too-familiar encounter with Taylor, Lorelai and Rory taking part in another crazy town event, some trips to Luke's Diner, and a heartbreaking visit to Richard Gilmore's grave. However, as per usual, there's so much more we can learn from these photos beyond that first glance.
There's no denying the fact that the Gilmore Girls revival is going to be packed with drama. Rory's back in town after a whirlwind journalism career, Jess' return is certainly worth noting, and Stars Hollow looks just as crazy as ever. However, the lack of Richard Gilmore — following Edward Herrmann's 2014 passing — has been felt by all of us even as we get ourselves psyched up for the revival. From the looks of EW's latest photo, there are still more ways that the show can break our hearts with the reminder that Richard is gone.
This photo brings a couple of things into question. For one, how recently did Richard Gilmore pass away? The revival trailer shows a ceremony for Richard, but his tombstone doesn't appear to read "2016." Instead, it looks like it says Richard passed away in 2013, which means this picture could be showing a different kind of remembrance ceremony for Richard. This would also make Emily's period of grieving longer than I thought, so I'm already reaching for my tissues.
In another exclusive look, Lorelai and Rory appear to be having their own moment. While sitting in Luke's Diner, the two Gilmores appear to be lacking their signature cups of coffee and plates of pancakes. Instead, they are listening intently to another character who isn't seen in the photo. This could be a sign of some big, possibly shocking news. Could Luke be the one talking? I have so many questions.
The other photos EW revealed include familiar glimpses at a hippie-themed summer in town — clearly for another kooky town event — and that intense meeting between Luke and Jess. But we also get to see an overly-excited looking Rory in the presence of the self-declared head of the town, Taylor Doose. It almost feels like no time has passed at all since we last left Stars Hollow.
The wait for more Gilmore Girls will officially end November 25, but, until then, these photos are testing my patience.
Images: Saeed Adyani/Netflix