Laurel's 'HTGAWM' Baby Daddy Could Be Dead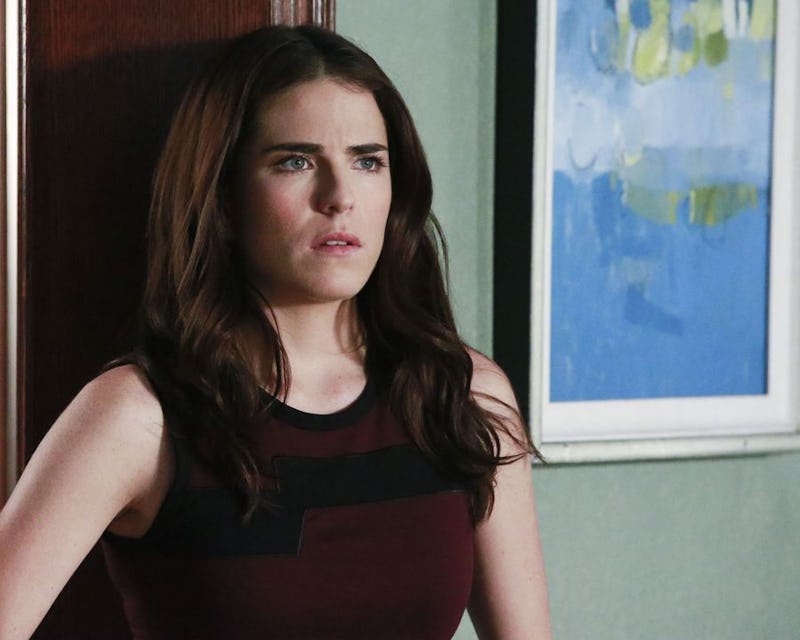 For me, the surprise of the first half of Season 3 of How To Get Away With Murder wasn't the #UnderTheSheet death at the very end (it was Wes, by the way, if you didn't know). Really, it was the fact that Laurel was pulled out of Annalise's burning Victorian home and brought to the hospital only for the audience to learn that she was pregnant. Say what? Season 1 and 2 viewers of How To Get Away With Murder would assume that hit man Frank was the baby's father but oh, Season 3 is not that simple. Things were like and carefree in Seasons 1 and 2. Today, they are complicated, so complicated, in fact, that Laurel's baby daddy could be dead. What will happen to Laurel and her baby on How To Get Away With Murder ?
In a move that perhaps everyone saw coming, Laurel and the now-dearly departed Wes started hooking up about a quarter of the way through Season 3. They even exchanged the "I love you," albeit drunkenly, which is strange considering that Wes was in a relationship with Meggy only an episode before that. But I digress. From where I sit, Frank has been on the run from Annalise for too long for him to be the father of Laurel's unborn child, especially because Laurel isn't showing and I doubt she even knows she's with child. Wes and Laurel's consummation fits the timeline much better, and when Frank found out that Laurel was pregnant, he even looked like he knew he wasn't the daddy. But what happens now that Wes is dead? Laurel doesn't know she's pregnant yet, and I can't imagine how she'll take the news that her lover and the probable father of her child died in Annalise's house explosion (or so we think).
Knowing How To Get Away With Murder, Laurel's pregnancy could end in myriad ways. She could opt not to have the baby. She could lose the baby. She could have the baby and raise it as her and Frank's. The baby could actually be an alien that will pop through her stomach at an inopportune moment. The baby could actually be Annalise's, and Annalise artificially inseminated Laurel somehow so that Annalise could have a child. The possibilities are endless, really. I'm firmly in the "Wes is the father and he is dead" camp of How To Get Away With Murder viewers, and once Laurel wakes up from the haze of knowing that Wes has passed away, she'll have some big decisions to make.
Images: Mitchell Haaseth/ABC; Giphy