'Hannah Montana' Is Returning To Disney Channel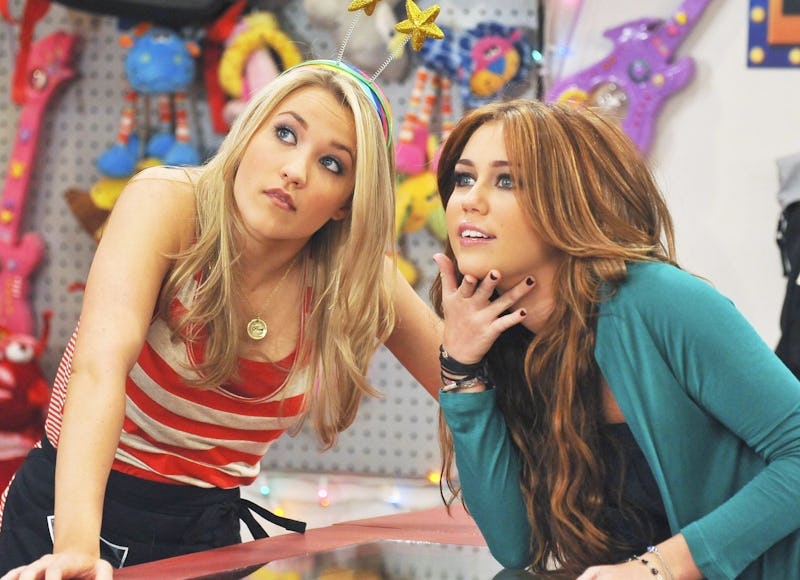 Sweet niblets, Disney fans, it looks like 2016 will end on a high note after all. The Disney Channel announced they will be airing a month-long Hannah Montana marathon featuring every episode from the series. The excitement is way too real, guys. The marathon will begin Dec. 3 and continue through Dec. 29, which means you have a guaranteed daily dose of happiness to get you through the final month of the year. Everyone say, "Thank you, Disney Channel." The one thing the marathon will not have is a new episode featuring Miley, Lilly, and the rest of the gang, but, honestly, the sheer nostalgia factor of being able to relive the entire series is more than enough.
Disney took to their PR Twitter account to make the official announcement, but they were coy about offering up any additional details. It's probably too much to hope for a special reunion — even if it is just in promo form, — but fingers crossed Disney will sprinkle old school Hannah Montana music videos and maybe even bloopers throughout the commercial breaks. Hey, if the channel wants to do a throwback, then it should go all in. The world could use a little bit of baby Miley Cyrus being silly and awesome right now.
Disney Channel has been a constant source of joy in 2016. The continued wonderfulness of Girl Meets World, the Every DCOM Ever marathon, and the announcement of an upcoming That's So Raven reboot have all made the past year bearable. Now, Disney is vowing to get everyone through the home stretch of the year with another dose of pure, undiluted nostalgia.
While it would be amazing if the Hannah Montana marathon led to some sort of spinoff or reboot, I'm just happy to know I can spend the holidays with Miley, Lilly, Oliver, and Jackson. In between wrapping gifts, stressing over the news, and baking all the things, you can revisit all of those amazing '00s outfits, Miley's fabolous double life as a star and a high school student, and, of course, the unbreakable BFF love between Miley and Lilly. To ask for anything else would probably land you on Santa's naughty list (and, besides, Cyrus is pretty busy these days).
Go ahead and stock up on hot cocoa now because December just offered you the very best reason to stay indoors: a month long marathon of every single episode of Hannah Montana . You made to the end of 2016, guys. Congratulate yourself by indulging in the best Disney nostalgia marathon yet.
Images: Disney Channel; Giphy