Eddie Redmayne Watches A Painful Throwback Video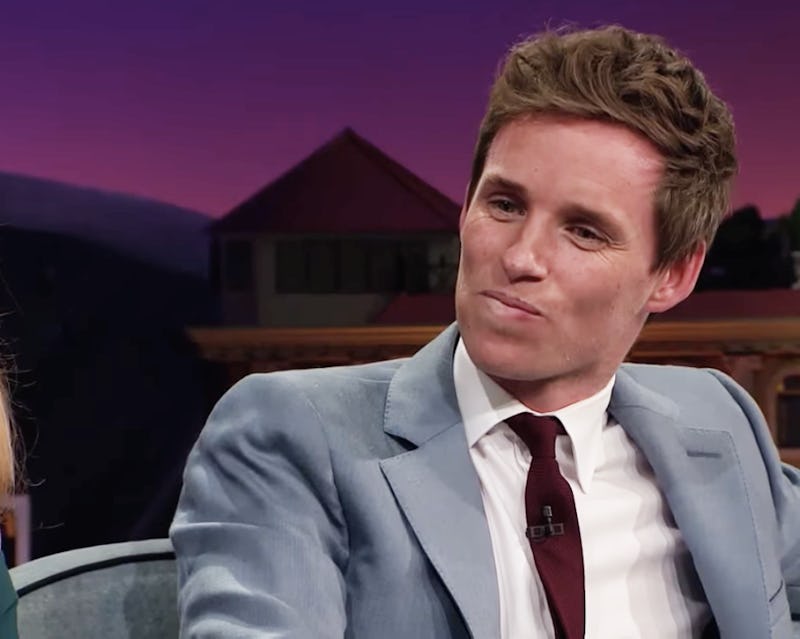 If you've ever ripped your pants open at the butt in a crowded room full of people, or accidentally called your teacher "mom" in front of your entire class, then you probably think you know what embarrassment looks like. But, in actuality, you don't know the specter of true humiliation until you watch this video of Eddie Redmayne singing as a child. Or actually, to be precise, until you watch Redmayne watching this video of himself as a child, singing his little heart out. Never have I seen a face get redder than this.
But, anyway, Redmayne was on The Late Late Show on Thursday night, just shootin' the poop with James Corden, there to promote Fantastic Beasts and Where to Find Them alongside Jessica Chastain. Then, Corden dropped the knowledge bomb that he and Redmayne have known each other for a good long while. They both attended the Jackie Palmer Stage School in Buckinghamshire, England as kids, and actually remember each other, if you can believe it.
The pair reminisced about the old days, when Corden would do some kind of rap and "street dance" — Redmayne's words, not mine — and the four-years-younger Redmayne would do something blush-inducing like sing "Memory" from Cats. But, as it turns out, the two weren't just reminiscing. Sneaky little Corden actually had a clip ready of that fateful performance. He put it on during the Nov. 17 broadcast, and Redmayne promptly exploded. I'm only barely kidding. Just watch this.
His incredible singing talent from a young age aside, have you ever in your life seen anyone get quite so embarrassed? He was sweating even at the mention of the performance, flushed before the video even started, and literally howling the word "noooooo" in the opening seconds. I truly thought the poor guy was going to cry, to the point that playing the video almost seemed cruel. He was basically trying to fold himself into the couch, cowering near Chastain, unable to take his eyes away from the video, but looking like he was physically suffering through every second.
I've never seen anything quite like this level of embarrassment, and my heart goes out to Redmayne. But at least it will put things in perspective for me the next time a waiter says, "Enjoy your meal" and I say, "You too." Things could be a whole lot worse.
Image: CBS