6 Best Curling Irons For Short Hair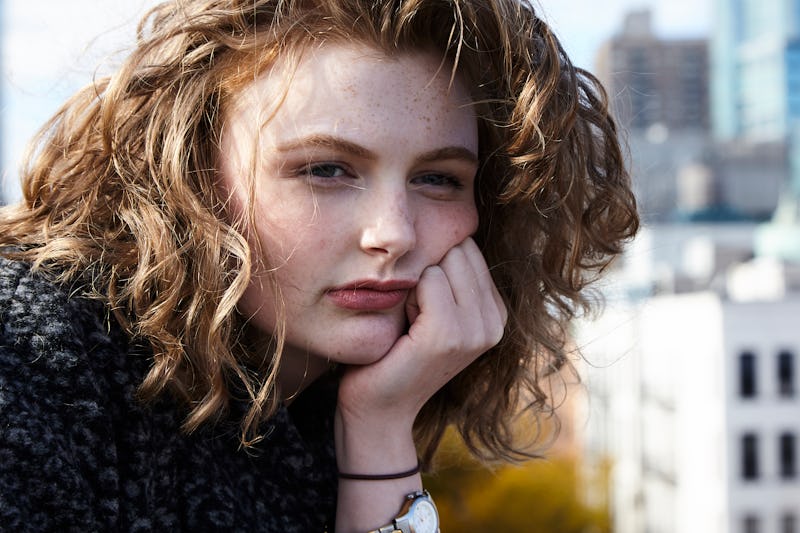 Having sported short hair in the past, I understand how short locks can sometimes feel uninspiring and slightly restrictive, because you've got less hair to work with. However, heated hair tools, like the best curling irons for short hair, will help you get out of your style rut and remind you that it's not quantity but quality that matters when it comes to hairdos. Now, with a mane halfway down my back, I often find myself tying it up and out of the way, rather than doing anything with it.
It seems 2016 has been the year for trendy short hairstyles. From Taylor Swift's blunt bob, to the rise of buzzed hair babes on social media, to Kendall Jenner's shorter strands, to Queenie's irresistible curls in Fantastic Beasts and Where to Find Them — everywhere you turn, ladies are rocking short styles. If you too have opted for a shorter style, curling irons are a quick and easy way to create a new look that's bouncy, vivacious, and will breathe new life into your locks — it's always good to mix things up when it comes to your appearance.
Navigating the hair tool world can be tricky, especially if you've just changed your hairstyle, AKA gone for the chop. So I spoke to a bunch of hairstylists to discover the best curling irons for short hair, to save you a lot of trial and error and help you achieve your favorite type of curls.
FHI Brands Platform Tourmaline Ceramic Professional Curling Iron, $76, Amazon
Honey Artist hairstylist Corey Tuttle, tells Bustle over email that this rad curling iron, "features 3 layers of baked ceramic barrel that are scratch resistant and infused with tourmaline to produce high amounts of negative ions to seal in vital moisture, repel humidity, reduce frizz, and help eliminate static." It sounds like a strand saviour for frizzy-haired days!
Hot Tools HTBW1851 Medium Tapered Curling Iron, $37, Amazon
Scott Waldman, Antonio Prieto Salon stylist, explains over email, "Women with short hair often struggle with keeping their styling current and urban. Although bobs are very popular, women constantly tell me they have issues with achieving the looks we create in the salon."
"In order to achieve a wavy or curly look, I recommend using a Hot Tools brand 1 Inch curling iron," says Waldman. "Hot Tools is a brand that I enjoy because it has features that make the job easier," Waldman explains, "for example, the spring-loaded, 1 inch iron goes up to about 410 degrees which comfortably accommodates all hair textures. The thicker your hair is, the higher the heat. Because the iron gets so hot, it doesn't require a lot of contact with the hair which results in less damage if used appropriately."
In addition to this, Waldman says, "The Hot Tools 1 inch curling iron can also be used as a curling wand. Wands are very popular among many different hair lengths and textures. In order to achieve this wavy look, keep the iron closed and wrap the hair around the outside of the shaft."
"My favorite feature of the Hot Tools irons is the price. At an affordable $37 this brand is realistic to a wider variety of clientele," says Waldman. This is an awesome option for short haired gals on a budget.
Hot Tools Spring Curling Iron 24K Gold 5/8 Inch, $47, Amazon
Honey Artists hairstylist, Tyler Colton, explains over email, "The go-to iron is Hot Tools Gold line and I would suggest 5/8 to 1/2 inch in size. This is a small iron that will always help someone with short hair to create a soft bend or wave."
"And if you want looser waves just take larger sections of the hair. The trick to modern texture is to leave most of the ends fairly straight," Colton adds.
Waldman says, "Another great feature of the Hot Tools irons are the rubber safety guards on the end of the shaft. This rubber guard allows women to comfortably grasp the iron with their other hand while achieving any look. Keeping the iron steady while working makes it a less frightening experience having it so close to your face," which is certainly a relief if you've ever endured a hair tool related burn before.
In terms of styling, Waldman recommends, "To keep the hair modern, leave out about an inch of hair from the iron and shake out the curls when completed. Add a little texture spray and it will [give] a more urban vibe."
BaBylissPRO Nano Titanium Conicurl Iron 1-¼" To ¾", $50, Amazon
Tuttle tells me that this is a great curling wand that offers smooth and bouncy curls. He says, "While best to use with a glove, you can curl even the shortest of hair with this iron. The iron heats up very fast, and the temperature is adjustable." This would be a good choice for folks with super short tresses.
Gold N' Hot 3/8" Professional 24K Gold Spring Curling Iron, $27, Amazon
"The Gold N' Hot 3/8 Inch Professional 24K Spring Curling Iron is designed for short hair and medium hair types, with a 24K gold coating ranging in temperature from 200F-500F," Tuttle says. He adds, "Also features a safety stand, and thumb press with a cool tip for safety."
Revlon Nutrifusion Conditioning Curling Iron 3/4 Inch, $20, Amazon
If you have a favourite brand in mind, Haven Spa hairstylist, Triana Francois, tells Bustle via email, "The best curling irons for short hair are 3/4 inch and 1 inch sizes. Depending on the desired style, curling wands are great for beachy waves. For body, curling irons are best to create shapes on short hair."
There's a curling iron for every price point and every type of curl, so now you can make your bouncy haired dreams a reality!
Images: Courtesy Brands (6); Bustle