You Can Now Eat Thanksgiving Dinner On A Doughnut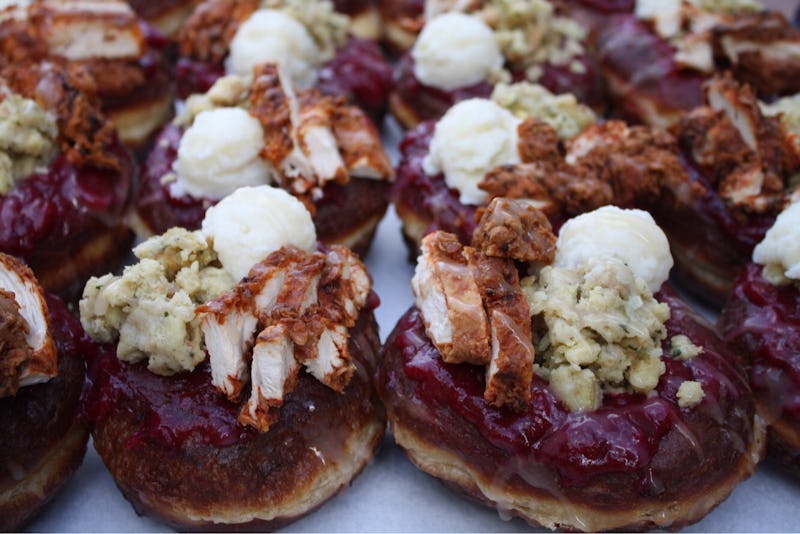 There's nothing quite like Thanksgiving dinner, but the logistics of it can sometimes be overwhelming. How do I consume all this food? Do I have the third slice of pumpkin pie I want? Is gravy a beverage? One shop cut to the chase and made the whole thing super simple — by creating a Thanksgiving dinner doughnut. Technically called the Friendsgiving doughnut, this bakery creation is the brainchild of PV Donuts in collaboration with a restaurant called Bucktown in Providence, Rhode Island. It kills two birds with one stone by putting all of your Thanksgiving favorites on top of your dessert. How convenient!
The unique treat consists of a brioche doughnut (um... yum?) topped with cranberry glaze, pieces of fried chicken (which apparently, Bucktown is known for), mashed potatoes, stuffing, and gravy. These babies are available for a limited time only, though — and with the holiday itself occurring on Thursday, the last day you can get them is Wednesday, Nov. 23 (that's today, people).
Just look at these beauties — are you salivating?
If you had any doubts about the tastiness of this themed dessert, rest assured that the internet has gone bonkers for it, with mentions in Cosmo, Thrillist, Refinery 29, and Elite Daily. As if that wasn't enough, check out this line:
That's dedication. I would pick up a few if I could, just to cover my own behind when I undoubtedly burn all the food I have to cook tomorrow.
PV Donuts owner and head baker Lori Kettelle (pictured right) tells Bustle in an email, "[Providence] might be a small city, but we're fortunate enough to have an incredibly vibrant food scene here," adding that a collaboration with a well-known Providence restaurant was the perfect way to celebrate Thanksgiving. And it's been popular, too: "It's been a huge hit so far. Sold out two days in a row within about 45 minutes," says Kettelle.
People dip their fries in chocolate milkshakes. They drizzle ranch dressing on their pizza. Was a full-blown Thanksgiving doughnut that far behind? Indeed not. If you're feeling extra adventurous this holiday (or if you just want a back-up plan, like me), PV Donuts is the place to be.
Images: Courtesy of PV Donuts