Macy's 'Hairspray Live!' Preview Is Inspiring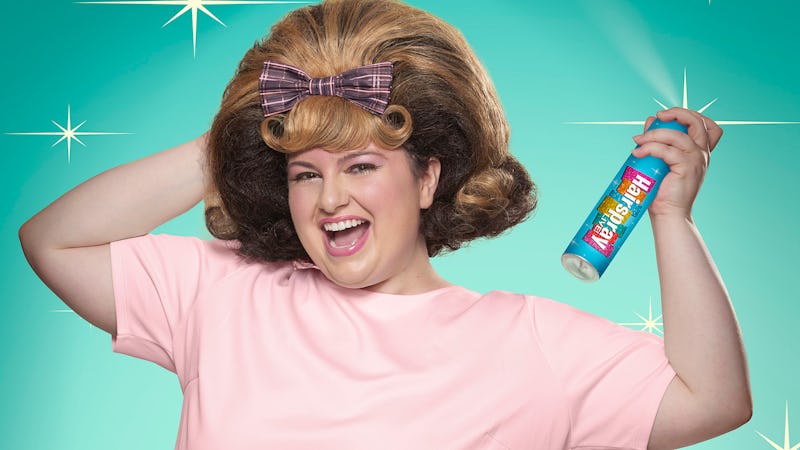 Your anticipation levels for NBC's Hairspray Live! are about to go way up. The all star cast, which includes Ariana Grande, Derek Hough, Jennifer Hudson, and Kristin Chenoweth, offered viewers of the Macy's Thanksgiving Day Parade a sneak peek of Hairspray Live! and all the goodness to come. NBC even went all out and chose the best possible song for the holiday. Maddie Baillio's Tracy and the rest of the Hairspray Live! gang broke out into a joyous rendition of "You Can't Stop the Beat" at the Los Angeles backlot, where the performance will be broadcast live in December. While Hairspray is full of timeless songs, the message of unity, friendship, and perseverance in "You Can't Stop the Beat" is exactly what the world needs to hear right now.
Baillio's take on Tracy is one you are going to be eager to see in full. She is such a positive, energetic presence. Her take on "You Can't Stop the Beat" was so bright and boppy it is impossible not to grin all the way through it. Hairspray has diversity and acceptance in its DNA, but the special preview made a point to showcase its most inclusive song of all, and I love NBC for it. Tracy is an indomitable presence, and "You Can't Stop the Beat" is the culmination of her refusal to give up on her dream of making The Corny Collins Show inclusive for everyone.
Of course, props also have to go to Grande who was rocking her performance as Penny Pingleton. With her shimmery green dress and knee high boots, Grande made looking retro so cool. NBC was smart to pick a number that allowed the whole cast to shine. From Grande and Baillio straight through to Chenoweth's Velma, "You Can't Stop the Beat" allowed Hairspray fans to glimpse all of their faves in action.
The fact that the song doubles as a message of holiday solidarity was a bonus. This Thanksgiving more than ever before America needs to celebrate diversity, acceptance, love, and togetherness. Hairspray is the story of how one girl started a movement to diversify an all-white dance show in an era where spreading hate was so much more common than spreading love. What better time is there to celebrate just how powerful loving and accepting each other can be than Thanksgiving?
Tracy knows the reason for this season, and it's not just turkey, guys. If you are now craving even more Hairspray, the live performance featuring Baillio, Grande, and the rest of the cast is set to air Wednesday, Dec. 7 on NBC.
Image: NBC