CoverFx's Glow Getter's Cost Makes Total Sense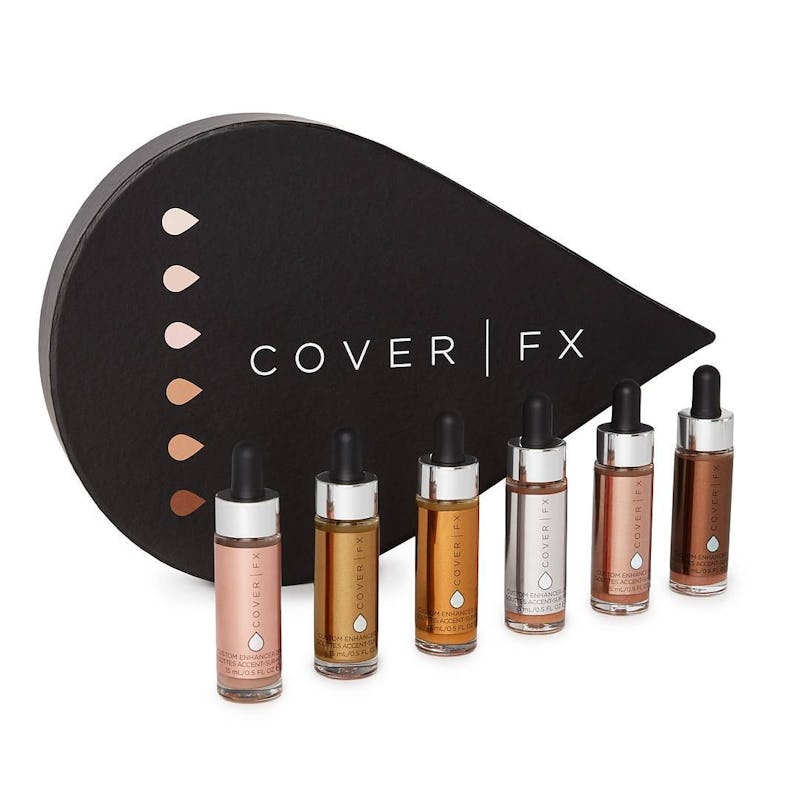 It's hard to deny that 2016 was basically the year of the highlighter. From powders to creams to liquids, highlighting your face to goddess like perfection was all the rage. Now, CoverFx Glow Getter Box Set is here to give highlighting addicts everything they could possibly need, and it's all in one convenient package. Plus, it just happens to be in perfectly clever, drop-shaped packaging as well.
On Friday, CoverFx posted an image to their Instagram account showcasing the new, limited edition Glow Getter Box Set. Inside were all six of the massively popular Custom Enhancer Drops. The drops may be one of the most popular highlighters on the market for their sheer versatility. Not only can they be used over top of foundation to highlight but also mixed into foundation for a more glowing effect. Plus, if you want pigmentation, these beauties aren't lacking it.
It's all the benefits of the drops that contribute to their individual sale price of $42. With all six of the drops included, the Glow Getter Box Set rings in at $252. That means each product breaks down to its original price. Considering just how popular, pigmented, and incredible they are, the price makes total sense. Plus, who doesn't want an easy to grab collection of liquid highlight?
Fans of YouTube beauty gurus became familiar with the drops early on when many of their favorites began raving about them. Then, when the full face of highlighters challenge took YouTube by storm, users were seen using tons of the latest innovation from the brand.
The Glow Getter Set, $252, CoverFx
For fans of the brand and the drops, getting this selection soon may be the best idea. According to the brand's Instagram, the set is, in fact, limited edition. The good news, though, is that as of the post on Friday, fans can use code TURKEY25 for a 25 percent discount on the latest release.
The Glow Getter Box Set is still available on the CoverFx website. If you want to get a stunning glow at any time of the year, it's definitely the kit for you. Hurry up and get it before it's gone.
Images: CoverFx/Instagram