'Supergirl' Season 2 Has Many Stories Left To Tell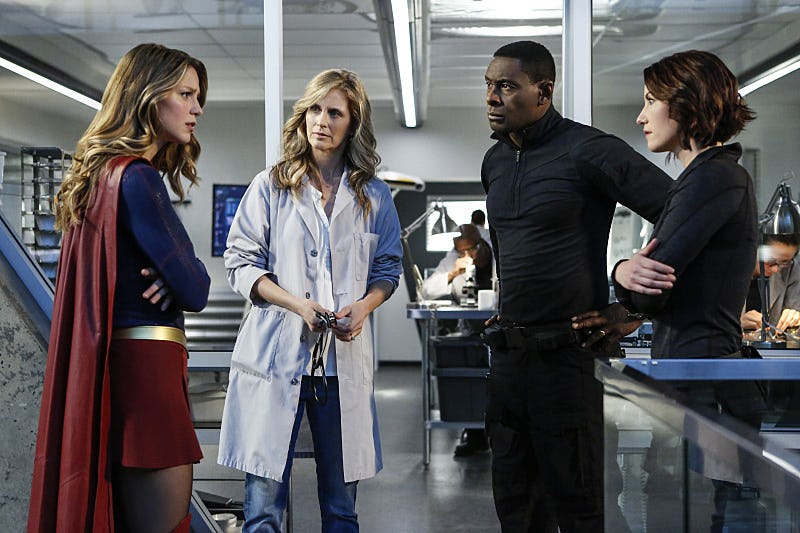 The Supergirl fall finale was full of emotion, tension, and action. In its final moments, it also set the stage for the CW's four-night superhero crossover, an event featuring all of the network's DC heroes that will undoubtably test their friendship and skills. Although it didn't seem like the episode ended with a big cliffhanger (aside from The Flash showing up in Kara's living room), the midseason finale, "Medusa," left us with a lot of questions. So when will Supergirl return for the rest of its second season and, hopefully, give us some answers?
The CW actually released its full winter schedule on Nov. 16, and although it focused on the return dates for new shows and those that were moving timeslots (Supergirl is staying in its 8 p.m. perch on Monday nights), we can make a solid prediction for Supergirl. Based on the dates of other series' returns and the general schedule, it's likely that Season 2 will pick back up on Monday, Jan. 23, when Jane the Virgin is confirmed to back.
Obviously, there's a lot to look forward to when Supergirl does return and these are just some of the things I'm hoping to see.
Sanvers Forever
Alex's slow and emotional coming out journey culminated with her finally kissing Maggie. Needless to say, I'm so excited to see what happens to my new favorite couple when the show returns. If Supergirl has proven anything, it's that the show isn't afraid to show viewers the good, the bad, and the ugly of relationships. So how will Alex and Maggie navigate their newfound partnership? Time will tell.
The Potential Return Of Cat Grant
I know that Kara has pretty much outgrown her assistant role and more than proven herself capable of being a reporter, and it would have seemed a little unrealistic to keep Kara in the admin role under Cat's wing when she grew so much during Season 1. But man, do I miss Cat Grant's wit, charm, and ruthless bite. Deadline did report back in August that Calista Flockhart is a recurring guest star in Season 2, so I can only hope we'll see more of her when the show returns, even if it's just in small doses.
Mon-El + Kara's Relationship
Personally, I'm still on the fence about Mon-El and Kara being a "thing." It seems a little anticlimactic, and the show never really gave a solid reason for why Kara and James broke up. But they're pretty adorable together, and I'm curious to see if there's any fallout from the kiss that Mon-El gave Kara in the finale when he was delusional from the Medusa virus. (He claims he doesn't remember, but is that the truth?)
The Evolution Of Lena Luthor
Last year, fans had hope that in Season 2, we'd see Lucy Lane become Superwoman. We didn't get that, but maybe we'll get lucky when it comes to character evolution with Lena Luthor. Given that the finale saw Lena double-crossing her mom and proving that she really is good at heart, might there be hope for this when the show returns? Kara and Alex could use another awesome woman on their side to fight against the bad guys.
Obviously, Supergirl has set up some pretty exciting storylines — not to mention potentials for more crossovers — and I'm excited to see where Season 2 is headed when it returns. January can't come soon enough.
Images: Bettina Strauss/The CW; Giphy (4)