Bustle's Editors On Trevor Noah + Giraffes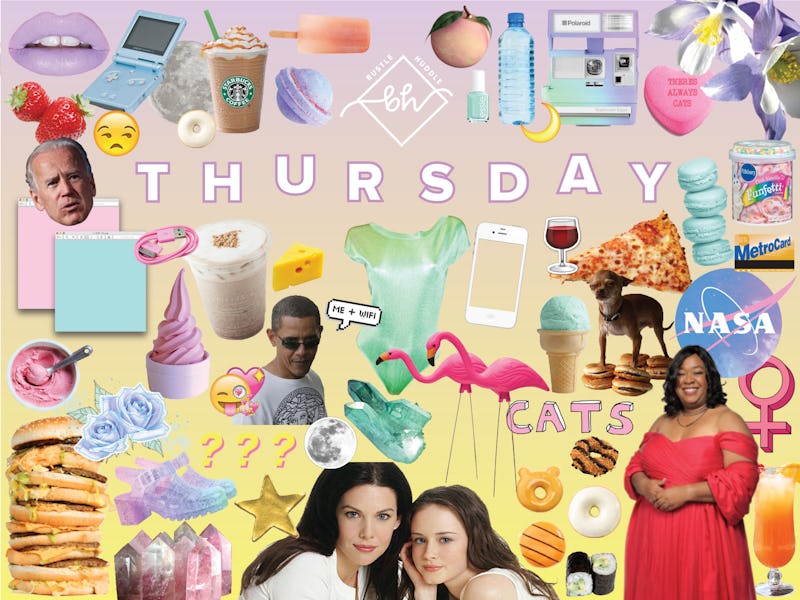 Happppppppy December! You're officially 30 days away from 2017, which means this b*tch of a year is finally almost over. *I'll pause for your celebration.* Feel better now? Me too. There's actually a lot to look forward to this month, though. Between the latest additions to Netflix and new non-fiction books to curl up with, December has "cancel your plans" written all over it. Sure, you might have to attend a holiday party or two, but that's what cocktails are for. You got this – and we'll be here with you all month long.
So cheers to a happy end of 2016, and to all the news that's yet to come. But enough of that, here's what Bustle's editors were talking about today:
Alec Baldwin + The Holiday Season
Alec Baldwin and Kate McKinnon lit the tree at Rockefeller Center last night, officially kicking off the holiday season. (Feel free to listen to your Christmas playlist on Spotify now!) Everyone from Dolly Parton to the Radio City Rockettes braved the rain in New York City to help light this year's 94-foot tall, 14-ton tree. So you literally have no reason to complain about putting up a few decorations in your apartment, okay?
Fun Fact: Ever feel like you get the blues right around the holidays or feel a little extra giddy when "All I Want For Christmas Is You" starts to play? That's because the Christmas season can actually affect your psyche. Oh, and finding out the truth about Santa Clause might still be haunting you today. Happy Holidays!
Trevor Noah + Black Lives Matter
In case you missed it while you were watching the tree lighting, Trevor Noah might have done his best work yet as Daily Show host on Wednesday night when he schooled Tomi Lahren on her anti-Black Lives Matter rhetoric. Noah thoughtfully debated Lahren, conservative commentator and host of The Blaze, on everything from Trump to the Black Lives Matter movement (which she had compared to the KKK), and some are comparing the discussion to Jon Stewart's infamous chat with Bill O'Reilly. It's definitely worth a watch:
Quote Of The Day: "Our goal should be to destroy these "bubbles" not each other," Noah tweeted after his interview with Lahren aired. Such a respectful and classy move.
Lin-Manuel Miranda + Hamilton
Raise your hand if you're counting down to the release of Hamilton Mixtape on December 2. Same here! Lucky for us, a livestream of the celeb-packed Hamilton Mixtape concert went up on the Hamilton YouTube channel this afternoon allowing all of us who are #Ham4Ham to get a taste of the album, which will feature performers including John Legend, Alicia Keys, and The Roots.
ICYMI: In case you can't get enough of Lin-Manuel Miranda (umm, who can?!), the talented writer/rapper/composer/powerhouse was featured on an episode of Drunk History and it. Was. Hysterical.
Giraffes + Neckties
Two words you probably never thought you'd read together, and, yet, here we are. Answer me this: How would a giraffe wear a necktie? That's the very important question that's driving the Internet wild.
This is so the new dress, amirite? The world may never know the answer to this mystery. (But it really looks much better at the top, right?!)
Deal Of The Day: No, it's not a necktie, but this PurseN Travel Pillow Organizer ($35 on Amazon) – which was featured on Oprah's 2016 Favorite Things List – is perfect for any holiday traveling you have coming up.
What To Watch: A Charlie Brown Christmas airs on ABC tonight at 8 p.m. and it'd *probably* be even better when paired with a glass of red wine. Your call, though.
Design: Chelsea LaSalle, Alyssa Foote/Bustle