'Rogue One's Title Is Meaningful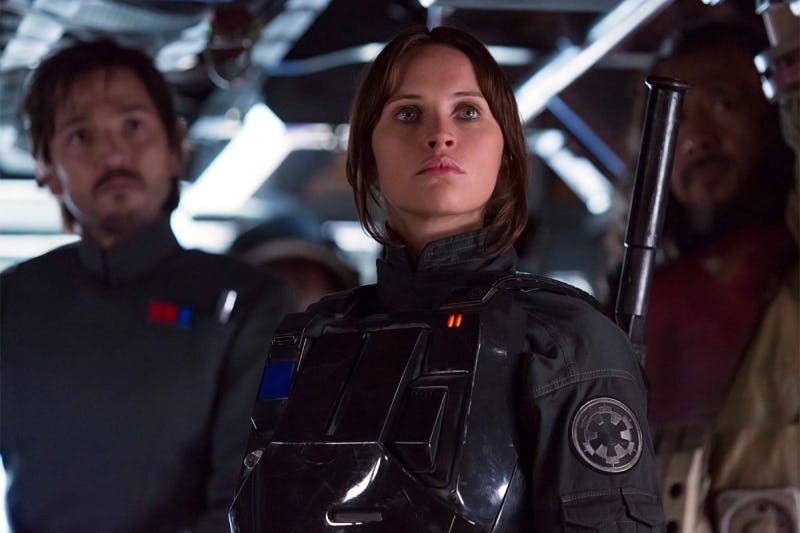 The future of the entire Star Wars franchise could be decided over the next few weeks. I'm being a little dramatic perhaps, but Rogue One: A Star Wars Story really does have a lot riding on it. As the debut "anthology film," it's the first film in the franchise to take place outside the main episodic saga that began in 1977, and if it's a big success, it could represent a future where all Star Wars movies are independent of the Skywalker family drama. But what does the title Rogue One mean, and how does it play into the bigger Star Wars universe?
By now, pretty much everyone knows the basic plot description of the film. Taking place before the events of A New Hope , Rogue One tells the previously-unheard story of the rag-tag group of rebels who steal the Empire's plans for the first Death Star. It's a daring mission filled with danger, perpetrated by unlikely heroes, and it's the nature of that mission that is at least partly responsible for the film's title. Because, according to director Gareth Edwards, the title Rogue One actually has multiple meanings, and is open to interpretation in a way that titles like The Empire Strikes Back or Attack of the Clones never were.
Edwards told Phil De Semlyen of Empire that the title can be interpreted three different ways. Most obviously, it's the military call sign in the mission (something that's revealed in the above trailer). It also represents the film itself, since it's charting a new course as the first standalone Star Wars movie. And finally, he also thinks it could be used to describe the movie's protagonist, Jyn Erso (Felicity Jones), since she's quite the rebel herself. Here's his full quote on the subject:
"What does it mean? Rogue One is a military call sign to some extent, but this is the first film that's gone off-piste and is not part of the saga — or the Anakin story — so it's the 'rogue' one, you know? It's kind of describing [Jyn Erso] as well in a similar way. It has [all] these split, multiple meanings that made it feel like the right choice."
So at the end of the day, it seems Rogue One means whatever you want it to mean — just so long as it coincides with the movie's undeniable spirit of rebellion and independence.
Images: Walt Disney Pictures