The Best Christmas Films You Can Stream In 2016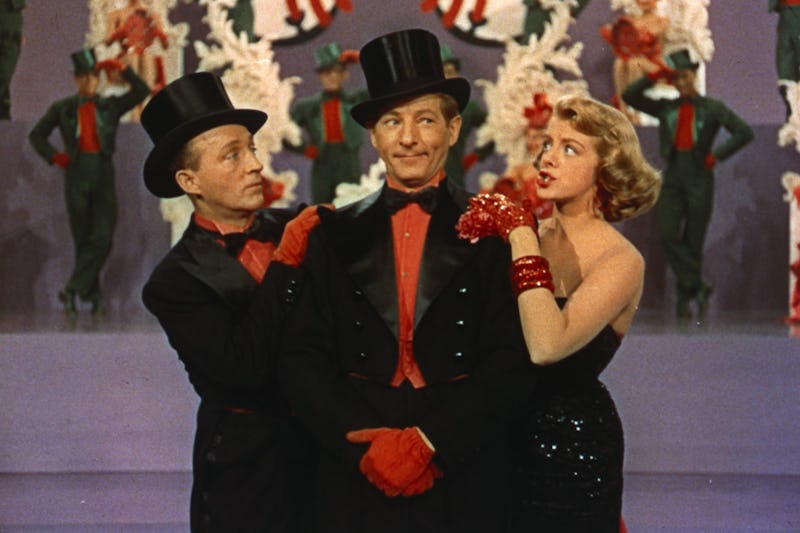 In theory, it'd be nice for Santa to deliver you unlimited movies on all your favorite platforms this year, but let's be real. Unless you've been really, really good you're going to be stuck with one, maybe two places to stream your favorite Christmas movies this season. Maybe Netflix and your dad's Hulu account, possibly Amazon Prime and your ex's HBO GO. It could be any sort of combination. What's imperative, though, is to know what your yuletide options are this season, and that's why I collected some solid and occasionally strange streamable holiday movies for you... no matter what subscription you use.
Of course, there's a whole mélange of Christmas picks to choose from, depending on your preferences. Do you need to flashback to an old-fashioned Christmas? Or are you a bored cynic that would rather have an low-key holiday? Or do you just want to pick from a bunch of Charles Dicken's Christmas Carols adaptations? We definitely run the gamut, and hopefully you'll find something substantial. Although, truth be told, some platforms tend to deliver heavier than others. Not saying which, just saying I'm thankful for my family Netflix account.
Regardless, scroll down to see what, if anything, each streaming service is giving you this Christmas.
Netflix
From old, bold, brassy musicals to a silent night with a new indie, we have...
Scrooged
The film is a modern (well, 1988 "modern") pitch black comedy take on A Christmas Carol, and, yes, this list alone will doll out a lot of takes on the classic tale. It's been done and overdone a million times. This one, however, definitely makes a top 10 adaptations list solely based on the fact that it stars Bill Murray.
Love, Actually
It's celebrity packed, super saccharine, and slightly divisive. So perfect if you love watching these sentimental holiday-centric rom-coms, and perfect you love hate-watching these sentimental holiday-centric rom-coms.
White Christmas
Gorgeous colors, gorgeous costumes, show-stopping musical numbers, and so much vintage class that everyone goes to bed wearing full face of make-up.
Happy Christmas
This film, which sees an aimless Anna Kendrick moving in with her brother, is really Christmassy because of the timing. Probably an ideal pick if you're a lost 20-something who plans on spending your holiday homecoming hanging out with your high school boyfriend (uh, not that I would know anything about that).
Just Friends
I'm not really big on the concept of a "friend zone," but there are some sweet spots in this film, and Anna Faris as a loopy pop star gives an A+ comedic performance.
A Christmas Kiss
This is a personal guilty pleasure that I caught in a nail salon a few years back. If you want some a lightly Lifetime-ish Christmas rom-com that skates the line between "overtly gross and cliche" and "almost cute," I recommend this. There's sleigh rides and late night ice cream chats with girlfriends, because of course.
The Holiday
In which Kate Winslet and Cameron Diaz house swap, and it goes much better than when you got that cockroach-infested Airbnb in Silverlake.
Hulu
Featuring vintage flicks and obscure picks like...
Babes In Toyland
The so, so, weird 1934 Abbott and Costello feature that's still a little bit charming in its wonkiness... even with that creepy Mickey Mouse puppet.
RiffTrax Live: Christmas Shorts-Stravaganza
Not really a movie so much as it's a seasonal feast of bite-sized Christmas tales with commentary from the Mystery Science Theater 3000 crowd. If you're into that. Which, how can you not be?
Scrooge
One of the most well-worn adaptations, this colorized vision of A Christmas Carol dates back to the '30s... and is an aggressively fine substitute if you can't get your hands the 1951 Alastair Sim version.
Santa Claus Conquers The Martians
You know what, just in case you saw the PeeWee Christmas special and thought, "Nah, not weird enough."
You're in luck. We have a lot of the new classics here, including...
The Family Man
A single, cutthroat business man wakes up one day married to the girlfriend he let go of years ago. Nicolas Cage's suburban journey on the path not taken is weirdly delightful.
Dr. Suess's How The Grinch Stole Christmas
Sure, I still would take the concise Boris Karloff-narrated cartoon any day of the week. However, the expanded look on the Whoville's favorite time of the year (and Jim Carrey's exuberant take on the green baddie) is still worth a casual rewatch.
Home Alone
Even though the robber-catching mechanics really defy logic in a modern view (as does abandoning your child by accident), it's hard not to head Home for the holidays.
The Muppet Christmas Carol
Guys, you know this story by now. For whatever reason, Rizzo the Rat is the real MVP in this re-telling, and I'm pretty sure he doesn't even play a real character beyond "Rizzo the Rat."
Unless you want to shell out money to rent-and-stream, there isn't a whole bunch of must-watches. That is, except for...
A classic that has everyone, a young Natalie Wood included, believing in Santa by the end of the film.
Frosty gets a wife, and Jack Frost is nipping on everybody's nose... and nerves.
That sounds like a hella grim premise for a Rankin/Bass film, but don't worry, kids. Santa has but only a head cold, and you know what cures head colds? Apparently proof that civilians do believe in him.
Happy holidays, everyone. 'Tis the season to stay indoors and watch every movie you can.
Images: Paramount Pictures; Giphy (4)