The Sexiest Stocking Stuffers To Buy This Season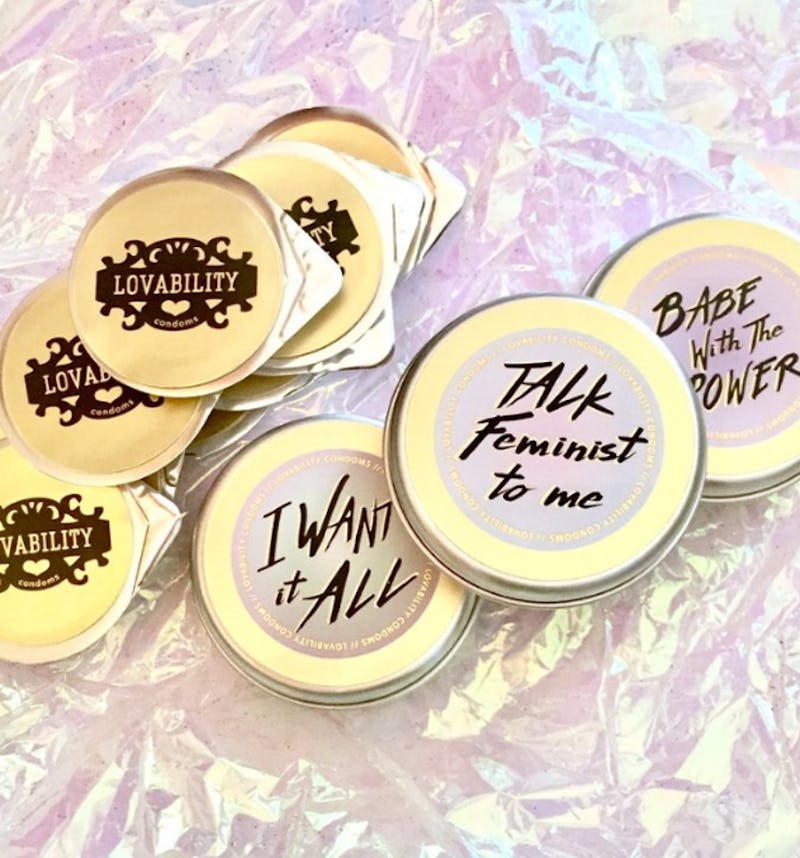 I'd like to think that a major milestone of adulthood is finally admitting to yourself that your favorite part of the holidays isn't the music or the pretty lights or the whole spending-time-with family thing: it's the gifts (but food is a close second). Holiday shopping, although it can be stressful, is nonetheless a fun excuse to blow your budget and treat your loved ones (or yourself). Because I'm a sucker for cute, pint-sized gifts, sometimes I enjoy opening my stocking more than my actual gifts. But stockings aren't just for candy, gift cards, and yet another chapstick — they're also the perfect vessels for sexy stocking stuffers for the, uhh, special people in your life.
Holidays are an awesome time for intimacy, whether you're in a serious relationship, casually dating, or single AF like me. The combo of wintry cold weather and positive ~yule vibes~ creates a romantic, sensual atmosphere that will keep you craving some steamy holiday sex. And what's sex without a prop or two? Even though you might not usually be the type to introduce toys into the bedroom, there's no better time to experiment than the holidays, when you have a ready-made excuse to splurge on awesome sex-related gifts.
Whether you're a toy newbie or a seasoned vet, here are 13 sexy gifts that are petite enough to stuff in your partner's stocking, your friend's, or your own, so you can give the gift of many orgasms this year.
Lovehoney Oh! Lipstick Vibrator, $17, Lovehoney
For someone with several dozen lipsticks (like me), this might be the most discreet vibrator of all time. This single-speed bullet is compact but powerful, and is easy to stash in your purse for orgasms to-go.
Unbound Quarterly Subscription, $65, Unbound
If you're the kind of person who likes to try new things, an Unbound subscription is the perfect stocking stuffer — and it's a gift that keeps on giving. With Unbound, you get a box full of sex goodies on a quarterly basis (aka one per three months): they're chock-full of vibrators, lubes, and other miscellaneous products to help enhance your love life. If you're feeling generous, gift someone you love an auto-renewing subscription, or purchase a subscription for one, two, or three quarters at a time. Unbound also has tons of other fun boxes that make perfect one-time gifts!
Orgasm In A Box For Her, $25, Babeland
If you have a friend who constantly complains about their lack of love life, what could be funnier than sending them a ready-made orgasm in a box to show you care? The female iteration of the box includes a bullet vibrator with a 'bunny tickler' attachment, lube packets, and batteries. There's also a version for men that comes with a Tenga egg penis sleeve (an instant masturbation enhancer), a vibrating cock ring, and some lube.
I Love Female Orgasm , $16, Babeland
For the Hermione Grangers or Rory Gilmores of the world who like to study up on a subject, this empowering read will inspire you to take control of your orgasm. It's full of tips, tricks, and advice for people of all genders and orientations, which makes it the perfect gift for anyone in your life.
tokidoki x Lovehoney Mini Rainbow Vibrator, $15, Lovehoney
This tiny, adorable single-speed bullet is the product of a collaboration between tokidoki and Lovehoney, and it's equal parts fashion and function. It's a no-frills vibrator that's perfect to pack while traveling, so you can bring it home for the holidays to keep yourself cozy (wink wink).
Maze Thin Cuffs, $40, Babeland
Forget fuzzy handcuffs: these leather cuffs (with gold hardware!) from Babeland are way sexier. They're thin enough that they aren't intimidating if you're new to BDSM, but they also definitely get the job done, whether you or your partner is the one who's tied up.
Bijoux Melt My Heart Candle, $20, Babeland
I don't know anyone who doesn't appreciate a long, hard... massage. This multi-purpose candle gives off a seductive, mood-setting scent, then melts down into an edible massage oil. Skip the pie and holiday cookies, and eat your partner for dessert instead.
Lovehoney Magic Bullet, $10, Lovehoney
This pocket-sized, super-cheap bullet is the OG vibe for beginners. It's simple, to-the-point, and not intimidating in the slightest. Small but mighty, the Lovehoney Magic Bullet has 10 functions, so it's more versatile than it looks.
Pride Dildo, $49, Babeland
Show your love for the LGBTQ+ community with this bold rainbow dildo. Whether you choose to stimulate your G-spot or prostate, this colorful dildo will make sure your Christmas is both merry and bright.
Lovability Condoms + Tin, $12, Lovability Condoms
These adorable condoms from Lovability are the the hottest way to have safe sex. Their "Talk Feminist To Me" 9-pack of condoms is only $12, and come in a super chic tin that lets you conveniently carry your condoms around. Plus, they're vegan, odor-free, and ultra-thin, so their quality isn't questionable.
We-Vibe 4 Plus, $179, Babeland
As someone who actually owns this vibrator, I can personally attest to how awesome it is. With the combined power of the We-Vibe 4 Plus and Bluetooth technology, you can stay sexually connected to your partner no matter where they're located. All you need to do is download the app, sync up your device, and let your partner choose the pattern and speed of your vibrator. But it's also worthwhile for singles (like yours truly): it's powerful, waterproof, easy to clean, and comes with a convenient dock that lets you charge it via USB port.
Bootie Plug & Sliquid Lube Combo, $40, Babeland
The number one rule for anal? Lots and lots of lube. This Babeland combo pack includes a generous portion of Sliquid lube (which is paraben-free) and a sleek black butt plug that's perfect no matter if you're an anal pro or if you're just getting started with the back-door activities.
Dirty Dice, $7, Babeland
If you're exchanging gifts with a FWB, these cheap dice are the perfect funny stocking stuffer. They're not too serious (just like your no-strings relationship), and present plenty of sexy scenarios the two of you can try out while you relax in the post-holiday come-down.
No matter who you're buying for this season, I'd recommend stuffing some sexiness into your stockings in order to make sure you have a truly satisfying holiday. Pro tip: make sure you don't accidentally hand your grandma the stocking you meant to give your partner. Happy holidays!
Images: Lovehoney (3); Unbound; Babeland (8); Lovability Condoms