'Miss Sloane's Scariest Subject Feels All Too Real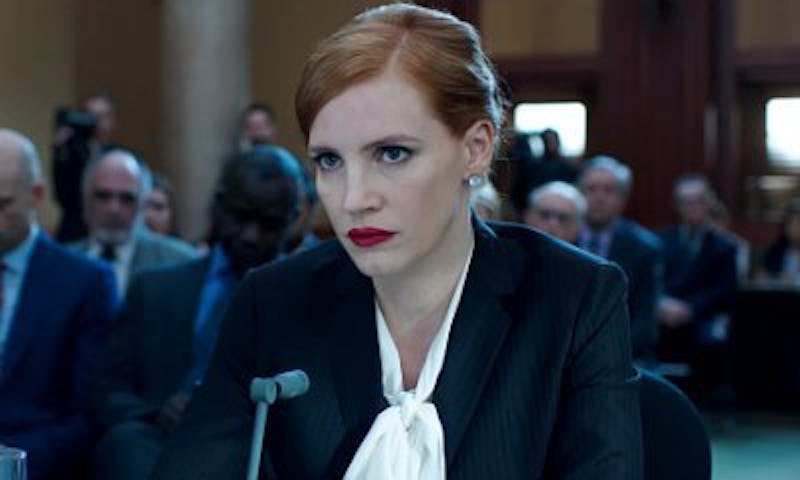 In the new film Miss Sloane, Jessica Chastain portrays the titular take-no-prisoners Washington D.C. lobbyist who engages in the fight of her life when she goes up against the powerful gun lobby. One of the more intriguing characters in the film is an associate of Miss Sloane's, Esme Manucharian (Gugu Mbatha-Raw), who is a survivor of a devastating high school shooting known as the Bloomington Massacre. But did Miss Sloane 's Bloomington Massacre really happen?
Thankfully, it did not. The Bloomington Massacre is a fictional school shooting, sprung from the mind of screenwriter Jonathan Perera. But it isn't hard to see where Perera likely drew his inspiration. Assuming that Mbatha-Raw's character is the same age as the actor (she's 33), she would have been in high school in 1999 — the same year the most notorious U.S. high school shooting, the Columbine High School Massacre, took place. On April 20, 1999 in Columbine, Colorado, Columbine High seniors Eric Harris and Dylan Klebold stormed their school, armed with a number of firearms and homemade explosive devices, and proceeded to murder 12 of their fellow classmates and one teacher, and injure 24 others, before killing themselves. It remains the deadliest shooting to ever take place at an American high school.
Two more recent (and deadlier) school shootings that could have also provided inspiration for the film's massacre are the Virginia Tech Massacre of 2007 and the Sandy Hook Elementary School Shooting of 2012. At Virginia Tech, senior Seung-Hui Cho murdered 32 people and injured another 17 using two semi-automatic pistols before taking his own life. At Sandy Hook, 20-year-old Adam Lanza killed his mother using a gun he had taken from her vast collection. He then went to the nearby elementary school and killed 20 students between the ages of six and seven, six adult faculty members, and then himself. The Virginia Tech and Sandy Hook shootings currently rank as the second and third deadliest mass shootings in U.S. history, after this year's attack at Pulse Nightclub in Orlando that left 49 people dead.
The fact that Miss Sloane's Bloomington Massacre feels so real is because, for whatever reason, schools seem to be the most frequent setting for deadly mass shootings in America. Hopefully the movie will further the conversation on the subject of gun control in a positive way, and maybe even prevent these types of atrocities from occurring in the future.
Images: EuropaCorp