Watch John Krasinski Dish On 'The Hollars'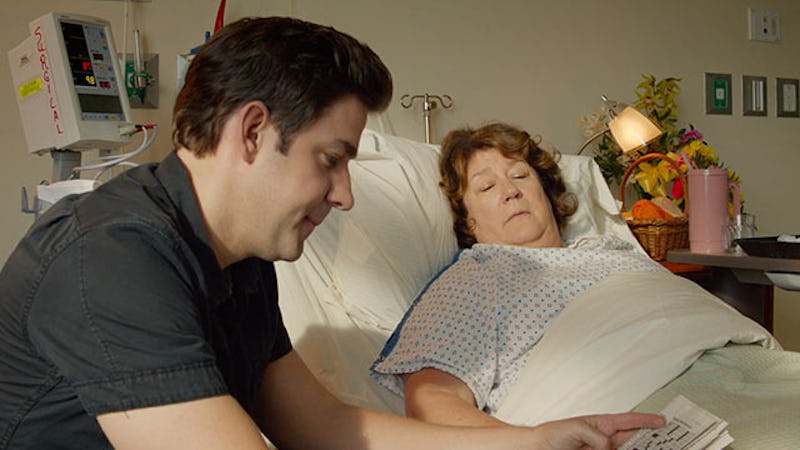 It took years for John Krasinski to get The Hollars into production. The movie marks the Office actor's second major outing behind the camera, working as both director and star. But, despite Krasinski's growing fame and Hollywood capital, it wasn't easy getting an independent movie about a grown son and his dying mother made. Krasinski first signed onto the project, written by Jim Strouse, six years ago as an actor. After years of trying and failing to get the film made, he finally bought the rights and made it himself. In a new exclusive clip from The Hollars featurette, Krasinski says that spending so much time with the script and character made the experience "really fun," and it's easy to see why.
In The Hollars , Krasinski plays John Hollar, a man about to become a first-time father with his girlfriend Rebecca who is forced to head home when his mother, Sally, is admitted to the hospital. At home, he also has to deal with his brother Ron, who is having trouble adjusting from his divorce, and his father Don, who is struggling financially. As the protagonist, Krasinski appears in nearly every single scene, so you can imagine that pulling double duty as star and director must have been pretty tough. And, as seen in this exclusive behind-the-scenes clip from The Hollars, that's where Krasinski's six years with the script came in handy.
"Because I had been a part of this script for so long, it was really much deeper in me than a lot of parts that you get," Krasinski says in the clip. Independent films like The Hollars are often made pretty quickly, with actors given a few weeks or a month to prepare. For The Hollars, however, Krasinski had six years to think about how he wanted to perform as his character and how he saw the film as a director. "I just knew it, and I knew what I wanted to do with it, and it was actually really fun," he adds in the featurette.
The Hollars also stars Margo Martindale as Sally, Richard Jenkins as Don, and Anna Kendrick as the very pregnant Rebecca. Kendrick is also featured in the behind-the-scenes clip, gushing over Krasinski's expressive eyes (part of his classic Jim Halpert trademark). "He's got these big, wet eyes where you can just read everything that's happening," Kendrick says. You can see those big eyes for yourself now that The Hollars is out on DVD and Blu-ray as of Dec. 6.
Images: Sony Pictures Classics