13 Tips For Finishing Your Holiday Shopping ASAP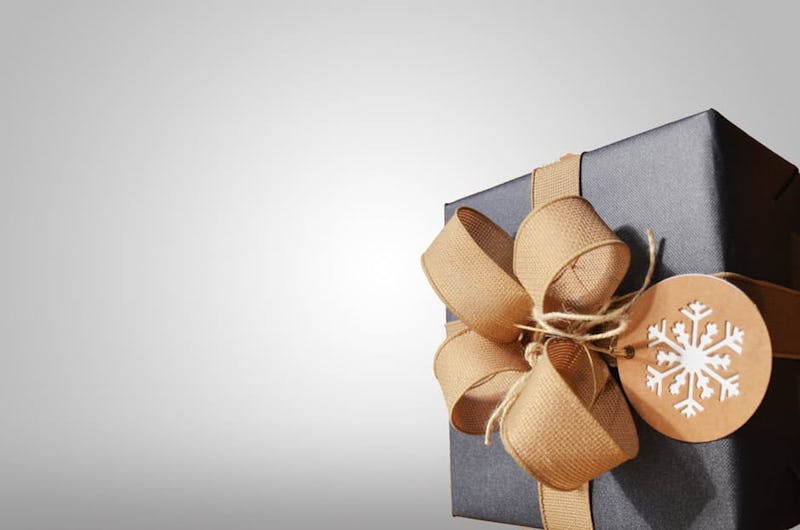 There are a select and elite few who finish their holiday shopping on time. (Like, back-in-August on time). And then there are the rest of us. If you're currently wondering how to get your holiday shopping done as quickly as possible, then welcome to the latter club.
Don't feel bad, though. All it takes is one look at the packed stores and longs lines to know you're totally not alone. It's normal to find yourself in this tight spot — yes, even though the holiday countdown has more than officially begun.
"People ... wait until the last minute because they're hoping to find the ultimate gift for the best price," says Louise Roe, lifestyle expert and author of Front Roe — How to be the Leading Lady in your Own Life, in an email to Bustle. "They spend too much time shopping around, rather than actually shopping, and often end up going over budget for last minute purchases that aren't as personalized."
You might also have succumbed to laziness, which is another perfectly valid reason, as is a dislike for shopping, not knowing what to buy, etc. Whatever your reason, I promise it's not too late to get everything crossed off your list. (Or to finally, finally kick back and enjoy the season.) Read on for some easy ways to do just that.
1. Turn It Into A One-Day Event
Instead of aimlessly picking gifts up one by one between now and the end of the year, it's often much easier to fuel up on coffee and make a day of it, according to the editors of Real Simple. Wear your comfiest shoes, bring those coupons, and don't come back until everyone is crossed off your list.
2. Check Social Media For Ideas
If you're stalling because you're out of gift ideas, go ahead and creep on your friend's Instagram page. As Roe says, someone's online presence can be a great source of inspiration. Does your friend love a desk accessory? Is she tagging and pining away for a cute pair of glasses? Well, there you go. Done and done.
3. Consider Going The Crafty Route
Consider putting your amazing talents to good use. "If you're known for your kitchen skills, whip up a batch of holiday treats in a festive container as a gift for coworkers, friends, or family," says banking expert Ben Altom, in an email to Bustle. You can also throw together a homemade hand scrub, crochet a quick scarf, or pour a deliciously-scented candle. If anything, it'll be more fun — and it'll save you money.
4. Stock Up On Duplicate Gifts
Do you have several friends who would love a bottle of wine, or a comfy sweater? Then go ahead and buy these things in bulk. "This cuts down on your shopping time, and if the store is offering any kind of 'Buy 1, get the second 1 at a discount' deal, that's even better," said lifestyle writer Juliana Weiss-Roessler on LifeHack.org. So sneaky, and yet so very time-saving.
5. Use That Technology
No one said shopping had to be difficult or time-consuming — especially if your phone is involved. "When it comes time to shop for those gifts, use your smartphone or online services to locate deals on hot items," Altom says. "Apps like ShopSavvy can help you find the lowest price for your gift list items." Then you can swoop in and scoop them up. Or, you know, have them shipped right to you.
6. Hit Up Stores That Have A Wide Variety
Sure, you can roam the mall for a few hours until you stumble upon what you need. But doesn't it make more sense to hit up stores that have seemingly everything? "My secret weapon is shopping ... at stores like T.J.Maxx, Marshalls, and HomeGoods because their shelves are literally stocked every day with new merchandise," Roe says. "[You] can always find meaningful gifts for everyone on your list, and know you're getting the best value." As a huge fan of one-stop-stopping, I have to agree.
7. Forget About Material Things
If you don't have time to go to the mall, or can't be bothered to shop online, then consider giving the gift of an experience. According to Weiss-Roessler, a weekend trip is a great place to start — as is a massage, tickets to the art museum, or the promise of a homemade dinner. All great, and easy, gifts to give.
8. Don't Give Into Impulse Buys
If you can help it, avoid "must-have" shopping and "one-click" buys, Altom tells me. Think about how much time you'll save getting actual shopping done instead of wasting hours distracted by other tempting things. (Or falling down the rabbit hole that is your Amazon wish list.)
9. Go It Alone
Shopping with a friend is more fun, sure. But will she actually help you shop any faster? Probably not. If you want to get in, get out, and get sh*t done, it'll be best to go it alone, according to Weiss-Roessler. You're on a mission, after all.
10. Get Your Gifts Curbside
Imagine ordering your gifts and then picking them up immediately at the store — no lines, online tracking, or slow shipping required. This sounds like magic, but is totally possible with the app called Curbside. It's partnered with some pretty great retailers, like Sephora, and allows you to pick up items outside the store. So cool, right?
11. Figure Out The Best Route
Before you even leave your house, make sure you create a plan. "Eliminate backtracking by mapping out your stops," says time management coach Jamie Novak, in an email to Bustle. "Start farthest away from home and work your way back." By the time you're done, you'll be rolling on into your driveway. Easy as that.
12. Don't Lose Your Car
Do yourself a favor and make an effort to remember where you parked. "Take a cell phone picture of where you park — like of the sign near your car — so you can find it again," Novak says. It could potentially save you hours.
13. Know When To Stop
Whatever you do, don't run yourself ragged. When you've covered the most important people in your life, check your list and then stop shopping. Not only will you save some cash by calling it quits, but you'll be done. And that, my friend, is the most important part.
Now go relax and enjoy all the other things the holiday season has to offer.
Images: Pexels (14)