Spencer & Toby Could Get Back Together On 'PLL'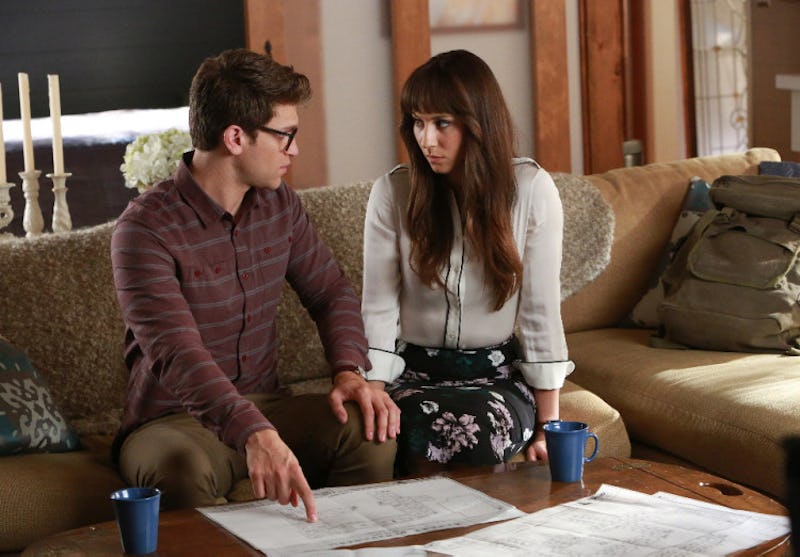 Even though we're still months away from Season 7B of Pretty Little Liars, speculation is rife about how the show will end. Since filming has wrapped, it's pretty safe to say that the actors now know what happens in the Pretty Little Liars finale, and they've probably found out who AD really is. In a new interview with HollywoodLife.com, actor Troian Bellisario, who plays Spencer Hastings, has revealed some extremely interesting information about what happens next on the show. And, most importantly, it's sounding more and more likely that Spoby might not be over for good on Pretty Little Liars. Open the champagne right now.
The crazy midseason finale left Spoby fans both hopeful and devastated. With Spencer getting shot, and Toby being involved in a fatal looking car accident, viewers wondered if the PLL ship might be over for good. However, Bellisario has given Spoby fans some major hope, speaking to HollywoodLife.com about that unexpected goodbye kiss the couple shared. She said, "When Spencer and Toby were saying goodbye, there was a way they could have done it as adults, and they chose not to do it that way."
Basically, the pair weren't really saying goodbye at all. Instead, their passionate kiss left the door wide open for a reunion in 7B.
While Bellisario's comments are far from conclusive, it definitely sounds as though Spencer and Toby still have feelings for each other, and that their emotions will impact on the show's final episodes. The actor didn't stop there, revealing even more about the couple when she said, "I think it's going to lead to a big mess down the line. Even if it's just the guilt that Spencer's going to carry once she finds out that Toby and Yvonne were in that huge car accident." While Bellisario is remaining tight-lipped when it comes to the exact events of the final 10 episodes of Pretty Little Liars, it sounds as though Spoby's goodbye kiss has complicated thing immeasurably.
As for Spoby's relationship in general, she doesn't sound completely on board with their behavior, and said, "Everyone thinks that was a good little goodbye scene. I thought it was weird and desperate and really unhealthy." While hardcore Pretty Little Liars fans found the Spoby kiss in the midseason finale totally cathartic, and super promising, Bellisario doesn't seem to think it was necessarily the best decision for either of them.
Whether or not Spoby end up together is still anyone's guess, but the actor's comments about Spencer and Toby's fate hint that the couple are still connected. Spoby fans rejoice.
Images: Freeform; Giphy