Unicorn Liner Is A Truly Magical Eyeliner Look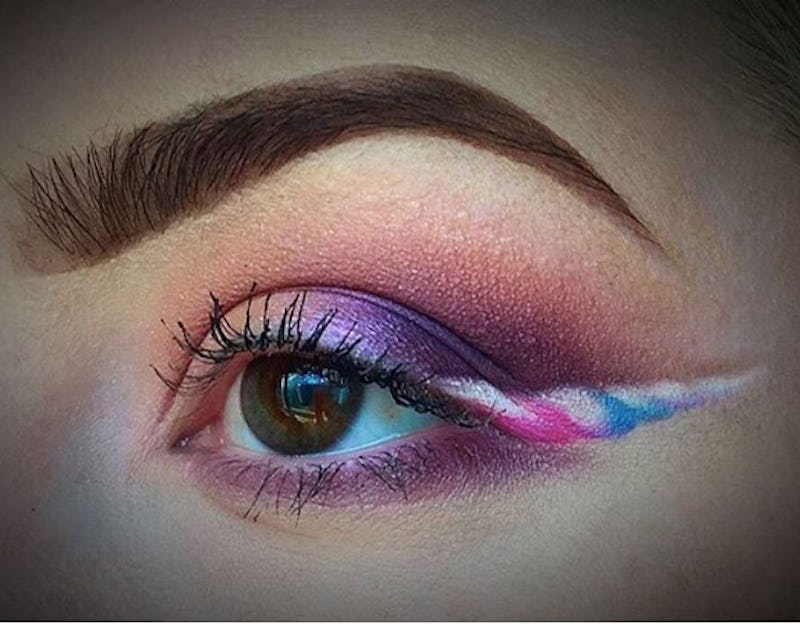 The unicorn seems to be the beauty world's favorite fantasy creature, which is why it's no surprise that unicorn-inspired makeup is currently trending. If unicorn-inspired highlighter and unicorn makeup brushes weren't enough, unicorn eye liner is here to wow us with its magic.
That's not to say that we're leaving the classic simplicity of regular black cat eye in the dust for good, but the beauty world has definitely been amping things up a bit by playing with its overall design. After the trend of the helix liner went viral, beauty lovers playing with the next big eyeliner trend to spice up the cat eye, including candy canes, snowmen, and even human anatomy (I'm still shook from seeing photos of this on Instagram). Now, the internet is onto something new once again when it comes to eye makeup.
Unicorn liner involves creating a cat-eye in the shape of a mythical unicorn horn, usually with pastel or neon colors as well as copious amounts of glitter. I can definitely see myself attempting this makeup look for a night on the town with the girls, when I'm feeling especially magical and super adventurous. Of course, Halloween would never be ruled out to rock this eye look either — it's definitely inspired me to go full on unicorn next year.
The unicorn liner trend is taking "shine bright like a diamond" to new levels. I can't get enough of it's small, but mighty makeup impact in the prettiest way possible.
I can't wait to put my makeup skills to the test, and channel my inner mythical being with unicorn liner. I'm all about the magic, after all. These are just some examples of the trend from Instagram and YouTube, but get ready to slay. We're all unicorns in my book, and deserve our own horns to show it.
Images: Kayla Rose/YouTube