11 Gifts For 'Stranger Things' Fans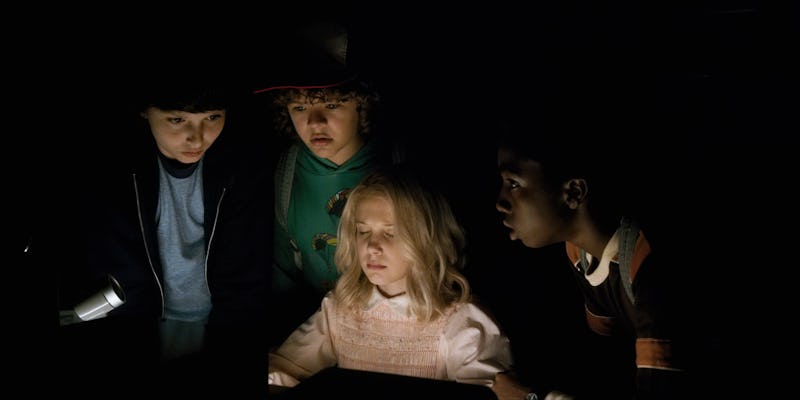 So, 2016 had a lot of surprises, but amongst the most pleasant was the rise of Stranger Things. The little Netflix show that could, Stranger Things surprised audiences with its mix of '80s reverence, delightful performances, and genuine horror to become the smash-hit of Summer TV. This holiday season, any avid Netflix watcher would surely love to find a few of Stranger Things gifts among their holiday presents. For a show that can often be as dour and dark as The Upside Down, there are still plenty of Stranger Things present ideas that can bring some fun to any holiday proceeding.
Of course, the greatest gift of all would be for Netflix to surprise-drop Stranger Things Season 2 on Christmas Day — or at the very least a Stranger Things Christmas special where instead of Santa knowing if you're naughty or nice, it's the Demogorgon. Since Netflix may not have enough time to put together a Christmas Special in 2016, it looks like Stranger Things fans will have to pick up the slack and gift each other this year. Luckily, the Stranger Things fandom has created some fantastic goodies inspired by the show that will could a smile to anyone's face.
Eggo Waffles Earrings, $10.00, Etsy
There is no love story on television greater than that of Eleven and Eggo Waffles. A tale that is hinted to continue in Season 2, celebrate this love story between a girl and her frozen breakfast dough with handmade, polymer clay earrings in the shape of Eleven's favorite treat.
DALIX Two Tone Trucker Hat, $6, Amazon
To everyone else, it's just a trucker hat — but any Stranger Things fan knows that this isn't just any old hat. Get the Dustin fan in your life their own matching headpiece.
Barb Earrings, $8, Etsy
Let everyone know that you're still waiting for #JusticeForBarb with these stylish earrings that ask the question, "Is that a new bra?"
4. Glow-In-The-Dark Soundtrack
Volume 1/Volume 2 Glow In The Dark Green Vinyl, $70, Merch Now
If you know someone who is especially in love with Stranger Things' unique soundtrack, splurge and get them this special glow-in-the-dark limited edition vinyl of Stranger Things, Vol 1 & 2.
Stranger Things Christmas Lights Ugly Christmas Sweater, $18, Etsy
What better way to celebrate Christmas and Stranger Things at the same time then by celebrating the most Christmas-friendly part of the show? This sweater may not help you communicate with your missing son who has been kidnapped by an indescribable monster and taken to an unexplainable alternate reality, but it will keep you warm!
Dungeons & Dragons Starter Set, $15, Amazon
Interested in learning how to play the game that brings Mike, Dustin, Lucas, and Will together? Grab some friends and pick up the Dungeons & Dragons starter kit and you too can conquer the Demogorgon!
Benny's Burgers 17'' x 22' Art Mini Print, $28.00, Society6
Barb's death may be Stranger Things' greatest tragedy, but let us not forget the first victim of the show, soft-hearted burger joint operator Benny. Benny took Eleven in and allowed her to escape, so it's only fair that he be commemorated for doing what he loved — flipping burgers.
ELEVEN | Stranger Things Scented Soy Candle, $15.00, Etsy
In lieu of getting your loved ones copious amounts of Eggo waffles for Christmas, provide them with the scent of waffles without making them go through the hassle of heating up actual Eggos and adding syrup.
Stranger Things Hawkins High School Iron-On Patch, $5, Hot Topic
Show your allegiance to Hawkins School District with this iron-on patch. Go Go Hawkins Tigers, Go!
Stranger Things Parody Shirt, $25, Etsy
For the music nerd in your life who also loves Stranger Things, surprise them with this twist on the iconic cover art for Gorillaz' Demon Days album.
Glass Coffee Mug, $16, Amazon
If you're the type of person who wants to avoid any conversations until they've had their coffee, be sure to grab this mug with Police Chief Hopper's wisdom adorned on it. That way no one forgets what mornings are really for.
With so many dedicated and artistic Stranger Things fans on the internet, there's a gift out there for every Stranger Things-lover no matter who they may be. But the greatest Stranger Things gift is to celebrate your friends and family and be happy that none of you have to survive in the Upside Down at the risk of being slugifyed (or whatever it is that happened to Will and Barb).
Images: Netflix; Courtesy Brands