How Men Feel About Being Single During The Holiday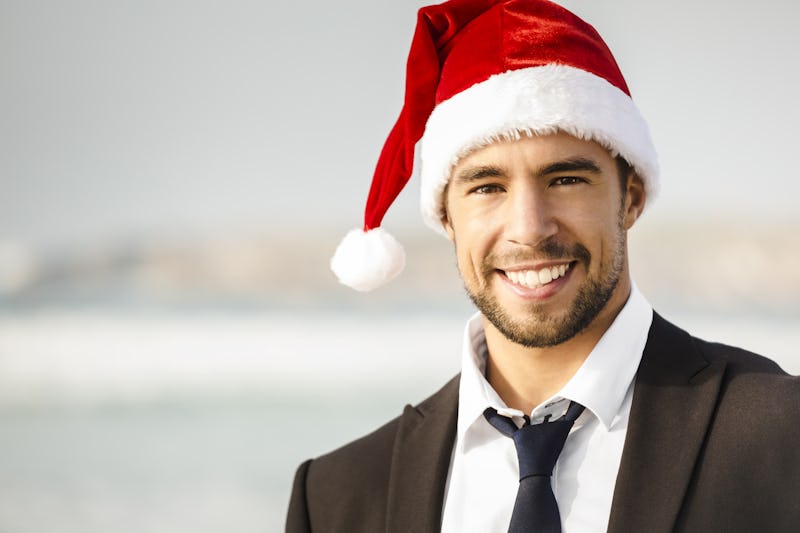 With the holidays coming up way-too-fast, you may be hitting up your dating apps more. After all, maybe you want a date for your holiday work party or your friend's Christmas party — and you and your future date should at least meet IRL a few times beforehand, right? Now, a new survey found out that American men don't want to be single at Christmas.
EliteSingles conducted the survey of 1,500 American singles and asked respondents to name the day of the year when they least wanted to be single. And, yup, the highest percentage of men named Christmas Day. Conversely, women named Valentine's Day.
"For men, the holidays are a time for introspection, starting new, and examining their life choices more — especially their decision-making around why they find themselves single at the time they least want to be," Clarissa Silva, behavioral scientist and author of the relationship blog, You're Just A Dumbass, tells Bustle. "They'll reflect and wonder why they dismissed potential candidates or endured the unhealthier relationships. Men maintain relationships that are based on mutual respect, trust, loyalty, but not a lot of emotional intimacy or pseudo-therapeutic conversations. Their conversations tend to be more superficial in comparison to women, rendering them to feeling more of a void during the holidays."
And what about single women? "Women are far more nurturing and cultivate a social support network to fulfill their emotional needs," says Silva. "The holidays are a time where she has her family, friends, and extended network to feel fulfilled because she was cultivating it all year long. As the holidays approached, she was already creating a support system."
Here's what else EliteSingles found out regarding how men feel about Christmas and significant others:
1. Men Want To Spend Christmas With Partners Versus Family
According to EliteSingles' research, men prefer spending Christmas with their partners. Forty-three percent would prefer to spend the merry-and-bright holiday with their partner versus a small group of family members. When it comes to women, only 32 percent would agree, though 42 percent of women would prefer "the more, the merrier," i.e., celebrating with some family versus just as a couple.
2. Men Think It's A Good Time For Their Partner To Meet The Family
However, EliteSingles also found that 72 percent of men, versus 58 percent of women, think Christmas is a great time of year for a new partner to meet one's family. While this may be true, it may also be a lot of pressure — and 42 percent of women think so. Just like some couples getting married don't let someone bring a date unless they've been dating a while (i.e., it's super serious), the same could be said for holidays.
3. Men Want To Give Holiday Gifts More Than Women
Men are more enthusiastic than women about exchanging holiday gifts, EliteSingles discovered. In fact, 69 percent of men think that it's important to buy gifts for a new partner, compared to 53 percent of women. I'm shocked these percentages are not higher — I mean, even if you make someone a card or just something — anything — it's the principle of the thing, right? Plus, isn't it ~fun~ to make or get something special for your partner?!
4. Men Want To Give BIGGER Gifts Sooner
EliteSingles found that men are also happier to give big gifts earlier — 11 percent of men versus five percent of women. The guys think it's OK to gift something big, expensive, and/or meaningful within the first month of dating, holiday time or not. This has now got me thinking about gifts boyfriends have given me and what I've given them. I know it's not a competition, but it's interesting. What's the rational behind EliteSingles' findings, though? They discovered that 35 percent of women revealed that they've been made to feel uncomfortable in the past by being given a fancy gift too soon into a relationship. Yes, makes sense — especially if you may not be as into it yet. Hence, maybe that explains the five percent statistic?
All in all, I think it's eye-opening that men don't want to be single at Christmas. For both men and women, I actually do think the holidays are a great time to be single. After all, you can meet someone at one of many holiday parties you attend solo. Case in point: A friend of mine went to an Ugly Sweater Party and ended up meeting the love of her life, ugly sweater and all! Now, having gotten married and two babies later, they host an Ugly Sweater Party each year. Plus, not only can you save all the money you didn't spend above on gifts for something else, like travel, but you can also start the new year fresh. And 'tis the season to make 2017 resolutions, amirite?
Images: Fotolia; Giphy