11 Unique Gift Ideas For 'GoT' Fans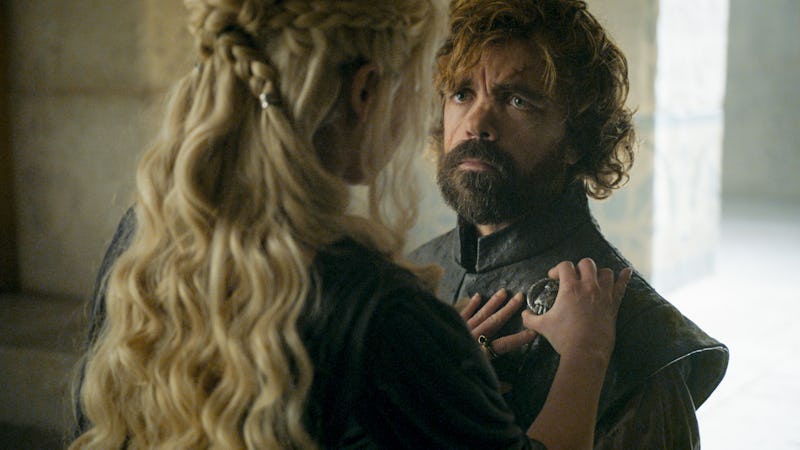 Not to get too mathematical on you, but the probability that you know someone who loves Game of Thrones is pretty high. While there is plenty of themed merchandise related to the HBO fantasy series, you may want more creative gift ideas for Game of Thrones fans this holiday season. The sixth season of Game of Thrones was undoubtedly its best yet, so doesn't the fan on your Christmas list this year deserve something equally as epic as the show?
In no way do I mean to knock the official merchandise available on HBO's online store, the fun gift ideas over on ThinkGeek, or the truly creative options on Etsy. Seriously, I am adding the sigil blanket, the dragon egg cookie jar, and the house coasters to my own Christmas list right now. But since the TV series has been on since 2011 — and the book series has been around since 1996 — I think it's time to think outside the box a bit when it comes to giving a gift to your favorite Game of Thrones fan.
Rather than buy specifically branded Game of Thrones merchandise, here are some creative gift ideas for the Game of Thrones fan in your life who has seen it all. Whether you're shopping for a family member, friend, coworker, or romantic interest, the recipient will be so dazzled by your cleverness that he or she just may name you Hand of the King or Queen.
Hoodie-Footie - Nordic Fleece, $80, Pajamagram
You've been hearing the motto of House Stark since the very first episode of Game of Thrones and now winter really is coming — not just for the series, but for us humans in the real world. Keep your friend warm this winter in snowflake-themed onesie, footie pajamas.
Komodo Dragon Adoption Kit, $55, World Wildlife Fund
Does your friend want to be the Mother of Dragons? Well, adopting an animal symbolically through conservation organizations like the World Wildlife Fund, Defenders of Wildlife, or the Sierra Club makes for a great gift for an animal lover and you can put a Game of Thrones spin on it. Adopt a Komodo dragon for a Daenerys fan, a gray wolf for a Stark fan, or a lion for a Lannister fan.
Britannica Online Subscription Gift Certificate, $70, Encyclopedia Britannica
Sam made it to the Citadel's expansive library at the end of Season 6 to begin his maester training. Even though those damn maesters don't agree, learning should be for everyone, so give the gift of knowledge this Christmas.
Fire and Ice by Yngwie Malmsteen, $9, Amazon
No, I didn't incorrectly write the name of George R. R. Martin's book series A Song of Ice and Fire. I'm talking about a song actually called "Fire and Ice." For your wordplay-loving friend, guitarist Yngwie Malmsteen released an album in 1992 called Fire and Ice with the song "Fire and Ice" on it. Seeing your friend's face when they look upon this glorious album cover makes buying this CD worth it.
Unbored Disguises Game from MindWare, $30, Amazon
Is your recipient considering becoming a follower of the Many-Faced God? Then this disguise kit will be the perfect introduction to the religion. Although it looks like a children's toy, the Amazon description says it is for "boys, girls, and the whole family," so these disguises can work for your aspiring assassin of any age.
Fire Agate Pendant, $35, Etsy
Melisandre's necklace seemingly gives her the gift of immortality and while you won't be able to give that to anyone this Christmas, you can give a fire agate necklace as the gemstone is not only named after the Lord of the Light's favorite thing, but it's supposed to increase energy and give protection. Even if you don't believe in the meaning behind crystals, you gotta admit it is a pretty stone.
EZ-Count Money Jar and Digital Coin Counter, $14, Amazon
As the Master of Coin position is currently open (thanks, Cersei!) your friend could take the role under Queen Cersei with some help from this coin counter.
A Throne Enhancer
Ecco Toilet Stool, $23, Amazon
The Iron Throne is a coveted spot — even though it does not look so comfortable. But you can make your friend's time on his or her throne as enjoyable as possible with a Squatty Potty. This ingenious invention promises, "The best poop of your life" by helping you to sit in a natural squatting position. I personally would be honored to receive one as a gift.
AncestryDNA Kit, $99, Ancestry
Who you are related to on Game of Thrones is a pretty big deal. With Bran finding out that Jon Snow is actually a Targaryen, your friend could appreciate a DNA kit to find out where her or his ancestors came from. Maybe your friend will find out that she or he is a descendent of the Targaryens or — much more likely — Robert Baratheon.
Personalized Bota Wine Bag, $19, Brookstone
Have your friend slug wine back like the champ — Tyrion "Belly Full of Wine" Lannister. This personalized, suede bag is made to be filled with wine and accurately claims to be, "Reminiscent of wine flasks from days-gone-by." This is the classy way to imbibe large quantities of wine, my friends. Tyrion would be proud.
Hold the Door Doorstop
Hodor Doorstop, $10, Etsy
Immediately after the big reveal about how Hodor got his name (I'm still crying about it), fans started creating Hodor-themed doorstops. Hodor's sacrifice deserves to be honored and this holiday gift will remind your friend of the gentle giant year-round.
While any Game of Thrones gift is a good one, these ideas will surely make for a memorable gift exchange this Christmas.
Image: HBO