Here's How Diverse The 2017 Golden Globe Noms Are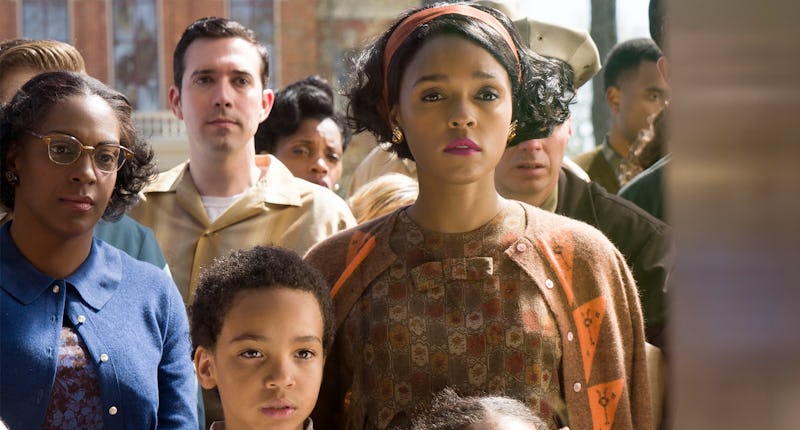 The time has come, the Walrus said, to talk of many things. Or just to talk of the 2017 Golden Globes nominations, and how diverse they really are. As you might imagine, things aren't exactly looking good for films yet again. I mean, they're not looking as bad as in recent years, but they're certainly not looking great as compared to the television side of things. Because the Golden Globes recognize excellence in both in film and in television all at once, they make it a lot easier to see how much excellence in diversity is being recognized in one form of media versus the other. And, as usual, television provided for more opportunities for people of color to be recognized for their talents than films did in 2016.
The television nominees are so good I want to climb every mountain and shout them into the void. Not only did Atlanta get recognized as one of the Best Television Series, but Issa Rae picked up a nod for Insecure, and black-ish gained nods for Tracee Ellis Ross and Anthony Anderson. (No, but seriously, Atlanta. I could cry.) The Night Of also showed everyone up for Best Limited Series, and gained a Best Actor nod for Riz Ahmed. The film categories featured Lin-Manuel Miranda getting a well-deserved nod for the Moana soundtrack — specifically "How Far I'll Go," which is this year's "Let It Go" — and Moonlight and Lion are both sitting pretty in the Best Motion Picture, Drama, category where they belong. There's a lot of good here, and I want to recognize that.
But let's talk in-depth about these Golden Globe nominees. How you want to tally up these numbers really depends on how generous you want to be. At the most generous, the film categories and the television categories produce almost the same number of nominees of color: 20 for film, and 19 for television. However, that number comes with many caveats, such as that, in film, Stevie Wonder, Brian Burton aka Danger Mouse, and Pharrell Williams were all nominated for their respective projects — but they were each nominated with their respective song-writing teams, all of which are otherwise filled with white faces.
For me, it never pays to be generous with Hollywood because that makes us complacent, so I'm knocking Wonder, Burton, and Williams off my list. That leaves the ratio at roughly 17 nominees of color for film and 18 for television.
If this doesn't seem like an overwhelming difference, it pays to break that down even further. In the film categories, people of color dominated only one category: of the five nominees for Best Supporting Actress, three of them are women of color (Viola Davis, Octavia Spencer, and Naomie Harris). In the television categories, people of color topped two categories; all but one of the nominees for Best Television Series, Musical or Comedy, contributed to the diversity of the group, and three of the five nominees for Best Actor, Musical or Comedy, were people of color. Meanwhile Issa Rae, Gina Rodriguez, and Tracee Ellis Ross' nominations ensured that the Best Actress, Musical or Comedy, category was evenly split between white people and people of color. Can I get an amen?
On top of that, the number of films and television series that received multiple nominations themselves is very telling. Moonlight came in second place to the predominantly-white cast featured in La La Land with six nominations to La La Land's seven. Lion tied with Florence Foster Jenkins for third place with four nominations. And then Fences, Hidden Figures, Moana, and Loving all tied for fourth place with five other predominantly white films with two nominations. Meanwhile, The People vs. OJ Simpson actually came in first place in the TV nominations with five nods. That series was followed by black-ish and The Night Of, which tied with The Crown, This Is Us, and Westworld for third place with three nominations each.
So, it appears that we have yet another year in which the Golden Globes are telling us what we've known for years: television is diversifying at a rate much faster than film is, and it's, frankly, pretty embarrassing for the film industry.
Even when the nominees seem to reflect a close in the gap — the numbers were very close this year as opposed to the 2016 nominees, which featured an overwhelmingly white movies list and a very diverse television list — the television landscape gives the various voting bodies far more options (ahem, Orange is the New Black, Luke Cage, and Fresh Off The Boat were left off the list this year) for recognizing excellence than movies do. And that's incredibly disappointing, even before you consider that the Oscars So White controversy has given the film industry a very real impetus to step it up.
The fact is that film continues to be a medium where most Americans are lucky if they get to see someone who looks like them in a meaningful role. It's a reality that is beyond sad. And even sadder is the fact that, even if audiences do see characters who look like them, the actors who play them are less likely to be recognized (or win) when award shows roll around. I know that Hollywood's power players have to be as tired of hearing this as I am of saying it, but it bears repeating: diversity isn't just the new frontier, it's the only frontier.
Here's hoping that 2017 sees the film industry take a page out of the television industry's playbook and work harder to close that gap.
Images: 20th Century Fox; angelshizuka/Tumblr; Giphy