Golden Globes' Diversity Comes Mostly From TV Noms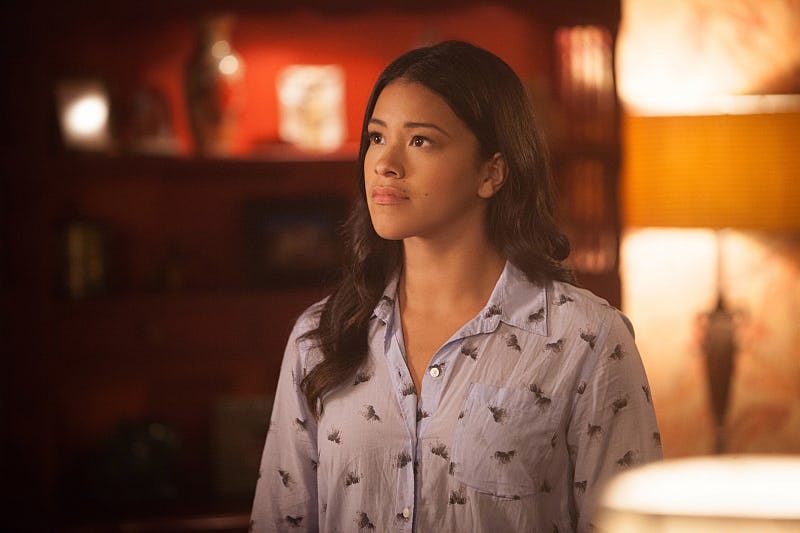 In 2015, the Academy Awards were slammed for their lack of diversity and featuring the most white nominees it had in 17 years. The Golden Globes don't usually come under the same scrutiny, but with the announcement of the 2016 Golden Globes nominees on Thursday, Dec. 10, it's apparent that the Golden Globes are only as diverse as they are because of the inclusion of television. Thanks to shows like American Horror Story, Empire, Orange Is the New Black, How To Get Away With Murder, and Jane the Virgin — all of which were nominated for the 2016 Globes — the TV categories are far surpassing the movie nominees in racial diversity.
The actors who made the announcements of the Globes nominees on Thursday morning help to prove this point. The white actors Chloë Grace Moretz and Dennis Quaid are more known for their film roles (Quaid sometimes dabbles in TV), while Angela Bassett and America Ferrera are on the TV shows American Horror Story and Superstore, respectively. Television has been much better at representing people of different races and the movie industry has not caught up. And since the Globes are rare in the fact that they showcase both film and TV, the awards show benefits from television's diversity.
For example, every woman nominated for an acting category in a film for the 2016 Globes is white. (Every. Single. One.) The TV women are much more diverse with Viola Davis, Taraji P. Henson, Gina Rodriguez, Queen Latifah, Uzo Aduba, and Regina King all receiving acting nominations in varying television categories. Even the male categories for TV are diverse! For Best Actor In A Television Comedy Series, Aziz Ansari and Gael Garcia Bernal are both nominated — and you can't tell me the last time an actor of Indian descent and an actor from Mexico were nominated in the same film awards show, let alone in the same category.
The only men of racial diversity in either the drama or comedy/musical categories for acting in a motion picture are Will Smith for Concussion (Best Actor) and Idris Elba for Beasts of No Nation (Best Supporting Actor). But Elba still proves that TV has surpassed film in terms of diversity since he's also nominated for Best Actor In A Limited Series Or Motion Picture Made For Television, alongside Oscar Isaac for Show Me a Hero and David Oyelowo for Nightingale. In 2015, TV will beat film in the diversity battle every time.
So why the disparity? Simply put, the nominees are more diverse because television, especially outside of major networks, is more diverse than Hollywood films. UCLA's 2015 Hollywood Diversity Report showed that in 2013, 16.7 percent of film leads were minorities, compared to 19.3 percent of scripted TV cable leads and 21 percent of digital and syndicated TV leads. Broadcast TV was actually even further behind film, with only 6.5 percent of leads roles going to minority actors. So while there is still progress to made in the television industry, it is to thank for proving that shows that cast people of diverse backgrounds succeed — and that audiences crave diversity. Until the film industry learns that very important lesson, awards ceremonies celebrating movies are unfortunately going to keep falling short when it comes to diversity, and therefore not represent the world that audiences live in.
Images: Patrick Wymore/The CW; Giphy